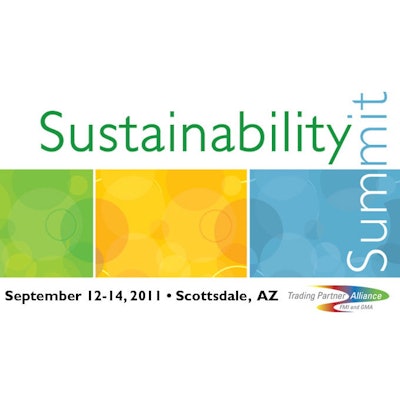 Going West has always held the promise of progress. American culture has within its DNA the inherent belief that the West opens up the possibility of fresh ideas, fresh thinking, and the chance to start over. The FMI/GMA Sustainability Summit 2011 held in mid-September brought stakeholders from the retail and brand owner community west to Phoenix for a three-day opportunity to share ideas and collaborate on a variety of challenges, and the packaging industry should take notice.
Food waste, as a critical environmental issue for retailers, was top of mind at the event. The topic took up four hours during the Day 1 Working Group meeting, a one-hour breakout session on Day 2, and three hours of the main conference on Day 3. Michael Hewett, director, Environmental and Sustainability Programs, Publix Super Markets, Inc., explained that the EPA estimates that approximately "34 million tons of food are wasted per year," and retailers are facing the challenge of implementing systems to mitigate this growing problem.
Ron Cotterman, PhD, executive director, Sustainability, Sealed Air Corp., explained the metrics and measurements of how packaging serves to reduce food waste. "The package is less than 10 percent of the overall product footprint," he said, "and packaging provides value by protecting products that are resource-intensive from an environmental viewpoint."
According to Dr. Cotterman, when we tackle food waste with life-cycle thinking that includes both the product and the packaging, we actually improve overall sustainability metrics. In fact, there is an optimal amount of packaging—not too little, not too much—that, when optimized in each packaging application, can achieve a balance between economic and environmental impacts. Dr. Cotterman recommends a few very key suggestions: a) Perform regular audits all along your supply chain in order to identify packaging "hot spots"; b) Find the right packaging for each product according to scientific analysis that minimizes overall impact; c) Implement sophisticated packaging technologies in order to increase shelf life or prevent damage whenever possible; and d) Help the consumer avoid product waste at home by helping them to understand where and why it is occurring. The systematic implementation of these suggestions can eliminate the worst of environmental impacts, including a reduction in the production of methane gas (25-times more damaging to the environment than CO2) from our landfills, a reduction in petroleum consumption in the product supply chain, and a reduction in water consumption in the product supply chain.
Andy Savitz, author of the groundbreaking book "The Triple Bottom Line," addressed the fact that product manufacturing supply chains are ever stressed, citing the WSJ article, "Can the World Still Feed Itself?," and with a firm voice, he exclaimed, "Vision is a corporation's biggest differentiator."
Alfred Plamann, CEO, Unified Grocers, Inc., stated in simple terms, "Sustainability is a global issue that begins at the local level."
Alternatives for waste management were explored in a breakout session featuring Lee Anderson, director, State and Local Government Relations, General Mills; John Shanahan, senior director, Energy and Environmental Policy, GMA; and Steve Swartz, partner, McKinsey and Company. Put in question was the existing value proposition for the traditional landfill and industry efforts to look at the problem with a fresh view.

Packaging brings product to market safely and efficiently every day by corporations that seek cost-reduction as a normal course of daily operations. We are at a critical intersection where our desire to do the right thing can blindside the reality that we are a population burgeoning with the demand for consumer goods. With an approximate environmental footprint ratio of 10:1 between product and package, it would appear there's a lot at stake for retailers and brand owners when making even minor changes to the packaging supply chain without careful application of a robust, analytical problem-solving approach.

We're going West, whether we like it or not. Let's make sure the road is well-charted.
Christine J. Smallwood is director of business development for Greener Package, a knowledge exchange for sustainable packaging