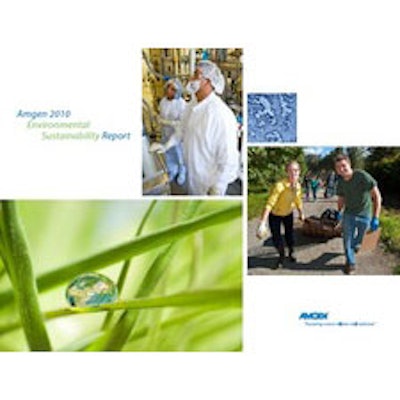 In mid-June, Amgen announced that it published its first annual Environmental Sustainability Report, "which presents data on the company's overall environmental performance and describes progress made to meet its 2012 conservation targets. The report also details Amgen's long-term plan for environmental sustainability."
A spokesperson told this reporter that the company was not yet "ready to discuss our sustainability efforts around our packaging, but did offer a fact sheet about the broader sustainability efforts of the Thousand Oaks, CA-based human therapeutics firm. Among the key findings of the report were the following:
• Amgen met 2012 conservation targets for water, energy, and waste (recycling) ahead of schedule and is on track to meet its remaining conservation targets.
• The company recycles 75% of the wastewater generated at its operations in Puerto Rico.
• Amgen has conserved 520,000 gigajoules of energy, reduced 46,000 metric tons of carbon dioxide, and saved more than $9 million as a result of conservation projects implemented from 2008 through 2010.
• Through a Green Products and Processes program, Amgen is beginning to integrate green practices into core areas of its business: researching, manufacturing, and packaging medicines.
• Amgen's inaugural report has been confirmed at a "C" application level by the Global Reporting Initiative.
The fact sheet says, "As a global leader in human therapeutics, Amgen is committed to environmentally responsible operations, using natural resources wisely, and considering its overall impact on the environment."
The company reports the following through a message from CEO Kevin W.Sharer and COO Robert A. Bradway:
"Our primary mission is to serve patients by developing innovative medicines for grievous illnesses. We also strive to be a responsible corporate citizen and good neighbor. We know that we must all do our part to tackle critical environmental issues, such as the effects of climate change and the depletion of natural resources. At Amgen, we are executing a comprehensive environmental sustainability plan that represents our long-term commitment to environmental responsibility. Our plan is based on achieving four objectives: measure and reduce our environmental impact, build a culture of environmental awareness, sustain our business, and communicate our results.
"The passion and enthusiasm of our staff help fuel our maturing enterprise-wide approach to environmental sustainability as we look to integrate sustainable practices into our business right from the start: in our laboratories, in our manufacturing facilities, and in our supply chain. Environmental sustainability makes good business sense--it's an important investment in our future."
Companies in this article