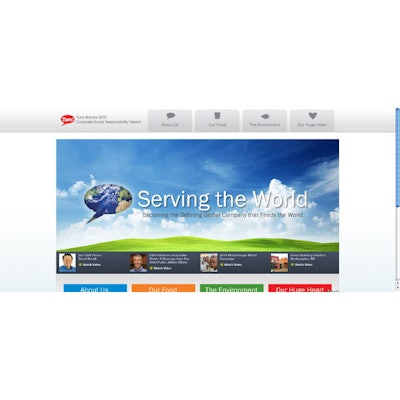 Yum! Brands, Inc., parent company of Taco Bell, Pizza Hut, and KFC, has released its online 2010 Corporate Social Responsibility Report, titled "Serving the World." The report examines Yum!'s social, environmental, and economic impact based on company and external shareholder expectations and provides progress updates since the first report was issued in 2008.
Features of the new report include video messages from senior leaders regarding Yum!'s CSR initiatives and updates on commitments in four areas: company culture, nutrition, environmental sustainability, and community giving.
"Our commitment to corporate social responsibility is helping us achieve our vision of building The Defining Global Company that Feeds the World," says David Novak, chairman and CEO of Yum! "We'll make this goal a reality over time by building a famous recognition culture where everyone counts, making our brands dynamic and vibrant everywhere and demonstrating we're a company with a huge heart.
"We believe that our strongest impact and contribution to sustainability lies in the critical parts of our business – the success and diversity of our associates, feeding people, health and nutrition, our supply chain, the environment, and community development. Our ability to make a positive difference in the lives of people throughout the world is virtually unlimited, and we are energized about how much more we can contribute to Serving the World."
Highlights related to environmental sustainability from the 2010 CSR report include:
• Yum! and its brands are focused on providing environmentally preferable packaging around the globe. The U.S. brands use napkins made from 100% recycled content, as well as molded-fiber drink-cup carriers that have 100% recycled content.
• In September 2010, KFC U.S. became the first quick-service restaurant to introduce a reusable food-side container, which was recently honored as a winner in the 2010 Greener Package Awards.
• By 2011, Yum! says KFC U.S. will reduce foam packaging use by 62% and will reduce total plastic use by 17%. In addition, Pizza Hut U.S. utilizes up to 50% recycled material in its pizza boxes, and Taco Bell has eliminated more than 2 million pounds of materials from select packaging.
• In the last two years, the company's U.S. brands have reduced energy consumption by 8%, resulting in the elimination of more than 60,000 metric tons of CO2 from the atmosphere. Says Yum!, this is equivalent to removing 11,000 cars from the road.
• Over the last five years, Yum! has reduced its utilities usage by more than 20%, greatly reducing the company's carbon footprint by installing environmentally friendly lighting, heating, and air conditioning systems, and other lower-energy restaurant equipment.
• Yum! has achieved a more than 13% reduction in energy usage in all U.S. company-owned restaurants through the application of numerous energy conservation measures, resulting in the elimination of more than 111,000 metric tons of CO2 per year from the atmosphere. The company's goal is to reduce energy and water usage in its restaurants around the world by 10% each by 2015.
• Yum! opened its first two green restaurants in the U.S. and the U.K., which have become a model for its sustainable restaurant design. The restaurants, each designed to use 30% less energy and water than a conventional building, also cut CO2 emissions, reduce waste going to landfills/incinerators, and educate visitors and employees on sustainable design. The company's goal is to develop five LEED-certifiable (or other country-specific third-party validation) restaurant prototypes/standards across China, the U.S., and Yum! Restaurant International (YRI) business divisions by 2012.
Other initiatives discussed in the CSR focus on world hunger relief, and health and nutrition.