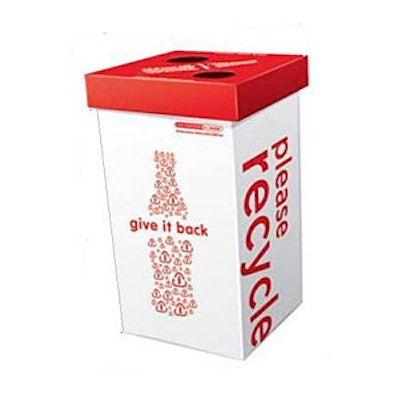 The Coca-Cola Company and Keep America Beautiful, Inc. (KAB) have launched the Coca-Cola/KAB Recycling Bin Grant Program http://bingrant.org/ to promote and support community recycling. Grant recipients receive both donated recycling bins and expertise on how to set up recycling programs from KAB. The grant program is part of a $60 million investment by Coca-Cola in recycling initiatives in the U.S.
The investment is very much in-line with Coca-Cola's sustainability strategy around packaging. When the company launched its PlantBottle in November, Coca-Cola's director of sustainable packaging, Scott Vitters, explained to GreenerPackage.com in an exclusive podcast the connection between its new partially plant-based, fully recyclable package and recycling.
Confirms April Crow, sustainable packaging manager, Coca-Cola, "Our company is committed to designing packages that are recyclable and resource-efficient. We also are focused on ensuring that there are strong end-markets for our packages by investing in commercial recycling and community collection programs like RecycleBank and the Recycling Bin Grant Program. We hope this program will encourage communities to expand recycling as we continue to close the loop for our products as well as other valuable recyclables."
The spring 2010 grant cycle has opened as of Feb. 1. Interested parties may submit an online grant application through March 12, 2010. Eligible grant recipients include government agencies, civic organizations, schools, and nonprofit groups. Successful applicants will be notified on or before April 22.
Says Alec Cooley, manager of recycling programs, KAB, "Keep America Beautiful is excited to partner for the first time with Coca-Cola on the Recycling Bin Grant program. This program is a concrete way that Coca-Cola can partner with KAB and its affiliates and local community groups to expand public space recycling on a grassroots level."
Since its inception in the fall of 2007, the Bin Grant program has placed more than 5,700 recycling bins in 150 communities in 48 states and the District of Columbia. Recipients have included municipalities, colleges, Native American tribes, and community-based NGOs.