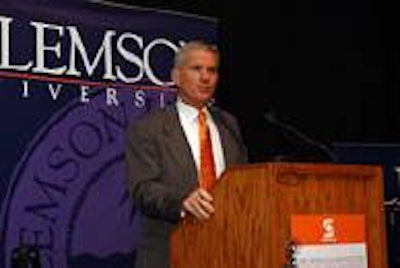 The proposed institute will be the only one of its kind in the nation. The institute will promote consumer and environmentally superior packaging design development, printing-imaging technologies, and printing-packaging systems.
"Sonoco has been a long-standing friend of Clemson," says university president Jim Barker. "This gift creates an extraordinary investment in education, research, and service to a high-tech industry."
The funds will be used to help pay for construction of a facility. Commitments of gifts-in-kind for technology also will support the institute.
"Preparing the next generation of packaging and graphics professionals is vital. Research drives change and we have to be able to change to compete more effectively. We are changing—changing the way the world sees packaging, changing the way the world sees us," says Sonoco president and CEO Harris E. DeLoach.
This gift isn't the company's first to the university. In 1992, Sonoco provided $500ꯠ for a laboratory that was dedicated as the Sonoco Packaging Science Laboratory in 1993.
For more information on the grant, please visit www.clemsonews.clemson.edu/Sonoco.
Companies in this article