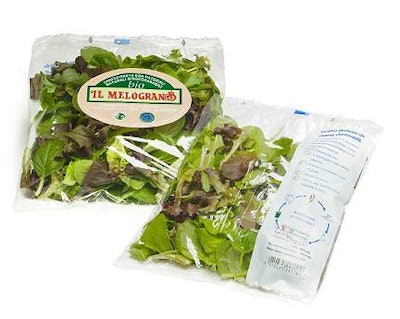 With that in mind, I caught a cab from our Summit Publishing office in downtown Chicago to McCormick Place to attend Bio (Biotechnology Industry Organization) 2006 about three weeks ago The goal: Uncover some exciting bio product packaging.
The result: The show revealed applications of biotechnology in everything from food to fuel to clothing, as I learned at a press brunch that included a fashion show with models wearing clothing made from bio-based materials.
One of the panelists at the aforementioned press meeting was Dennis McGrew, president and chief executive officer for Nature Works LLC. Readers of Packaging World will recognize NatureWorks[tm] PLA (polylactide polymer) as a material made from renewable resources to produce packaging materials (such as the salad bags shown in the accompanying photo) to compete with petroleum-based materials.
Following his presentation, McGrew responded affirmatively to my question asking if PLA would be used in healthcare packaging-related applications.
For more on Bio 2006 (complete with fashion show photos), visit Bio.org or this pharma site.
Packaging trends in bio
Also on the bio "beat," this quote from an article in National Instrument Co.'s February electronic newsletter, Focus on Filamatic: "Although glass is still the container of choice for the pharmaceutical folk that make injectable liquids, plastic containers have taken over as the vials of choice for biotech companies that package sterile and nonsterile reagents." The story goes on to list the benefits of plastic vials for biotech, noting that "even with the benefits of plastic containers, there are still some situations where plastics are not used, particularly where high heat is required as part of the product filling or where terminal sterilization of the filled product is required using steam heat."
Companies in this article