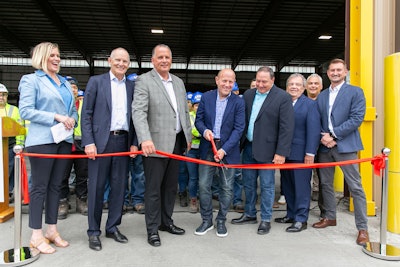 For Rosemont, Ill.-based Lakeshore Recycling Systems, one of the fastest-growing companies in the U.S. and the nation's fifth-largest independent waste diversion, recycling, and portable services providers, the week of August 7 was brimming with news. In addition to hosting a grand opening celebration for its new, state-of-the-art material recovery facility (MRF) in Chicago on Aug. 9, LRS also announced the appointment of a new CEO, joined with the City of Chicago in launching a customer-facing website detailing its recycling services, and was selected to receive a $3 million investment in new recycling equipment.
LRS operates more than 80 facilities in nine states across the Midwest. Its newest MRF, dubbed The Exchange, is located in Chicago's Back of the Yards neighborhood within the company's 25-acre eco-park. The Exchange was built in the span of six months at a cost of $50 million, with investments from Macquarie Asset Management, the Closed Loop Fund, The Recycling Partnership, and others.
Said John Sliwicki, executive vice president, Central Region, for LRS, at the grand opening, "The Exchange stands not only as a testament to our commitment to innovation, but as a beacon of the post-collection transformation and the limitless potential of technology in redefining waste management. At LRS, we have always believed the journey of waste doesn't end with collection. In fact, it's where the real magic begins.
---
| | |
| --- | --- |
| | Interested in learning more about the business and economics of recycling? Join your industry peers at this first-of-its-kind event to hear insights from MRFs, major CPG brands, and packaging suppliers on their journey to design and collect more recyclable packaging at the Packaging Recycling Summit, Nov. 6-8 in Atlanta, Ga. |
---
"I was once told that waste is only waste when we can't figure out anything else to do with it. The Exchange MRF embodies this belief, as it's equipped to handle various types of waste, including single-stream recyclables, non-hazardous and non-special municipal solid waste, and other recyclables. We're using state-of-the-art equipment, including six optical sorters, all managed by an incredibly skilled staff that can maximize the capabilities of this equipment. ... As of now, we're projecting that we will divert as much as 224 million pounds of recyclables annually, which will then be transformed into valuable resources that fuel industries and inspire change that will drive our circular economy."
A media tour on the eve of the grand opening revealed a highly efficient facility equipped with sorting machinery from CP Manufacturing that includes a swing arm feeder drum that breaks up single-stream materials and opens sealed bags, an auger stream that filters out items smaller than 8 inches, a glass breaker, a cyclone separator that separates glass from paper and plastic, a paper screen, a drum magnet for ferrous materials, and the six sorters—three for fiber and three for plastics (HDPE, PET, and PP). A grant from The Recycling Partnership's Polypropylene Recycling Coalition enabled LRS to include optical sorting for PP, which used to be baled with other plastics.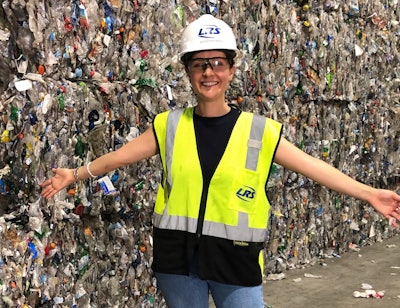 The recycling system operates at 25 tons per hour, which is 10 tons more than LRS's next most-sophisticated MRF in Forest Park, Ill., and can be expanded to 35 tons/hr. The entire facility is operated by just 11 staff members.
Present at the grand opening of The Exchange as a spectator was Matt Spencer, LRS's newly appointed chief executive officer, announced Aug. 7, who will be assuming the role on Sept. 12. In an exclusive interview with Packaging World, Spencer shared that he intends to leverage his expertise in M&A to continue LRS's strategy of acquisition, which he said is "100% of our value creation." LRS acquired 22 waste diversion and recycling companies in 2021 and 12 in 2022.
"We have a really good leader of business development, Dan Goldstein," Spencer said. "He's very talented with process and really strong in business development. I know the partnership with him and the rest of the leadership team will be highly acquisitive, but will be thoughtful on doing it the right way."
Another guest at the grand opening was Christopher Suave, deputy commissioner of Policy and Sustainability for the City of Chicago's Department of Streets & Sanitation (DSS). Pre-celebration, Suave shared with media a new website created by DSS and LRS, ChicagoRecycles.org, that provides a story map for Chicago residents so they can see the journey their recyclables take from the point of pick-up through recycling. Since mid-2021, LRS has provided "Blue Cart" waste disposal and recycling services for four of Chicago's six residential zones, totaling 400,000-plus households.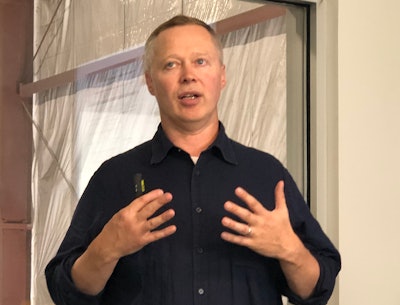 As part of the City of Chicago's Climate Action Plan, DSS has committed to divert 90% of residential waste by 2040. One of the strategies to reach this goal is education and transparency. "The story map is something we've been working on with the LRS team for the last six to eight months," said Suave. "It's just a quick intro, an educational piece, for residents to see how the program works, who's collecting in other parts of the city, and ultimately where the materials are going."
Finishing up a week of good news, on Aug. 11, the American Beverage Assn. (ABA), a trade association representing America's non-alcoholic beverage industry, announced that it had selected LRS to receive an investment of $3 million as part of its Every Bottle Back recycling initiative. The investment, in partnership with additional funding from Closed Loop Partners, helped support the construction and expansion of the Exchange.
"One of our industry's highest priorities is to create a circular economy for our bottles and cans," says Kevin Keane, interim president and chief executive officer of ABA. "Chicago is a great and innovative American city. It is exciting to partner on a significant project that will serve to enhance its beauty, environment, and quality of life. America's leading beverage companies are carefully designing our bottles to be 100% recyclable and investing in modern recycling systems to reduce our plastic footprint and keep plastic out of nature. We are excited to continue that work here in Chicago and thank everyone who made this investment a reality." PW