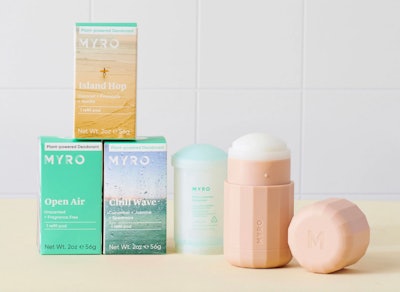 According to a recent survey of more than 1,100 consumers on sustainable packaging conducted by consumer insights platform Suzy, consumers are quite open to purchasing personal care products in refillable/reusable packaging. When the 1,100+ consumers surveyed were asked which personal care products they would be willing to use if it came in reusable packaging, 73% said shower gel, 61% conditioner, 60% body wash/shower gel, 56% body lotion, and 52% deodorant. Out of 15 categories listed, only 15% said, "None of the above."
When asked what steps they would like to see personal care products take to be more sustainable, 52% of respondents said they'd like to see them offer refill programs, 49% said they'd like them to offer package recycling programs, 48% want plastic-free packaging, 44% want brands to create more natural products, and 44% would like to see fewer synthetic ingredients.
One D2C brand, Myro, "the plastic-neutral body care brand that makes the three R's a breeze," is right in that sweet spot, with refillable/reusable solutions for deodorant and body wash products that are made with non-toxic, natural ingredients. Since its launch in 2018, the company has sold more than 1 million units and has collectively saved the equivalent of 30 metric tons of plastic waste—"that's like removing 1 million plastic straws or 3 million plastic bags out of landfills," says Greg Laptevsky, Myro's founder and chief executive officer.
Of the origins of Myro, Laptevsky shares that his previous role in marketing for meal kit company Plate, which used compostable packaging in its kits, is what inspired him to launch Myro. "As a startup, it was all hands on deck, and one of my tasks was customer interviews, late night kitchen cooking sessions, etc.," he says. "It was in those informal research conversations that I learned about this deep-seeded interest across a broad consumer base to reduce their waste footprint. Interestingly enough, people often wondered out loud why there wasn't a waste reduction solution for their beauty and personal care items the same way meal kits were for the food space.
---
---
"This prompted me to think about my own personal care routine and woke me up to the amount of one-time, throwaway stuff we buy at our household. I hadn't thought about it before, but when I did, I was sort of shocked that I simply accepted one-time bottle and throwaway overpackaging as normal for years and years. So I set out to test whether we can take the most obscure, boring, low-consideration everyday item like deodorant and turn it on its head by making it reusable and waste-reducing and actually sell enough of this crazy product to make a meaningful dent in waste reduction. If we could do it with deodorant, we could do it with any other product."
Launched in late 2018, Myro's plant-powered, gender-neutral deodorant includes a reusable and recyclable "made-for-keeps" PP plastic case with rounded edges and a ribbed surface coupled with refill sticks housed in a recyclable HDPE tube. Both packages were designed in-house, with the containers sourced from China. Although the packaging is patented, Laptevsky provides a high-level description of the design of the components: "The minimalistic refill pod containing the deodorant bulk is inserted into the deodorant case and gets locked in using a simple cylindrical snap feature. The same cylindrical snap feature also holds the case cap in place." He adds that each refill pod uses 50% less plastic than traditional deodorant sticks, which drives overall waste reduction over time.
While a couple of the choices around the packaging seem counterintuitive—the use of plastic materials and sourcing from China—there is sound reasoning behind them, including issues such as ease of consumer use, protection of the product, and financial considerations.
"On the reusable case, we initially landed on the plastic as a primary material due to in-use user experience reasons and travelability," Laptevsky explains. "We looked into aluminum and tin but kept getting stopped by the TSA every time we flew with prototypes in our carry-on …. not a great side effect of a product that's intended to be traveled with. There are a few other user experience flaws with aluminum containers that became obvious during consumer testing, but we're working on some ideas on how to potentially overcome them.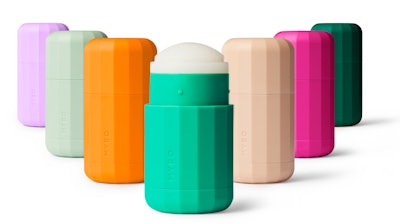 "On the refill, we landed on plastic due to the nature of the deodorant formula itself. Our formula is water-based and has been optimized for glide and absence of white streaks during application. Other alternate refill material types would have been incompatible with the core technology unless we were willing to sacrifice something about the actual deodorant experience. We are constantly pushing the needle on the formula though so I can certainly see opportunities down the road."
Myro offsets its use of plastic by partnering with an organization out of the Philippines called PCX (Plastic Credit Exchange). PCX eliminates plastic in an amount equivalent to Myro's usage through its partnership with local communities.
As for the packaging from China—an option that increases greenhouse gas emissions (GHGs) due to the long distance the containers are transported—Laptevsky explains that Myro's mindset has always been about designing for scale to be impactful. "This practically means that we need to have a margin structure that can compete with the gigantic MOQs [minimum order quantities] of incumbents, so sourcing from China is often an obvious choice. Alternatively, if the margin structure isn't there, scale—and therefore ultimate plastic reduction impact—is not possible."
When approaching the design of the packaging, Myro's in-house team, along with creative direction from boutique agency Deerfield, focused on making the end-use experience as close to the mainstream experience as possible, with the addition of the intuitive refilling feature.
---
---
Aesthetically, the team sought to create an object of permanence that's worth keeping. "Reusable products are, by definition, objects of permanence," says Laptevsky. "It turns out that consumers implicitly have a very different standard for objects they intend to keep versus those that are meant to be discarded. We think through every detail from aesthetics to functionality to storage to transport because reusable packaging is more than just about being reused."
The colors and graphics chosen for Myro's case and refill packs are all about conveying optimism. Cases come in a selection of six colors: three soothing pastels and three bold shades. Refill pods come in compact FSC-certified, paperboard cartons, with atmospheric photography on the front that corresponds to the scent inside. The company currently offers nine gender-neutral fragrances and one unscented refill.
Myro's line of deodorant products is available on its website, as well as on Amazon and Target.com and at Bed, Bath & Beyond and CVS. On its site, the refill pods are priced at $15, and a starter kit that includes a case and two pods ranges from $18.75 to $25, depending on whether the customer is a subscriber or is making a one-time purchase.
---
---