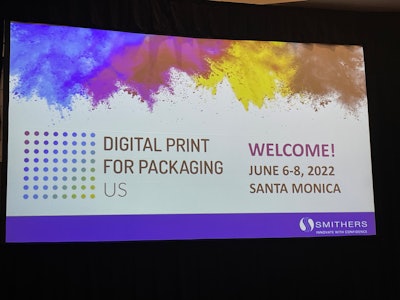 A panel of four brands at the recent Digital Print for Packaging US conference were introduced to the part that digital printing can play to help CPG companies reach their sustainability goals.
Tomlynn Biondo, art director of packaging and print at Seventh Generation, said, "I think that younger generations sometimes use brands as a way to represent themselves, so they're going to move towards these companies who have sustainability focuses and goals as they want to feel good about the choices that they're making."
Efforts that the panelists' companies have tried include:
Creation of refillable products
Use of sustainable substrates
Use of labels and QR codes to instruct consumers on recycling systems
Minimizing packaging to reduce waste
Direct-to-consumer methodology
But the adoption of digital printing as a means to meet sustainability goals wasn't something any of the panelists' companies had considered. Some panelists even thought that digital printing applications were limited to sales samples and personalization, in regional events for instance. Only Annica Eldh, R&D packaging manager, H&M Group, said she believed digital printing will become more significant as it continues to grow in the packaging industry.
But as Sean Smith, private consultant at Smithers explained, there are a number of applications in which digital printing could boost brands' sustainability profiles.
"You don't need any cylinders, you don't need any plates, you don't need as much setup waste as you do with an analog press and you can down weight," he said during the conference. "But probably more important than all of those, you can respond to demand much more quickly with no supply chain waste and potential redundancy through them."
In other words, digital printing solves the obsolescence issue surrounding inventory as printing is done on demand, which also increases speed-to-market.
As for D2C packaging, which the panelists emphasized is an increasingly popular sustainability effort among consumers, digital printing allows packaging consolidation. That's because the shipper that arrives on the consumer's doorstep can be designed to advertise the product within and contain pertinent product and recycling information, eliminating the need for further cases, cartons, or containers.
Doris Brown-McNally, WW brands innovation & strategic partner manager, HP Inc., shared that her company had recently done a study with One Tribe, a certified B Corp. made up of environmentalists, technologists, and marketers who help brands decarbonize their e-comm operations. The study answered the question 'what if all packaging was digitally printed?' One Tribe's response was that the industry would see a 26% reduction of the waste, equaling over 50+ billion tons of material.
As touched on by Liz Logue, VP of corporate business development and IJ strategy at EFI, US—a digital printer manufacturer—with digital printing, which consumes less ink than analog methods, costs depend on the amount of physical space being printed. That differs from analog printing, where costs depend on the number of inks being used—a distinction many brands are still unaware of.
Another distinction that the industry is trying to make known is that the quality of digital printing is better than it used to be a decade ago. In fact, it has improved to the point that consumers could not tell between an analogue and digitally printed piece of packaging.
"Digital not only compares but in many cases it exceeds the quality that you're able to get off a flexographic press," said Carl Joachim, co-founder and CMO of ePac Flexible Packaging, the first all-digital manufacturer of flexible packaging in North America.
When asked about how to approach brands with these benefits, panelist Melody M. Miller, senior director of global in-market graphics, Global Graphic Shared Service, SC Johnson, said to start by showing the procurement department how much digital printing will save them and how.
"The idea of regionally located digital supply chain for print is brilliant, but in order to sell that to a brand owner you're going to have to convince them that it will save them money and you're going to have to be prepared to go into this sale with a team of people, because the brand owner's going to want you to talk to them about end-to-end," Miller said. "They're going to ask you questions about the whole supply chain. Be prepared to partner with supply chain to come into these meetings with a team of people to be able to answer those questions."
Companies in this article