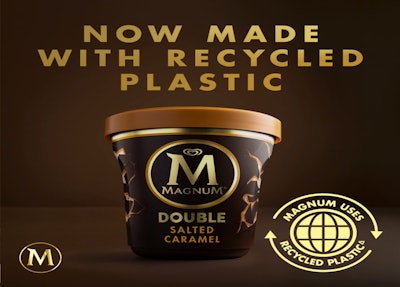 Anne Marie Mohan reported in January 2021 that this indulgent ice cream brand pioneers the use of recycled plastic, with the material sourced from mixed plastic waste converted to plastic resin feedstock through advanced recycling.
Creating a circular economy for single-use plastic packaging has become the rallying cry for Consumer Packaged Goods companies around the world. To comply with the Ellen MacArthur Foundation's New Plastics Economy Global Commitment, many top multinationals have committed to ambitious goals around reducing their use of virgin plastic as a way to address plastic waste and pollution at its source.
One company leading the charge is Unilever. Among its 2025 goals, the global provider of food and refreshment, home care, and beauty and personal care products has committed to several significant advancements, including cutting in half the amount of virgin plastic it uses in its packaging for an absolute reduction of more than 100,000 tons of plastic; helping to collect and process more plastic packaging than it sells; ensuring that 100% of its plastic packaging is designed to be fully reusable, recyclable, or compostable; and increasing its use of post-consumer recycled plastic material to at least 25%.