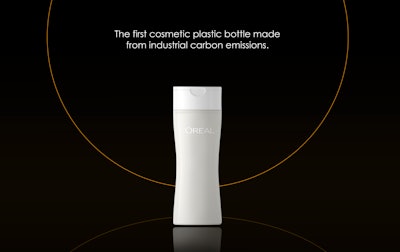 "Turning trash into treasure": That's how Freya Burton, Chief Sustainability and People Officer for carbon recycling company LanzaTech describes the process used by L'Oréal earlier this year to produce the first cosmetics bottle made from industrial emissions. The prototype bottle is the result of a collaboration between the French cosmetics giant, LanzaTech, and energy company TotalEnergies that began in 2016.
The partnership one of a number of strategies L'Oréal is employing to meet its L'Oréal for the Future 2030 sustainability commitments. Among these commitments is a plastics roadmap target of 100% refillable, recyclable, reusable, or compostable packaging by 2025 and 0% fossil-based packaging by 2030. Says Brice Andre, Global Director Sustainable Packaging and Development for the company, "To achieve the objectives of the L'Oréal for the Future program in terms of sustainable packaging, L'Oréal is working with a number of strategic partners, giving it access to the best technologies." 
---
---
Because mechanical recycling presents limitations in terms of the availability and quality of feedstock, Andre shares that L'Oréal is pursuing alternative technologies to meet its ambitious plastic packaging goals. In 2019, the company announced an agreement with PureCycle Technologies for the use of its Ultra-Pure Recycled Polypropylene (UPRP)—a material produced through a chemical recycling process developed by Procter & Gamble—when the material becomes available at commercial scale. Also in 2019, L'Oréal worked with packaging supplier Albéa to develop a tube made from a bio-based, paper-like material as an alternative to traditional plastic cosmetics tubes.
And, just recently, in June 2021, the company announced that along with consortium partners Nestlé Waters, PepsiCo, and Suntory Beverage & Food Europe, it had produced the first cosmetics bottle made entirely from PET produced through Carbios's enzymatic recycling technology (see sidebar that follows).
For high-density polyethylene packaging, however, L'Oréal's work with LanzaTech and Total in the form of a plastic bottle made from industrial carbon emissions is a world first.
A common goal of circular packaging
To ferret out innovative, game-changing technologies, Andre says L'Oréal has put a streamlined process in place. "Our teams first conduct active worldwide scouting of new or improved rising technologies that allow us to find alternatives to virgin plastics or reduce its use," he explains. "Our packaging and design departments then analyze these options for quality, robustness, and consumer experience."
In LanzaTech and TotalEnergies, L'Oréal found partners that shared the same goal of developing a circular economy for plastics. "And through this partnership, we together found a common purpose for reusing industrial carbon emissions," Andre says.
LanzaTech's "trash-to-treasure" process, described as CarbonSmart™, allows carbon waste to be captured and converted into new products using the biological process of gas fermentation. Explains LanzaTech's Burton, "If you think about traditional fermentation, you use sugars and yeast to make alcohol. We actually do the same thing, but instead of using sugars, we take waste carbon in a gaseous form, like carbon monoxide or carbon dioxide, for example, and then, instead of yeast, we have a clever bacteria that converts the carbon in the gas into ethanol."
---
---
Typically, the gases used for the process are those combusted and emitted as carbon dioxide, or pollution, from an industrial process. Through the CarbonSmart technology, LanzaTech pipes that gas into a special reactor. "In the reactor, bacteria are swimming around in a liquid medium, and the gas sort of bubbles through the liquid, where the bacteria can then eat it more efficiently, and they produce ethanol as a byproduct of their growth process," says Burton. "They eat it, they divide, and they make ethanol."
Interestingly, the CarbonSmart process can also potentially use as feedstock agricultural waste and residues or unsorted, unrecyclable household trash that would otherwise be landfilled or burned for power. In this scenario, LanzaTech would partner with a company using gasification to turn the solid wastes into a synthesis gas stream (syngas), which would then be converted to ethanol via the CarbonSmart process.
LanzaTech's first commercial site capturing industrial emissions, located in China, has been in operation since 2018. There, the company is taking emissions from a steel mill to make ethanol. As of early 2021, LanzaTech had produced more than 20 million gallons of ethanol—the equivalent of mitigating more than 100,000 tons of CO2—from the mill's emissions. In April 2021, the company opened a second facility in China. Other projects in the works include a plant in Belgium with ArcelorMittal, the largest steel company in the world, and a plant in India that will take in refinery emissions, both of which are scheduled to become operational in 2022.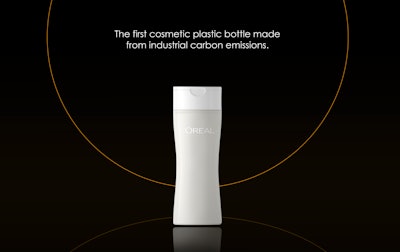 Other developments from LanzaTech include production of PET fibers for use in clothing, with a partnership with Lululemon making sports apparel, and the production of food-grade packaging with Consumer Packaged Goods company Mibelle Group, a subsidiary of Switzerland's largest retail group, Migros, which won the German Packaging Award 2021 in the Sustainability category.
In the case of the prototype bottle made for L'Oréal, the ethanol was produced at LanzaTech's first commercial site in China. The next step in the process was handled by TotalEnergies. Using a dehydration process developed in partnership with IFP Axens, TotalEnergies converted the ethanol into ethylene and then polymerized it into a polyethylene material having the same technical components as virgin, petroleum-based plastic.
The fact that the material is chemically identical to virgin HDPE is an essential requirement for L'Oréal. "We have the same requirements [for the recycled material] as for virgin, fossil-based plastic," says Andre. "We aim to match the same level of quality, purity, appearance, and mechanical properties." He adds that the prototype bottle, manufactured by one of L'Oréal's strategic bottle suppliers, fully confirms the material's indistinguishability from virgin HDPE.
Partners needed for scale-up
While L'Oréal's prototype bottle was a great success, much work needs to be done by the partners in order to meet L'Oréal's target of commercialization by 2024 for its shampoo and conditioner packaging. "What we're doing now is working on the scale-up," says Burton. "So we have the ethanol scale-up; that part is done. The next part is the scale-up of the conversion into ethylene and polyethylene, and then production of the bottle. What we're also doing is looking at more locally available sources of ethanol, with our facility in Belgium coming online in 2022. That will help reduce the carbon footprint because we won't be shipping ethanol around the world."
The partners are also working to involve other companies interested in using the technology. "When you've got greater volumes to convert, it becomes more economic for everyone concerned," Burton adds.
---
---
Agrees Andre, "As with most innovation, there are risks connected with feasibility, price, timing, scalability, and performance, including environmental performance. Beyond these aspects, it is key to consolidate production quantities with more companies. The more quantities there are, the more we secure the investments and the economical equation."
He notes though that L'Oréal is working to enlist other partners in the technology not only to consolidate volumes, "but also to share this breakthrough technology with the industry."  
PET Bottle from Enzymatic Recycling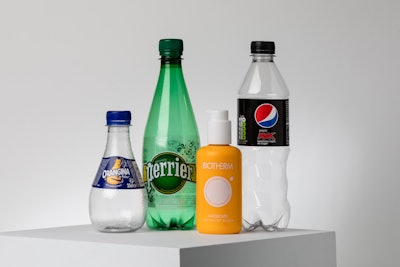 In June, a consortium of global brands comprising L'Oréal, Nestlé Waters, PepsiCo, and Suntory Beverage & Food Europe, along with green biotech company Carbios announced they had successfully produced the world's first food-grade PET plastic bottles made entirely from enzymatically recycled plastic.
Each company was able to manufacture sample bottles for some of their leading products. L'Oréal produced a bottle for its Biotherm skincare brand. Its goal, it says, is to put rPET Biotherm bottles based on this disruptive innovation into production in 2025.
Said L'Oréal Packaging and Development Director Jacques Playe at the time of the announcement, "We have been working with Carbios since 2017 to develop this first bottle made from PET derived from enzymatic recycling technology, an alternative to mechanical recycling. We are pleased to announce today the feasibility of these bottles in a pilot phase and are delighted to be in a position to create the packaging of the future with our partners. This is a promising innovation for the years to come that demonstrates our commitment to bring to market more environmentally friendly packaging and which is part of a circularity initiative begun more than 15 years ago."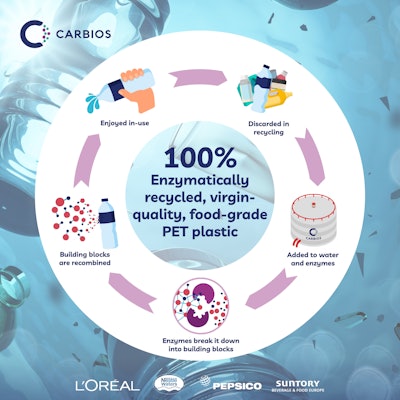 According to Carbios, the development was the culmination of nearly 10 years of research and development to create a new process to supercharge an enzyme naturally occurring in compost heaps that normally breaks down the leaf membranes of dead plants. By adapting this enzyme, Carbios says it has fine-tuned the technology and has optimized the enzyme to break down any kind of PET plastic—including clear, colored, opaque, and multilayer—into its building blocks, which can then be turned into like-new, virgin-quality plastic.
Carbios adds that the process can also be achieved at high speeds, breaking down 97% of plastic in just 16 hours, which it says is 10,000-times more efficient than any biological plastic recycling trial to date. It also adds that enzymatic recycling overcomes the issue of degradation in conventional recycling. And, because the process works under mild conditions, it could also lower the carbon footprint of PET waste treatment by saving 30% of CO2 emissions compared to a conventional end-of-life mix of incineration and landfill, taking virgin PET production substitution into account.
In September, Carbios broke ground on a demonstration plant; a 40,000-ton-capacity industrial facility is scheduled for launch by 2025. 
Companies in this article