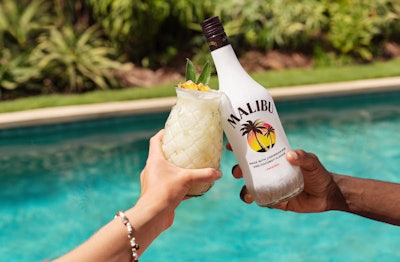 Malibu, a popular rum brand and part of The Absolut Company, has announced a year-long collaboration with the social enterprise Plastic Bank to help stop ocean-bound plastic while improving the lives of collector communities. The collaboration will help prevent approximately 100 metric tons, or nearly 110 U.S. tons, of plastic—the equivalent of 5 million single-use plastic bottles—from entering the ocean within the next year in the Philippines.
---
---
Says Malibu, every year, 8 million tons of plastic enter the oceans, which is the equivalent of one garbage truck dumping plastic into the ocean every minute. The collaboration between Plastic Bank and Malibu will collect plastic from across the Philippines—the world's third-biggest contributor to ocean plastic—and will help improve the lives of the local collectors and communities where Malibu sources most of its coconuts.

Plastic Bank builds ethical recycling ecosystems in coastal communities and reprocesses the materials for reintroduction into the global manufacturing supply chain. Collectors in Plastic Bank's ecosystems receive a premium for the materials they collect, which helps them provide basic family necessities such as groceries, cooking fuel, school tuition, and health insurance.
Says Lynne Millar, Purchasing Director at The Absolut Company, "Malibu is proud to collaborate with Plastic Bank to stop ocean plastic while improving the lives of communities within the Philippines. Our collaboration is creating environmental, social, and economic impact, with every Malibu purchase contributing to our annual commitment of stopping 100 tonnes of ocean-bound plastic from entering the ocean."
Speaking on the collaboration David Katz, Founder, and CEO of Plastic Bank, says, "We are excited about our collaboration with Malibu, a brand that is committed to the regeneration of the world's oceans. By supporting our ethical recycling ecosystems in the Philippines, Malibu creates lasting environmental, social, and economic impact."
---
Interested in Learning More About Sustainable Packaging? Download Our Free PDF: 'Getting Started with Sustainable Packaging' Below.
---