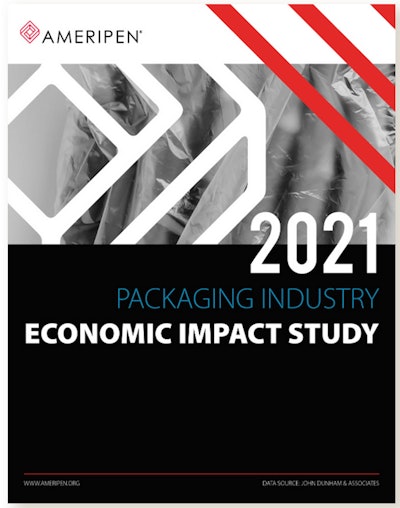 It's now quantifiable: The U.S. packaging industry is a major economic contributor, accounting for approximately $538 billion in total economic output—approximately 2.5% of gross domestic product—and nearly one out of every 100 existing jobs in the country.
Those numbers are part of a first-of-its-kind report commissioned by AMERIPEN to better understand the size and scope of the entire U.S. packaging industry and its contributions to the economy at the national and state levels. The COVID-19 pandemic reaffirmed that packaging is essential to human health and product safety. Now, it's imperative for policymakers and stakeholders to understand fully the opportunities packaging can provide as the country pivots to post-pandemic economic recovery.
---
---
AMERIPEN retained John Dunham & Associates to analyze the financial and societal impact made by the U.S. packaging industry, which is the largest producer of packaging in the world. The numbers confirm what we all know: Our industry has tremendous reach, touching businesses in all 544 sectors of the U.S. economy. Packaging businesses support more than 1.68 million direct and ancillary jobs nationwide, as of January 2021, and pay workers more than $117.73 billion in wages. In addition, industry companies and their employees contribute $43.46 billion to their communities via direct federal, state, and local taxes paid.
National numbers
Breaking down that data, we get a clearer sense of packaging's true value, which will be particularly useful as we look at increased legislative interest in packaging.
The industry is directly responsible for $242.66 billion in economic activity and employs roughly 489,000 Americans, with 301,000 working in packaging manufacturing and 188,000 in fulfillment positions. By comparison, our industry directly creates more jobs than the oil and gas extraction industry and nearly as many jobs as the data processing and hosting industry or the motion picture industry.
Those are well-paying jobs, too. On average, packaging businesses pay wages and benefits of more than $77,000 a year per employee—23% more than the median U.S. household income, according to the most recent five-year estimates from the Census Bureau. Cumulatively, direct industry employees earn more than $37.97 billion annually.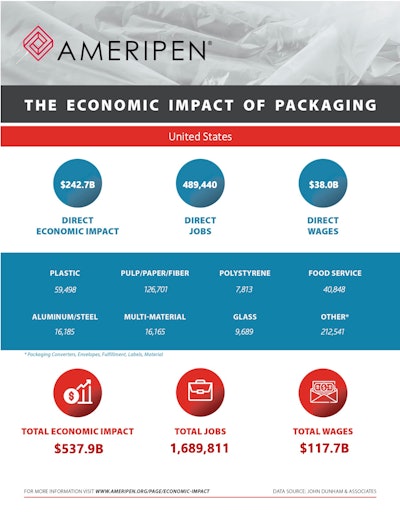 Positions at industry suppliers, such as those involved with raw materials, transportation, warehousing, business and personnel services, government enterprises regulating the industry, and more, account for another 540,554 jobs and $41.83 billion in wages nationwide. In addition, such suppliers contribute $175.66 billion in goods and services. The industry also indirectly supports a wide variety of additional positions. For example, more than 31,000 people are employed in the agriculture industry as a result of the packaging industry. The same is true for the more than 215,000 Americans working in retail and the travel and entertainment sectors, both of which were severely affected by the pandemic.
The economic and societal benefits of packaging extend even further when we factor in the ripple effect of how industry and supplier employees spend their earnings. Businesses that profit from such patronage, in turn, pay their workers and taxes. Our analysts conservatively estimate that "induced" flow of money at $119.59 billion and the number of jobs it creates at nearly 660,000.
State-level indicators
While every state and the District of Columbia enjoy the benefits generated by the packaging industry, some states and geographic areas are realizing considerable economic value. Consider that 19 states in the country owe at least $5 billion of their economic output directly to the industry. Eleven of those states—including all of the Great Lakes region (Illinois, Indiana, Michigan, Ohio, and Wisconsin)—realize more than $129.85 billion combined, or 54% of the total output directly generated by packaging across the country.
---
---
Examining state-level data provides deeper insights on where the industry-specific jobs are located. California, for example, is home to the most manufacturing and fulfillment jobs (47,677), followed by Illinois, Texas, Pennsylvania, and Ohio, respectively. Population seems to be a leading indicator of employment concentration; however, we also know that because packaging is closely tied to other products, the industry tends to locate facilities next to or near key resources or customers. This likely explains why we see a large industry presence in the Midwest. Proximity to packaging schools and research also may influence employment and plant locations, which is why we see strong numbers ($26.47 billion in direct activity and 52,379 jobs) in the Carolinas and Michigan.
Why data matters
The positive influence of the packaging industry extends far beyond the products we produce, as the numbers in our report indicate. By quantifying our economic impact, we now have solid evidence demonstrating how our businesses and their employees play a vibrant role in the nation's prosperity and support their state and local communities. As we look forward to 2022, sharing this data with regulators and policymakers will be crucial to helping states and the industry design strategies for post-pandemic recovery as they also consider packaging-related legislation and policies.

Dan Felton is Executive Director for AMERIPEN. AMERIPEN represents the U.S. packaging value chain by providing policymakers with fact-based, material-neutral, scientific information.