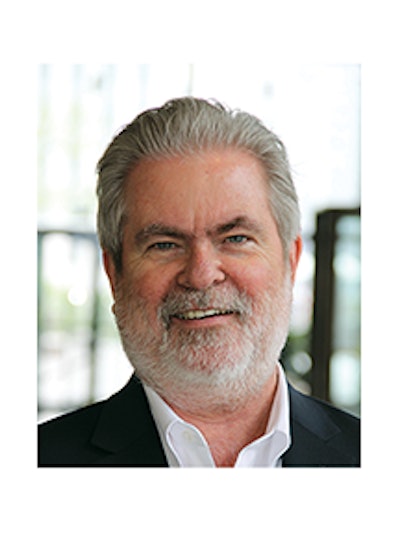 Both designed for Nestlé's Vittel® natural mineral water, they function just like traditional plastic bottles but use much less plastic.
First there's the Vittel® GO system, which consists of a reusable hard protective plastic case designed to hold 50-cL refills of natural mineral water that are made with 40% less plastic than a traditional 50-cL PET bottle. Not available as this goes to press is the identity of the plastic resin used to make the case or the refills, but I'm thinking the case is injection-molded polypropylene and the refills are injection stretch blow molded PET.
The second Vittel innovation is a paper/plastic hybrid approach that represents a new take on the paper bottle from Ecologic Brands, the Manteca, Calif.-based firm that was purchased in January and is now part of Jabil Packaging Solutions. (More on this acquisition in a moment.) The bottle's two thermoformed fiber shells with interlocking tabs are familiar enough, and once again they're made of recycled paperboard and old newspapers. But while recent offerings from Ecologic included an inner liner extrusion blown of 80% post-consumer HDPE, the liner in the Vittel bottle is injection stretch blow-molded of 100% recycled PET. It's also notably svelte at just 9 g. Who makes the PET liner and how is it married to the fiber shells are questions I wasn't able to get answered as press time neared, nor do I know what kind of label is involved. Such details are a bit hard to come by at this stage partly because the innovative bottle is really more trial than launch. In fact, when it makes its debut, this bottle won't be on store shelves but rather will be distributed at that famous cycling extravaganza called the Tour de France, which starts June 26.
Also distinguishing this bottle from earlier iterations is that it features a tear tab that will make it even easier for consumers to separate the fiber shells from the PET liner and put each in the appropriate recycle stream. Again, I wish I could provide a few specifics on how and when and on what kind of equipment the tear strip gets added. But alas....
Returning for a moment to Florida-based Jabil's acquisition of Ecologic Brands, this could be a watershed moment in the development of paper bottles. Keep in mind that many would say the very idea of a paper bottle is fundamentally quixotic. After all, look how long Carlsberg has been prototyping a paper bottle for beer. Or ask Paboco (a consortium that includes Coke, L'Oreal, and Absolut) or Pulpex (another consortium that includes Diageo and Unilever) when their paper bottle offerings will reach consumers with product inside. Or consider the opinion of Axel Barrett of UK-based Bioplastics News, who concluded in a February 15 piece called "The Paper-Bottle Fairy Tale" that "PET bottles are the only existing example of bottle-to-bottle mechanical recycling at industrial scale."
Skepticism about the true viability of a paper bottle is well founded and inevitable. I've been as skeptical as the rest—as in, "Wait, you're going to put liquid in a paper bottle and expect it not to leak?!?" But what makes the Ecologic/Jabil union notable is that it brings Ecologic—essentially a startup, mind you—the vast engineering skills and financial resources of a Fortune 200 juggernaut with annual sales of $27 billion. What Ecologic has hoped to do for some time now is ship nested shells to regions around the world where blow-molding or injection stretch blow molding of the inner liner would also be done. This would greatly optimize the sustainability of the container because then, rather than shipping empty bottles to its customer base, Ecologic could nest the fiber shells and have them efficiently assembled in locations relatively close to brand owner customers. Or maybe the brand owners themselves would install automated assembly equipment designed by Ecologic/Jabil. So far this model has been elusive because the highly specialized automated equipment currently used to assemble the bottles only exists, at this point in time, in Ecologic's Manteca facility. But with the resources of Jabil—100 sites in 26 countries, design engineering expertise in life sciences, defense, automotive, computing, networking, and telecommunications—behind Ecologic's efforts, optimizing such equipment and getting it built and distributed globally becomes a tad less daunting. Yes?
Before forming an opinion, see video at pwgo.to/7085.
---
PACK EXPO Las Vegas and Healthcare Packaging EXPO (Sept. 27-29, Las Vegas Convention Center) will reunite the packaging and processing community. With over 1400 exhibitors, no other event in 2021 will bring together a more comprehensive gathering of suppliers offering new products, technologies and solutions. Attendee registration is now open.