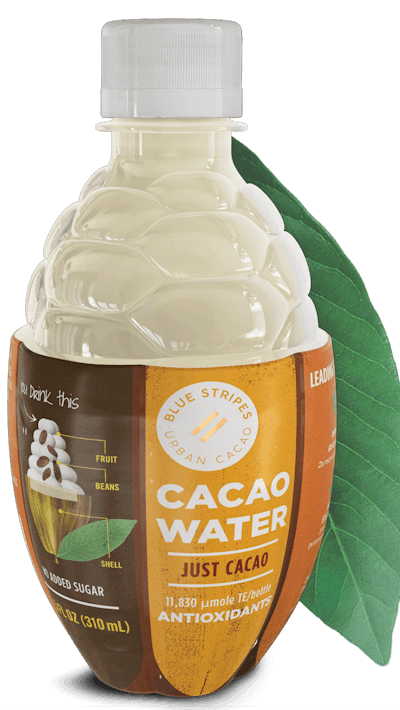 Demand for recycled polyethylene terephthalate (rPET) drink bottles in the U.S. and the European Union already is showing evidence of a coming tightness—if not outright shortages—in the coming year. New and inventive alternative sources are the aim of numerous collaborative research strategies.
Packers, bottlers, and their packaging partners are teaming up to debut inventive sustainable packaging material compositions and formats. One example of this "new generation design thinking" is a 5-L evian® "(re)new in-home water appliance" currently being piloted as an e-commerce offering in London and Paris. The evian appliance—shipped (two to a zippered corrugated box) to 200 English and French consumers—is a dispenser consisting of a thin-wall, 100% recyclable rPET "bubble" holding evian water. The "bubble bottle" uses 66% less plastic than 3.33 1.5-L bottles holding an equivalent amount of water.
Snapped into the throat of the bubble is a plastic spigot which, when placed in the base of the dispenser and triggered, releases water from the bottle. As the water is decanted, a vacuum is created in the bottle and the smooth thin wall (the "skin") of the bubble deforms. When all the water is evacuated, the dispenser signals for the water to be replenished.
Simpler and much smaller than the evian tech is a cacao pod-shaped bottle used by Blue Stripes Urban Cacao for a line of cacao water drinks. The 10.5 fl oz (210mL) rPET bottle is designed by Israeli industrial designer Iris Zohar to resemble a cacao pod. The bottom half is molded to look like the striated shell of the cacao plant, and the top portion like the pulp and seeds of the plant. An in-mold labeled (IML) plastic shrink band over the lower portion of the pod-bottle carries nutritional, marketing, and recycling data. The unlabeled upper portion of the bottle is blown to resemble seeds in the pulp of the fruit. Specialty blow molder Captiva Containers produces the rPET pod-bottle.
Academic research on plant-based packaging is widespread. But the economics of producing bio-materials is not commonly the focus of preliminary academic studies. The cost of bio-alternatives, and the economics of manufacturing them on a commercial scale, often remains to be determined by subsequent study and experimentation. Recent academic explorations suggest intriguing possibilities for a cornucopia of sustainable packaging origin materials.
Canadian researchers at Memorial University of Newfoundland, for instance, report that fish heads, bones, and other salmon offal are among the locally-available resources they can use to produce a biodegradable polyurethane-like cushioning material for transport packaging and other applications.
Meanwhile, Yale, the University of Wisconsin, and the University of Maryland are collaborating on the quest for a new bioplastic derived from sawdust. The wood powder bioplastic exhibits high performance characteristics yet researchers report in the journal Nature Sustainability that it will "degrade entirely in the space of three months." In a nod to real world economics and sustainability, the researchers are keenly aware that large-scale production could require "massive amounts of wood, which could have far-reaching implications on forests, land management, ecosystems, and climate change."
AIMPLAS, the Spanish Research & Technology Center, is working to develop a new biodegradable packaging system to lengthen by at least 15% the shelf-life of fast-browning produce like avocado. They call their effort the Guacapack project. Funded by the Valencian Innovation Agency (AVI), the project is led by ITC Packaging in collaboration with the Universidad de Alicante's research group on Polymer and Nanomaterial Analysis. The secret to the avocado's 15%+ longer life, researchers believe, is both the oxygen barrier IML employed in the injection-molded polylactic acid (PLA) cup holding the avocado, and the use of natural avocado antioxidants.
Scientists at Ames Laboratory and Clemson University use a ball-milling process to break down polystyrene for recycling. The one-step, room-temperature ambient-atmosphere process uses no solvents.
Ball-milling is a technique that agitates materials with metal ball bearings in a milling vial until a desired chemical reaction occurs. "This method represents an important breakthrough that enables dismantling of a polymer simultaneously with its breakdown under ambient conditions, that is, ~300ºC below the thermal decomposition temperature of the pristine material," says Ames Laboratory Senior Scientist Viktor Balema. "We think this proof of concept is an exciting possibility for developing new recycling technologies for all kinds of plastics, and that will contribute to establishment of the circular economy." The research was funded in part by Ames Laboratory's Laboratory Directed Research and Development (LDRD) Program.
One research project not skirting economics is at the University of Delaware's Center for Plastics Innovation (CPI) where they've developed a direct method to convert single-use polyolefin packaging waste including plastic bags, yogurt cups, plastic bottles, bottle caps, etc., into ready-to-use molecules for jet fuels, diesel, and lubricants. The project uses approximately 50% less energy than other technologies, and it doesn't involve adding carbon dioxide to the atmosphere, an emissions savings over other commonly used techniques. It can be done in just a couple of hours at a temperature of about 250ºC.
The CPI research uses catalysts composed of zeolites and mixed metal oxides to break down plastic solids into smaller carbon molecules. "Alone these two catalysts do poorly. Together, the combination does magic, melting the plastics down and leaving no plastic behind," says lead researcher Dion Vlachos, UD professor of chemical and biomolecular engineering.
---
Ben Miyares, Packaging Sherpa, is a packaging market and technology analyst and is president of The Packaging Management Institute, Inc. He can be reached at bmiyares@packmgmt.org.