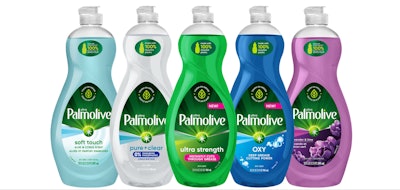 On March 18, Colgate-Palmolive will be announcing the relaunch of its iconic dish liquid brand, Palmolive Ultra, with new, 100% biodegradable cleaning ingredients coupled with a bottle made from 100% recycled-content PET. Palmolive Ultra is the most widely distributed and purchased line within the portfolio, and Colgate-Palmolive estimates the move to 100% rPET will help divert 5,200 metric tons of plastic out of landfills in the U.S. and Canada. This also makes Palmolive the biggest dish soap brand in North America to shift to 100% post-consumer recycled material, based on 2020 sales data.
Palmolive is responsibly made at a Colgate-Palmolive facility in Cambridge, Ohio, that has achieved TRUE Zero Waste certification from Green Business Certification Inc.™ (GBCI ® ).3 The new PCR Palmolive Ultra bottles feature labels that highlight the brand's use of recycled plastic, 100% ingredient transparency, and a How2Recycle® logo, which clearly communicates recycling instructions so shoppers can properly recycle the bottles at home and help stimulate the circular economy.
According to the company, the new line will be available this month at retailers nationwide in a 20-oz size for an SRP of $2.49.
In advance of the announcement, Greg Corra, Global Packaging Innovations & Sustainability, Colgate-Palmolive, spoke with Packaging World about how the relaunch came about and how it fits into the company's broader sustainability goals.
Packaging World:
Why did you select Palmolive Ultra for this change and why this category overall?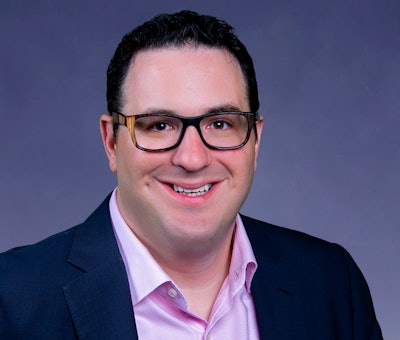 Greg Corra:
We have a broader strategy of increasing the use of recycled content across our portfolio, and we decided to lead on this in the U.S. with Palmolive Ultra, a.) because of the scale that brand has and it's part of a broader initiative to really lean in on sustainability with Palmolive Ultra, including the product as well, and b.) due to the heritage and position of the brand. These were all considerations.
What was the existing bottle made from? Did it include recycled materials?
The bottle was clear PET with a clear polypropylene cap. So prior to the change, we were between a 25% and 35% rPET, depending on the SKU and depending on availability. And now we're moving to 100% rPET across the range.
With Palmolive Ultra, you've joined a new, more environmentally friendly formula with the new packaging. Did the formula come first or the packaging?
They actually came together, and it was part of the relaunch discussions on really to lean in. We knew that it couldn't just be the packaging or just be the formula. So it was a joint decision. And that's been a trend more and more, at least within Colgate, to tie product and technology in the pack into a singular story and a singular body of work.
Could you talk a little bit more about how this fits in with Colgate-Palmolive's larger sustainability goals?
Absolutely. So our broader sustainability strategy includes as one of the 11 core actions eliminating plastic waste. And that's all, obviously, plastics, and packaging is a significant part of that. And then within that strategy, circularity is at the core. And what I mean by circularity is moving from a linear kind of make-use-dispose approach to a more circular approach that includes recyclability, reuse, and compostability. So, as we look to apply that broader corporate strategy on this relaunch, moving to 100% rPET was a critical part of that, because the bottle design in and of itself is very recyclable.
So PET is one of the most active recycling streams. We're using clear bottles, no colorant. We're using BOPP [biaxially oriented polypropylene] labels with washable adhesives to improve the stream, but that's feeding into it. So we wanted to pull from the circular economy as well. So by using 100% rPET, that's in an aim to kickstart and forward that on both ends.
And this also feeds in to a goal we recently announced to reduce the amount of virgin plastic we use as a company by a third on absolute terms. So that's a pretty ambitious target, and using an increased amount of post-consumer recycled content is a core pillar of that.
---
| | |
| --- | --- |
| | Watch video to learn how Annie's Organics incorporated post-consumer recycled content into a cereal bag. |
---
In looking at many CPG's sustainability strategies, there is a big push toward using less virgin material and more recycled content, but there is definitely a consumer backlash against single-use plastic packaging. Did you look at alternatives to plastic? And if so, why did you decide to stay with plastic?
That is a great question. And yes, we have a very wide range of materials that we look at for our broader portfolio and each relaunch. On this specific one, on Palmolive Ultra, why we landed at rPET was a combination of the overall environmental footprint, usability and performance of the package, circularity, and scalability. So this is one of the larger brands we have, and we're looking to do something that was authentically sustainable, authentically circular, and can be done at scale and with the performance that consumers expect.
How do you convey that message to consumers, that yes, it's plastic, but this is the best and most sustainable option for this product, and we're doing everything we can to use recycled materials and to ensure it has every opportunity to be recycled?
That is a tough question, because as you may know, when you're communicating to consumers and the average person, you need to meet them where they are and use language that they understand. And oftentimes, like scientific analysis of life cycles and things like that are kind of murky and not clear. So here, where we're trying to land it, is that the story of everything in this bottle is made from plastic that is already in the world. Right? And so it's about this, it's a PCR story. So it's not trying to have the conversation of plastic versus non-plastic, or this versus that. It's just stating that we're using a material that is already out there and is circular. So that's primarily how we're trying to convey this and land that within a broader story about the formula and package together.
What technical challenges did you face in moving to 100% recycled content? And how did you address those?
In this category, as a company we're very vertically integrated. So we injection mold our own preforms. We blow our own bottles. We label our own bottles, all in house. So we take in resin and we output a finished product. So the technical hurdles were not something we could outsource to a packaging supplier. We needed to solve them ourselves. So finding the right material specification from both a processability standpoint and a purity standpoint was critical because we did not want to change the iconic Palmolive Ultra bottle shape. It's something that's been around for a while. People recognize it. So the challenge was how do we get a 100% rPET on the same mold with the same geometry? So that was through finding the right specification of the material and the right supply, and setting the right intrinsic viscosity so that it would run on the equipment. So, that was number one. And then number two was validating that entire process from preform injection to bottle blowing to the full efficiencies of production.
Okay. Did you have to do a lot of tweaking to equipment to make this happen?
So from a settings perspective, yes. We did not need to change the asset base, but for sure, packaging plus manufacturing were in it together to ensure that this new material ran on our equipment. So it was more about settings, and less about new machinery.
---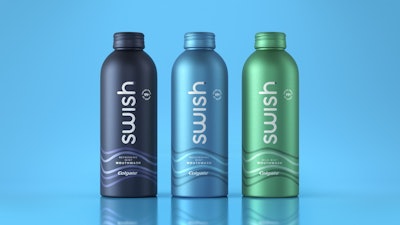 Colgate-Palmolive has made sustainable packaging a key priority. From recyclable toothpaste tubes to aluminum bottles for mouthwash, they're locked in on eliminating plastic waste and delighting consumers. Read more about how the company is driving packaging innovation in this article from Packaging World Editor Emeritus Pat Reynolds. Colgate: Packaging's Day Has Come
---
One of the issues with using 100% rPET in packaging has been the cloudy appearance of the material. How did you address this?
So we know that the color and the clarity is different on recycled material versus virgin. And we made sure we looked at it holistically. So we're looking at the bottles filled, with the labels on it, and with the specifications we set for performance, the level of clarity there was quite good. Also, we found that there is growing familiarity with recycled PET, and I would say a higher fluency in what that looks like. So what maybe 10 years ago would be viewed as maybe an imperfection or a flaw, it is now more readily seen as, that's what recycled resin looks like, like a slight blueish cast. But I've personally been very impressed with how clear rPET has gotten.
Is that due to the elimination of a lot of the contaminants during the recycling process?
Yes, absolutely. And we've designed our bottles to do that as well. So less contamination, less yield loss. So we're moving to all clear PET bottles. We're using labels with washable adhesives to improve the stream as we feed into it. And then also, so that it's better for when we pull [recycled material] out of it.
---
| | |
| --- | --- |
| | Listen to Bumble Bee Seafood's CEO Jan Tharp discuss building a sustainable culture. |
---
You're not the only company that has committed to use more recycled content in your packaging, especially PET. Do you have concerns about how you're going to be able to source enough recycled content for your packaging?
So for this relaunch, we've done quite a bit of work to ensure that we've got the necessary material to get to 100% ongoing. More broadly speaking, as an industry, you are absolutely right that there's less material out there than the public commitments to use that material. So we have to approach this from both ends. It's beyond a linear supply-demand on a material perspective. We've got to have a part to play as a company that manufactures packaging to make sure that what we make goes in and aides a clean stream of material, and then also that we make efforts to improve it as well. So it's coming from both ends. So for our use on Palmolive Ultra, we are making sure the material is there, but as a broader statement, yes, there is much work to be done to increase recycling rates, to improve the yield of the recycling process, and improve the purity and availability of recycled resins.
Is Colgate-Palmolive involved in any of the industry associations or groups that are working toward increasing recycling rates through different initiatives?
Absolutely. So we're a member of the U.S. Plastics Pact, we're highly engaged with the Association of Plastics Recyclers, as well as a signatory to the Ellen MacArthur Global Commitment, which has aims of improving recyclability and recycling rates. The U.S. Plastic Pact, which includes us, retailers, other companies, and NGOs has an aim to improve recycling rates beyond 50% in the U.S. We are also engaged with other organizations such as The Recycling Partnership and so forth.
In terms of the Palmolive Ultra bottle, what scope are we talking about? How much virgin plastic will be reduced through this initiative?
So the virgin plastic reduction, we're putting at 5,200 metric tonnes per year.
And are you going to be expanding this initiative to other Palmolive dish liquid brands?
We're broadly, as a corporation, at a minimum committed to use at least 25% recycled content across all of our portfolio. So there will be additional brands and packages that see increased PCR use. The specific timing and brands of what hits when, there's more to come on that. But for sure there will be more coming, and especially beyond the 25% PCR, the absolute reduction in virgin plastic across our portfolio, I would expect increases in reuse, refill design, and more PCR in many places.
---
| | |
| --- | --- |
| | Read how Beauty retailer Ulta partnered with Loop to develop reusable packaging. |
---
Companies in this article