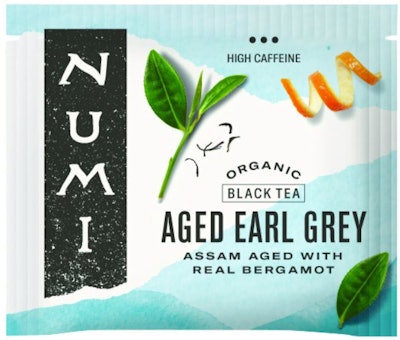 It took about 10 years, and it wasn't without a setback or two. But Oakland-based Numi Organic Tea now has an overwrap for individual tea bags that is ASTM D6868-substantiated as compostable in commercial composting facilities. Developed by sustainable packaging company Elk Packaging , the three-layer adhesive lamination consists of, from the outside in, paper/cellophane/polylactic acid. The cellophane layer is Futamura's Natureflex cellophane, a clear cast film made in Futamura's plant in the UK of renewable wood pulp from managed plantations. According to Jake Hebert, Senior Manager of Sales and Marketing at Futamura, the gas barrier properties of this particular Natureflex are between 0.03 and 0.06 cc of O2/100 sq in./24 hr. "The crystalline nature of cellophane makes it a very effective oxygen barrier," he adds. "In this particular application we include a very light metallization for moisture barrier. It's such a minute amount it's barely detectable when the material breaks down in the compost facility. Whatever does remain doesn't hinder the degradation process because the aluminum is effectively inert, a naturally occurring element."
The PLA, a blown extrusion that brings heat seal properties to the material, is PSI 's EarthFirst PLA. PSI sources PLA pellets from Total-Corbion, which in turn uses only GMO-free sugar cane to polymerize its Luminy brand PLA.
As for the paper, it's FSI-certified virgin paper surface printed flexo and given a proprietary coating to protect the ink and deliver the right coefficient of friction (COF) required by the high-speed wrapping machinery.
When asked why it took 10 years to develop the desired structure, Numi Director Strategic Sourcing and Sustainability Jane Franch says it was mostly a matter of the industry not having the right materials, especially where flexible films are concerned.
"Ten years ago the market was just beginning to see some things in rigids, like compostable plates and cutlery for the to-go market that were starch- or potato-based materials," says Franch. "But you weren't seeing brands on store shelves in plant-based flexible films. And even PLA, which has been around for some time, was for a long time only made from genetically modified corn sources. As an organic tea company, that was never going to be acceptable to us. The PLA in our material is sourced from non-GMO sugar cane that is Bonsucro-certified, so it's not only ethically sourced, it's ethically grown." Bonsucro Certification is a program led by multiple stakeholders developed for the sugarcane industry to meet purchasing policies of large-scale buyers seeking suppliers who support fair labor and environmental protection in sugar producing communities.
"We knew from the beginning," Franch continues, "that developing this packaging material was going to be challenging. But we figured we'd throw our hat in the ring and be committed at an early stage and to build a coalition of brands that were also committed so that we were able to demonstrate to those on the material supply side that there were in fact brands ready and willing to invest seriously in compostable flexible films. It required a commitment on our part to make the journey with the suppliers in terms of trialing early-stage materials. Keep in mind, too, that some of the compostable packaging materials that showed great promise over the years have now been phased out. But they did play a role, I suppose, in that they were precursors of the successful materials we have today." In a nutshell, says Franch, that's why it took 10 years to develop a compostable tea bag overwrap.
OSC2
The coalition of brands Franch mentions, which flies under the OSC2 banner, describes itself as a national community of CEOs and business leaders representing sustainably focused natural products companies. Its mission: "To address the toughest sustainability problems facing our industry and our planet by building new regenerative business models and agricultural systems." Among the group's core members are firms like organic nut butter maker Justin's, baby food maker Plum Organics (part of Campbell's Soup), organic baby food company Happy Family (part of Danone), grains producer Lundberg Family Farms, and California waste hauler Recology. Also enthusiastic participants, not surprisingly, are Elk Packaging and PSI.
"We're like the chef behind the recipe," says Elk Packaging's Jeanne Cloutier, Director of Sustainability Projects. "We did the R&D and project management. It's never a simple matter of is it compostable? It has to have the right coefficient of friction if it's going to run efficiently on the specialized wrapping machine running at the copacker. Will it stand up in distribution? Can it be efficiently printed and laminated?"
Related content: Go here to read about 20 new sustainable packaging innovations, including compostable and biodegradable netting made from beech tree pulp that is being used for citrus products.
A key challenge, predictably enough, was to keep cost in check. One way to do that is to minimize thickness. But the thickness of the lamination also had to be something that the C24 Tea Bag Packaging machine from IMA would be happy with. This machine puts tea into roll-fed filter paper, attaches string and paper tag by way of specialized knotting technology as opposed to using staples, wraps each tea bag in the roll-fed compostable overwrap, and puts 12, 16, or 18 wrapped tea bags into cartons that it erects from flat blanks. And it's capable of doing this at speeds to 400 bags/min, though the Numi package runs closer to 260/min. Says Cloutier, "It has a sweet spot where material thickness is concerned." In other words, develop a material too thin and the C24's efficiency is compromised.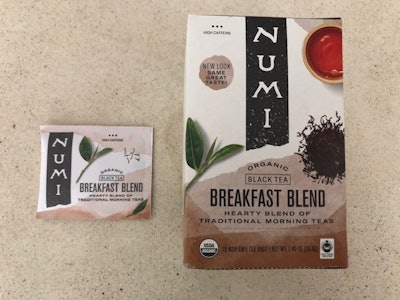 "Then came the actual compostability testing," Cloutier continues. "We had a couple of things qualified where the price was acceptable and machineability and speed were good, but the material failed the compostability test. So we had to tweak the structure and requalify it on the C24 and go through the compostability testing exercise again."
Persistence and perseverance paid off. In the first quarter of 2020, consumers nationwide began purchasing Numi tea bags with refreshed overwrapping and folding cartons whose graphics included the following messaging: "PLANT BASED TEA WRAPPER."
And how will these wrappers actually get composted and not simply become part of the solid waste stream? By becoming part of the residential food waste collection system, which consists of both local drop-off centers and curbside pickup programs. According to a June 2019 report spearheaded by U.S. Public Interest Research Group, there are more than 19,000 towns and cities in the U.S., but only 326 offer curbside food waste collection. But the report also notes that the number of communities offering composting programs has increased by 65% in the past five years.
The Sustainable Packaging Coalition addressed the subject of compostable packaging just this past May in a thoughtful piece by GreenBlue Project Manager Olga Kachook. "Although compostable packaging is a small part of today's recovery puzzle," says Kachook, "compostable packaging plays a critical role in brands' future packaging goals." Be sure to go here to read the whole article.
'Painful part'
When asked about the cost of the new tea bag wrapper compared to the paper/metallized BOPP lamination it replaces, Franch is realistic.
"That's the painful part," she says. "It's 30 to 35% more than where we were previously. Some of that is offset by the installation of a new-generation IMA packaging machine at our contract packager's facility that allowed us to increase efficiency of production, which helps bring down overall cost per unit. This new equipment let us move from 150 tea bags per minute to 260 tea bags per minute. We also reevaluated all of our packaging components and sent out an RFP for every single component to really get our costs down wherever we could. So that 35% increase is less painful when you put it all in perspective. Keep in mind, too, that when we first started inquiring about a compostable tea bag overwrap, we were told it would be twice as expensive, not 35% more expensive. So that's an important thing for brands to keep in mind. If you start at the beginning and you look at the price and you say, 'Wow, there's no way,' without really going down the innovation road along with your supplier partners, you'll never make any progress." Franch adds that the cost to the consumer in the store remains the same.
One thing that clearly is not the same is the environmental impact of the wrapper since it was revised. The previous wrapper consisted of 100% PCR paper adhesive laminated to a 70-ga metallized BOPP that provided both barrier and heat sealability. The new wrapper consists of 100% FSC-certified virgin paper/80-ga metallized Natureflex/36-ga EarthFirst PLA. For 5 million tea pouches, says PSI, replacing the 70-ga metallized BOPP with 36-ga EarthFirst PLA and 80-ga Natureflex translates to an approximate reduction of 154,000 lb of CO2.
While Numi's Franch is pleased by the outcome of this particular compostable packaging initiative, you get the feeling she expects more as OSC2 builds momentum. "It's really a broad coalition," she observes. "We've got more than 40 brands involved now, and we've forged a key link between the brands and the R&D people at the companies on the supply side of things. That permits us to get some conversations going on things like seal temperatures, machineability, oxygen and moisture barrier requirements, and so on. These discussions are essential if we're to make further progress. The standup pouch with a zipper is a good example. Right now there isn't a plant-based zipper that's available for a standup pouch. But we're working with the materials folks to overcome that, and it's important for them to know that there are brands willing to invest in it. Each generation of materials becomes better than the one before, so innovation kind of snowballs to the point where we find ourselves in a better position where bio-alternatives are actually available. It's a matter of encouraging people to dip their toes in the water, because you'll never really know what materials are going to work until you get some beta material on your machinery to see how it runs."