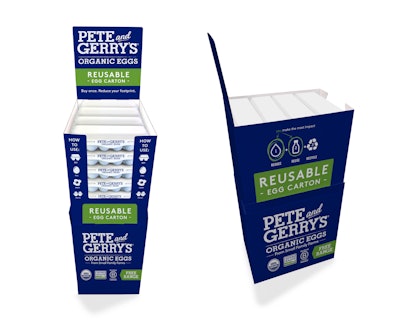 The leading Certified Humane egg brand in America and a Certified B Corporation, Pete and Gerry's Organics LLC of Monroe, NH, has built its business on the humane treatment of animals, sustainable farming practices, and the restoration of the small family farm to the American landscape. These beliefs also extend to its packaging, where for years it has thought outside the (traditional) carton, opting since 2012 to use rPET rather than expanded polystyrene or molded pulp for its packaging.
Now the brand, which supports 130 family farms that supply its organic, free-range eggs, is following in the footsteps of initiatives such as the Loop returnable packaging platform (see related article from Packaging World magazine, "Global CPGs Embrace Transformative Loop Circular Shopping Platform") to pilot reusable egg cartons. "Our environmental stewardship is very important to us, so while we're confident the rPET packaging we currently use is the best available option on the market, we still want to challenge ourselves to continually improve on the practices we have in place," says Pete and Gerry's Organic Eggs CEO Jesse Laflamme, a third-generation farmer and grandson of company founder Les Ward. "We know reusing is better than recycling, and we've seen the popularity of things like reusable bags, so we thought, why not egg cartons?"
In December 2019, Pete and Gerry's began a pilot of its reusable egg-carton concept at the Hanover Co-Op Food stores in New Hampshire and Vermont. Through the program, consumers buy a reusable, recyclable egg carton made from recycled-content polypropylene and fill it with eggs from a display of loose product located in the store's refrigerated cooler.
Cartons are stacked in a branded, standalone corrugated POS display positioned near the cooler. Designed for durability to withstand multiple uses, the plain, white PP carton uses more plastic material than a single-use carton. Because of this, it's priced at $2.99—"significantly more" than Pete and Gerry's standard rPET carton, says Laflamme. To offset the cost, the company has discounted the eggs that go into the carton by 50 cents per dozen. "So the carton pays for itself after six purchases," Laflamme explains.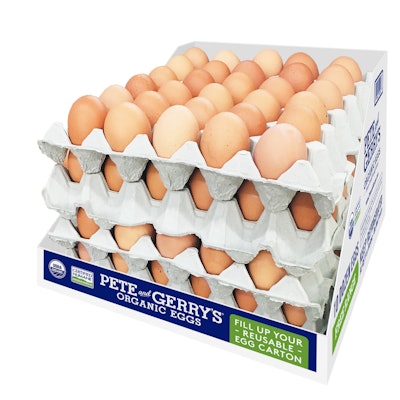 The loose eggs are delivered to the Hanover Co-Op stores in a corrugated, tear-away box that holds 10-dozen eggs packed on pulp flats, designed in-house at Pete and Gerry's. Reports Laflamme, "We continue to learn as this item rolls out, but so far we have not run into any major operational issues. Damages have remained low for us."
Pete and Gerry's sees a massive potential in packaging material savings through reusable egg-carton systems. "The average person in the U.S. eats approximately 279 eggs per year, or 23 cartons' worth. Just one person replacing their egg cartons with a reusable carton would save more than 1,800 cartons from entering the recycling and waste stream," the company estimates. "When projected to the approximately 330 million people currently living in the U.S., more than 594 billion cartons would be replaced over a lifetime, enough to circle the globe over 4,000 times, presenting a simple, near-term action we could all take to lessen the environmental impact of our daily food choices."
One challenge is that the program requires active participation by shoppers, who will need to change their behavior. But Laflamme says Pete and Gerry's is confident that as sustainable practices continue to gain popularity in the mainstream, the number of people excited to do their part in reducing plastic waste will grow. "We have to start somewhere," he says.
"We have seen a strong response to the program to date, with same-store sales growing weekly alongside positive responses from local shoppers," Laflamme adds. "Additionally, retailer interest in the program has been well received, and we hope to make the reusable egg cartons available nationally this year."