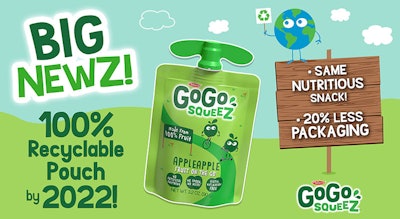 With consumer pushback on single-use plastics at a fever pitch, 2020 opened with a rush of news from Consumer Packaged Goods companies, associations, and regulators on initiatives here and abroad to address the crisis. Following are just some of the news items related to sustainable packaging that crossed our desks during January.
Associations seek to fight plastics backlash with educational materials aimed at consumers:
· The Bureau of International Recycling (BIR) has launched a new website after a major redesign to enhance its information services for its members, the public, the media, and political decisionmakers. The new website highlights the important role the global recycling industry plays for economy and the environment and offers content related to ferrous and non-ferrous metals, paper, textiles, stainless steel/alloys, plastics, tires/rubber, and e-scrap. An enhanced Members Only section allows for full access to BIR's Membership Directory and relevant legislative background information, while updated commodity pages showcase the latest key figures and a comprehensive library provides industry statistics, reports, proceedings, and fact sheets.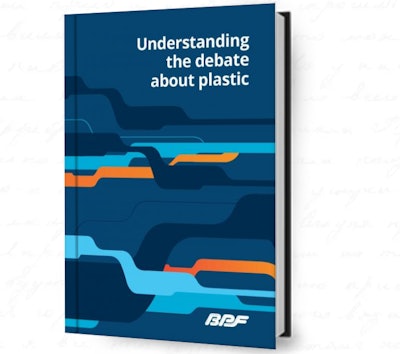 · The British Plastics Federation (BPF) has released two videos to address public misunderstanding about plastic's role in society and the best ways to prevent plastic waste. The videos have been released in support of the BPF's recent document, Understanding the Debate about Plastic, which outlines why plastic is important for modern life and the evidence on effective ways to reduce waste. One BPF video outlines how the carbon impact of plastic is relatively low when compared to alternatives. The second video explains how changes to the U.K.'s recycling collection system may help reduce existing consumer confusion over what should or should not be put in the recycling bin, with the potential to improve recycling levels across the country. The videos can be viewed here and here.
Associations support recycling:
· The Consumer Brands Assn. (formerly the Grocery Manufacturers Assn.) has launched the Recycling Leadership Council, a diverse group of stakeholders from consumer-facing industries, packaging companies, and the recycling ecosystem "to build a public policy framework to fundamentally reimagine the U.S. recycling system." The framework—The American Recycling Roadmap—will seek consistency in the recycling system and guide advocacy at the federal, state, and local level. The group convened for the first time in mid-January in a meeting hosted by the Senate Recycling Caucus co-chairs, Senators Boozman (R-Ark.) and Carper (D-Del.). The council membership is united by the following guiding principles: Pursue big ideas to create modern and scalable solutions that maintain the affordability, safety, and reliability of consumer products; seek uniformity of recycling rules and practices across the entire ecosystem; and identify long-term solutions that take precedence over short-term, competitive interests, with the goal of increasing sustainability and significantly reducing waste. Among its initial members are the American Beverage Association, AMERIPEN, Closed Loop Partners, the Food Marketing Institute, the Glass Packaging Institute, the National Restaurant Association, The Recycling Partnership, and others.
· The Association of Plastic Recyclers (APR) has confirmed its continued commitment to recycling grocery rigid plastics with a renewed push to encourage retail grocery chains to aggregate and market their behind-the-counter rigid plastics. Recyclable items common to retail grocery include bakery and deli pails and buckets, seafood trays and lids, and bulk pharmaceutical containers, all manufactured from valuable high-density polyethylene and polypropylene plastic resins. An updated website provides hands-on guidance and information for retail grocery operations and corporate sustainability personnel and decision makers, including photos, training videos, and case studies. New and updated items include a Program Summary Flyer, an updated "How To" Guidebook, and a Baled Material Economics Worksheet that retail grocers can customize to estimate savings from waste diversion and recycled material sales for their operations. The new website and related tools are part of renewed effort by APR, with support of the American Chemistry Council.
New reports look at recycling and at the environmental impacts of consumers' shopping decisions:
· A new white paper, "Does Shopping Behavior Impact Sustainability," shows that mall shopping can be up to 60% more environmentally sustainable than online shipping. The study, conducted by Simon® in partnership with Deloitte, also shows that shopping online leads to five times more returned products, which considerably increases the environmental impact; shopping online creates five times more emissions from packaging for online orders—e.g., corrugated boxes, bubble wrap, etc.—compared with the emissions associated with paper and plastic shopping bags; mall shoppers buy, on average, three and a half products per trip and visit other places on their way to the mall, which is often referred to as trip chaining and lowers the emissions specifically related to their mall visit, because their trip is divided between multiple stops. See the white paper here.
· IDTechEx's latest report, "Green Technology and Polymer Recycling 2020-2030: Technology for a Sustainable Circular Economy in Plastic Waste," explores the key recycling processes helping to address the problem of waste plastic. Says an article based on the report, "Recycling waste plastics is essential to creating a circular economy. Current recycling methods are hampered by issues such as societal perceptions of recycling, to economic barriers and technological; however, over the past few years the number of technical innovations to improve polymer recycling have substantially increased." These new polymer recycling processes, IDTechEx notes, tend to fall into three categories: solvent extraction, plastic to fuel conversion, or depolymerization.
See these other January articles from Packaging World:

· "Alternatives to Plastic Packaging Not Always More Sustainable"
· "Static Bottle Recycling Rate is Insufficient to Meet CPG Demands for rPET"

Retailers and brand owners make new pledges to reduce the environmental impact of their packaging:
· Tesco has announced it will become the first U.K. retailer to remove plastic-wrapped multipacks from all of its stores and replace them with plastic-free "multibuys," resulting in 67 million pieces of plastic eliminated. Tins will be available individually, with no plastic wrap holding them together any more. According to Tesco, the tins will still be eligible for multibuy deals, "representing the same good value for customers, just without plastic." The change applies to both Tesco own-brand products and branded products, like Heinz Beanz. It will help more than 8 million households in the U.K. reduce the amount of plastic they use and contributes to Tesco's commitment to remove 1 billion pieces of plastic from its own-brand products by the end of 2020.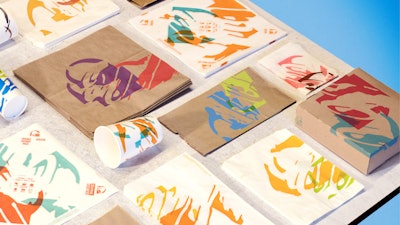 · Taco Bell has announced new commitments that it says "continue the trend of purpose-focused innovation." Among the initiatives, the brand aims to make all consumer-facing packaging recyclable, compostable, or reusable in Taco Bell restaurants around the world by 2025. Recycling and/or composting bins will be added to all restaurants, where infrastructure permits, and PFAS, phthalates, and BPA will be removed from all consumer-facing packaging materials. Taco Bell has already made some strides in reducing the environmental footprint of its packaging. All of the cold beverage cups and lids in its U.S. restaurants are made from polypropylene, making them recyclable; its paper bags are made from 100% recyclable and renewable raw material sources and are 100% sourced in the U.S.; and is using PP sides containers rather than those made from polystyrene foam.
· Nestlé has announced that it will invest approximately US$2.06 billion to lead the shift from virgin plastics to food-grade recycled plastics and to accelerate the development of innovative sustainable packaging solutions. Building on its 2018 commitment to make 100% of its packaging recyclable or reusable by 2025, Nestlé says it will reduce its use of virgin plastics by one third in the same period while working with others to advance the circular economy and endeavor to clean up plastic waste from oceans, lakes, and rivers. To create a market for food-grade recycled plastics, it is allocating more than US$1.5 billion to pay a premium for these materials between now and 2025. To keep this initiative earnings neutral, the company says it will seek operational efficiencies. To stimulate packaging innovation, including new materials, refill systems, and recycling solutions, Nestlé says it will harness not only its in-house research via the Nestlé Institute of Packaging Sciences, but it will also launch a US$2.58 million sustainable packaging venture fund to invest in startup companies that focus on these areas.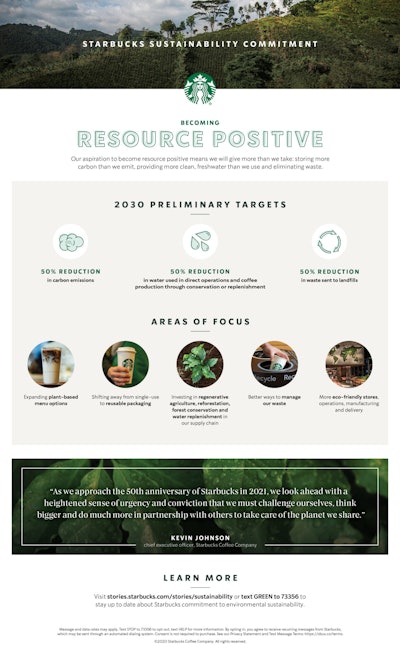 · Starbucks has announced preliminary 10-year sustainability targets focused on first reducing its carbon emissions, water use, and waste. Ultimately, the company plans to store more carbon than it emits, eliminate waste, and provide more clean freshwater than it uses. Among its three targets, the one related to packaging entails a 50% reduction in waste sent to landfill from stores and manufacturing, driven by a broader shift toward a circular economy. To underscore its commitment to the circular economy, Starbucks announced it has signed the Ellen MacArthur Foundation's New Plastics Economy Global Commitment. To reach its waste reduction goals, Starbucks plans to shift from single-use to reusable packaging and invest in better ways to manage its waste, both in its stores and in its communities, to ensure more reuse, recycling, and elimination of food waste. For the first time, Starbucks also released a comprehensive environmental baseline report detailing its global waste output, water usage and carbon emissions in 2018.
· Conagra Brands, Inc. has announced that, in addition to its current efforts to reduce the overall use of plastic, it is working to make 100% of its current plastic packaging renewable, recyclable, or compostable by 2025. The company is already is using plant-based bowls in its Healthy Choice Power Bowls products. Made from fiber, the bowls have helped Conagra avoid the use of more than 2.1 million pounds of plastic packaging since their introduction in 2017. Over the next few years, the company aims to avoid the use of an additional 33 million pounds of plastic through further development of plant-based packaging options and other packaging innovations.
CPGs announce new packaging:
· Healthy, portable kids snack company GoGo squeeZ has announced that in 2022, it will unveil 100% recyclable pouch packaging. The result of three years of R&D, the company's final recyclable packaging will have no aluminum layer in the pouch, the amount of plastic in the iconic GoGo squeeZ "helicopter cap" will have been reduced by 40%, which it says is 80% overall less plastic compared to competitive pouch caps, and the recyclable, squeezable packaging will be made from a single type of polyethylene. The outer packaging on most of the GoGo squeeZ varieties is currently made from 100% recycled paper that it says has been sourced responsibly and sustainably. The company acknowledges that the overarching issue of plastic waste cannot be eliminated with one solution. It adds that a partnership with Sustainable Packaging Coalition will help provide scale to its efforts to expand plastic recycling capabilities in the U.S. and bring recycling to consumers.
See these other January articles from Packaging World:

· "Lids Formed from a Biocomposite"
· "Oatly Frozen Dessert is Plant-Based from Product through Packaging"

CPGs engage in partnerships for green initiatives:
· Nine river cleanup programs across the world have been selected to receive a total of $11 million over the next three years as part of a partnership between The Coca-Cola Foundation and the Benioff Ocean Initiative at the University of California Santa Barbara's Marine Science Institute. The partnership combines The Coca-Cola Foundation's commitment to support behavioral-change projects regarding recycling and the Benioff Ocean Initiative's expertise in developing innovative ways to collect and analyze waste from rivers and oceans and address the plastic crisis. The programs selected for funding span four continents: Asia, Africa, North America, and South America. The Marea Verde project to clean up the Matias Hernandez River in Panama is the first to be awarded funding; Eight other programs—in Vietnam, India, Indonesia, Ecuador, Mexico, Thailand, Jamaica, and Kenya—are also being finalized for funding.
· SC Johnson and the Milwaukee Brewers have entered a first-of-its kind partnership that will create a new market and recycling model for the one of the biggest sources of waste at the ballpark: plastic cups. Starting in the 2020 baseball season, SC Johnson will recycle the more than 1 million plastic cups Brewers fans use throughout this baseball season into Scrubbing Bubbles bottles. Notes SC Johnson, the Milwaukee Brewers is the first U.S. professional sports team to link a waste stream to a specific product, "closing the recycling loop and tackling one of the biggest barriers to plastic recycling in the U.S. and globally—the lack of markets for recycled material." The partnership kicked off Jan. 24, 2020 at Miller Park. SC Johnson and the Brewers will continue to partner throughout the 2020 season, with additional promotions including organized "Clean Up Days" and philanthropic contributions with select players for heightened education and awareness. Further, for each save recorded by a Brewers pitcher, SC Johnson and the Brewers will make a donation to the "Players for the Planet" initiative, which works to reduce ocean plastic.