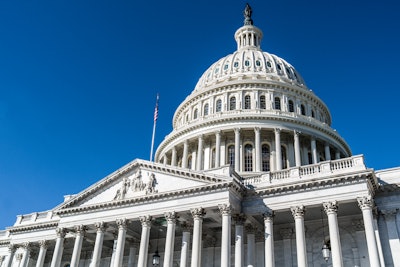 On Feb. 11, U.S. Senator Tom Udall (D-N.M.) and U.S Representative Alan Lowenthal (D-Calif.), backed by more than 30 Democrat legislators, unveiled the Break Free From Plastic Pollution Act of 2020, proposed legislation that, if adopted, will result in economic consequences for CPGs, packaging suppliers, and plastics manufacturers. Said Lowenthal, "Recent scientific studies show that plastic waste particles are now found everywhere we look—in the soil, in the rainwater, in the food chain, and even inside our own bodies. Our legislation applies one of the core principles of environmental law: 'the polluter pays.' It is time for multi-billion companies to step up and cover the costs of cleaning up the waste from their products."
In a background brief provided to the press, the sponsors of the legislation write, "Rather than reducing the waste they create or taking responsibility for its management, producers have shifted the responsibility for managing waste to government entities whose budgets are already stretched thin. Meanwhile, industry has promoted pollution reduction strategies that put even more burden on taxpayers instead of taking responsibility themselves… ."
---
See related articles on Packaging World:
Alternatives to Plastic Packaging Not Always More Sustainable
Regulation and the Circular Economy: Can the U.S. Turn the Tide on Plastic Pollution?

Packaging Policy Update & 2020 Outlook

Plastic Bans: A Threat or an Opportunity for Contract Packagers?

---
The legislation would, among other things, require producers of "covered" products (packaging, containers, foodservice products, and paper) to "design, manage, and finance programs to collect and process product waste that would normally burden state and local governments," create a nationwide beverage container refund program, reduce and ban certain non-recyclable single-use plastics, require the EPA to develop standardized recycling and composting labels for products and receptacles, and temporarily pause new plastics facilities.
In addition, it sets targets for the use of recycled content in packaging that progressively increase. For example, in 2025, new plastic beverage bottles will be required to include 25% post-consumer recycled plastic; by 2040, that number grows to 80%.
While a number of primarily-environmental NGOs are praising the proposed legislation, plastics organizations are not so complementary. Says Plastics Industry Association (PLASTICS) President & CEO Tony Radoszewski, "As drafted, we do not believe the Break Free From Plastic Pollution Act of 2020 would effectively address pollution in the U.S. or globally. The title of this bill suggests it is more interested in garnering headlines than it is in finding solutions.
"Plastics only account for 13% of municipal solid waste in the U.S. Any effort to specifically target plastic materials—that, after life-cycle analysis, prove to be more environmentally-desirable than other materials—would be misguided at best and harmful at worst. Furthermore, this legislation's efforts to shut down plastics manufacturing would hurt the nearly one million hard-working men and women in our industry and the nation's economy as a whole."
The American Chemistry Council echoes this sentiment, saying, a moratorium on new plastic plants would limit domestic manufacturing growth, jobs, tax revenue, and other benefits.
James Ray, ICIS (Independent Commodity Intelligence Services) Vice President of Consulting – Americas, suggests that "the solutions need to be innovative and economically viable. We need unbiased, government-led studies to determine what the alternatives will be and their impact on the environment as well as the economy. Only then can we decide the best course of action."
While it is questionable whether the Democrat-led proposal will be supported by Republicans, The Recycling Resource writes, "Regardless…the lawmakers noted the bill serves as a model for states and local governments to use in their own legislation. Udall said he anticipates local governments across the country will start replicating the bill or components of it for introduction in their own lawmaking processes."