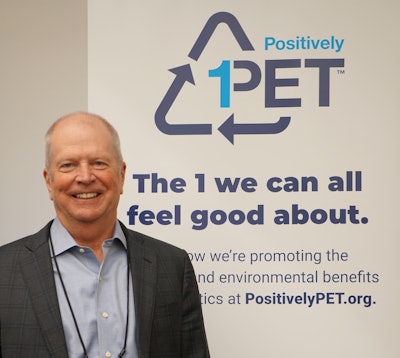 The National Association of PET Container Resources (NAPCOR) is taking a stand to combat the ubiquitous turtle-with-a-plastic-ring-around-its-neck image that consumers have been inundated with by introducing an educational campaign around the benefits of PET. "There has only been one message around plastics in general, and that has been quite negative," said David Collier, Executive Director of NAPCOR, at The Packaging Conference this week in Austin, TX. "Because we know about this product and know how many wonderful things it delivers to the public, we are introducing Positively PET to stem the anti-PET and anti-plastic sentiment."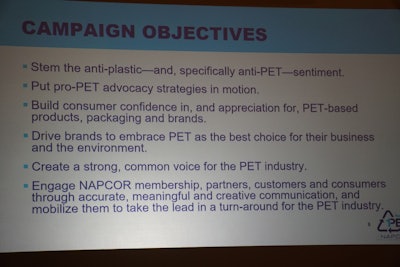 The campaign will combine a number of elements, one of which is the spread of the Positively PET message via paid social media messaging. The goal is to focus on 20 to 25 different major metropolitan areas over the course of three years. Paid social media will also be joined by news media outreach.
Other building blocks of the campaign, Collier explained, include:
· A microsite where press and consumers can find information
· Infographics
· Fact sheets
· A video themed around Positively PET
· Templated copy
· Tough Q&As/FAQs
Collier noted that NAPCOR has for years attended events such as The Packaging Conference talking about the benefits of PET. Now the association wants to get the message out to those people who haven't heard it—consumers.
See related articles on sustainability from Packaging World:

"Hellmann's Canada to Use 100% Recycled Plastic"
"Plasma gasification can enable circular economy sustainability for packaging"
"Plasma gasification closes the loop (on sustainability)"
When asked by an audience member how NAPCOR intends to measure the success of its campaign, Collier noted that social media has the advantage of being measurable "We will also be looking at before and after studies in these cities to see if recycling rates improve," he said. "Will it move the recycling rate from 30 percent to 50 percent? No, but we want to provide a different message than the one the consumer is seeing today."