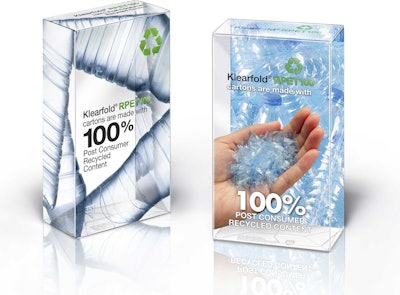 HLP Klearfold
Consumers are making it clear: They want plastic that uses higher percentages of post-consumer recycled (PCR) materials, and they want their used containers to be easier to recycle. There was lots to fit the bill at PACK EXPO Las Vegas.
Placon is determined to keep PET soda bottles, water bottles and thermoform packaging out of landfills—so much so that it built its own in-house recycling facility. It then creates its EcoStar PCR material from the recycled PET (rPET). "Post-consumer is us collecting the bottles and thermoforms from what you call trash, essentially, bringing that back to our facility in Madison, Wis., recycling that, cleaning that, washing that, turning it back into a usable piece, which can be used for food-grade contact or retail packaging," said Derek Skogen, marketing manager for Placon.
In its vision of a closed loop, used plastic containers with the #1 symbol are recycled by consumers and collected by municipal curbside programs. At Placon's facility, bottles and thermoforms are cleansed and ground into flake for extrusion, some of it going through an extended process to make it safe for direct food contact. PET flakes are then extruded into rolls of recycled non-food and food-grade post-consumer PET sheet for thermoforming applications. Placon then uses its EcoStar rollstock material for thermoforming custom and 100% recyclable stock retail clamshell and food containers.
More than a billion post-consumer PET bottles and thermoformed containers are processed through Placon's recycling facility every year. What makes plastic hard on the environment is also what makes this recycling process useful. "Plastic never wears out," Skogen commented. "We can bring it back again and again and again."
Placon has been able to use up to 90% post-consumer material in its EcoStar rollstock, though they typically hold it to 75-80% to keep the appearance from losing some of its transparency. Other brands are trying to get to 25-40% post-consumer material, Skogen said, but Placon has been working on this longer, so has been able to improve its process over time for better results.
HLP Klearfold has managed to take its rPET process even further, now supplying its clear plastic folding cartons made from 100% post-consumer PET. Until recently, the company thought it couldn't make it past 30% rPET, but sustainability missions of its customers pushed Klearfold to improve its in-house recycling technology even further.
The consumer product industry has been pushing packaging sustainability goals that include using plastic packaging with up to 100% PCR content. The previous limit of 30% was OK, but "it just wasn't a clean story," said Steve Frazier, HLP Klearfold president. Coca-Cola, which was moving to bio-based bottles, has shifted its focus as well. "They're now all about post-consumer plastic."
Klearfold RPET100 is a 100% PCR content plastic folding carton. The company will continue to offer the Klearfold RPET30 that it's had for a decade and which had previously been the highest percentage of PCR available for plastic folding cartons in North America. "When we began making 30% box-grade PCR rPET 10 years ago, we arrived at 30% content as a proper balance between our customers' sustainability aspirations at that time and our ability to produce rPET with no perceptible difference in quality as compared to our virgin APET," Frazier said. "Today, many major brand owners and retailers are developing more stringent sustainability goals, many to be implemented by 2025, and our 100% PCR plastic folding cartons can help them get there."
HLP Klearfold began a vertical integration program in 2009, investing in custom extruders designed to make premium-quality, box-grade plastics exclusively. Those extruders enabled the company to produce rPET with 30% PCR that is indistinguishable from virgin PET, pointed out Pat McGee, vice president of marketing at HLP Klearfold. "Having our own extruders is what gave us the ability to do 100%," he added.
Inspecting rPET
With an increasing number of CPGs asking for their plastic packaging to be made from higher and higher percentages of recycled content comes a rise in the potential for defects and color variations, according to Agr International, which has expanded its Process Pilot family of inspection and analysis tools with the introduction of Pilot Vision+ for high-speed PET bottle production.
Whereas its Pilot Profiler uses infrared (IR) imaging to measure bottle dimensions, sidewall thickness, and overall material distribution, Pilot Vision+ is a vision-based system that "takes care of the defect side of things," said David Dineff, Agr's global product marketing director, showing off the new system at PACK EXPO Las Vegas.
The Pilot Vision+ system is designed to work in conjunction with today's high-speed reheat stretch blowmolding equipment. The system has a particular focus on containers with high percentages of rPET, which can face color transition issues as recycled content gets into the 50-60% range, Dineff noted.
With its preform inspection module, the Pilot Vision+ system can identify defects that are visible in the preform, before the bottle is blown. Multiple color cameras provide the imaging for 360-degree preform sidewall inspection as well as end cap and gate. Optics, LED illumination and image analysis routines are optimized to identify preform defects that impact bottle integrity, particularly the black specs and particle contamination sometimes associated with rPET. The system's ability to learn multiple reference image sets for color inspection is also designed to address rPET-related issues.
Other recyclable plastics
ExxonMobil put the focus on recyclable materials at PACK EXPO Las Vegas with its new recyclable laminated packaging solutions—polymer technology advancements for rigid packaging reuse. Laminated packaging structures—typically made with a mix of PET, polyamide (PA), ethylene vinyl alcohol (EVOH), or oriented polypropylene (OPP)—can be challenging to recycle because of difficulty separating the constituent materials.
Incorporating ExxonMobil's Exceed, Exceed XP, and Enable polyethtylene (PE) polymers, the laminated packaging solutions can be recycled with PE film in those communities where programs and facilities to collect and recycle plastic films exist. They also deliver the toughness, optical properties, and stiffness needed for high-quality packaging.
Vistamaxx performance polymers, also on display, enable low-cost recycling while targeting high-value applications. They compatibilize PE and PP plastics, allowing them to mix in the melt, removing the need for separation.
Companies in this article