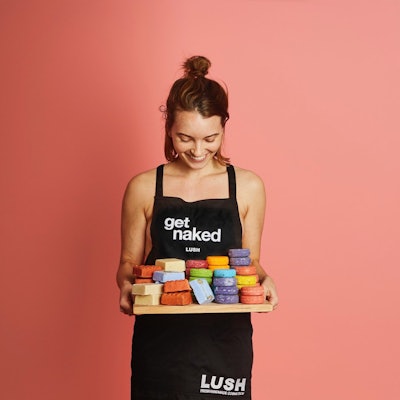 So far, Lush has opened three Naked stores, in Manchester, England; Milan, Italy and Berlin, Germany. However, so much positive press was generated about the Lush brand, and the Naked shops (including employees showing up to work in nothing but a Lush apron) sales in all Lush stores saw positive results.
The Naked shops are just part of Lush's commitment to sustainability, says Heather Deeth, Lush's Head of Ethical Buying. Deeth's comments came during her presentation at the Smithers-Pira event, "Sustainability in Packaging U.S. 2019", held in Chicago March 4, 5 and 6.
Deeth is responsible for the North American portion of a company valued at $1.3 million, with more than 400 ingredients and thousands of packaging requirements. Not only for today but looking 20 years into the future.
Deeth says Lush is breaking the mold when it comes to innovative products and sustainable packaging, launching 200 to 300 new products each year!
Lush considers itself a cult brand with very loyal customers who share the same philosophy about fighting animal testing or being 100% vegetarian. Not a vegetarian food diet. According to Deeth, many beauty ingredients are actually derived from animals. So Lush formulas are vegetarian! All products are also hand-made. Each bath bomb or shampoo bar is hand packed by a human.
Deeth wants to limit the use of packaging by "designing out" as much packaging as possible. Lush also encourages reuse of make-up pots or metal tins after they are empty. And, the post-consumer plastic pots are fully recyclable.
As Head Ethical Buyer, Deeth seeks full transparency with suppliers. You have to have pretty good relationship to go back to your supplier and say, "help us to buy less from you next year."
Whether raw ingredients or packaging, Deeth asks, where did this come from? Who touched it? Did they earn a decent wage?
Lush went on a three-year search to replace Taiwan supplier of plastic pots for one much closer to home, reducing carbon footprint for shipping.
And Deeth seeks transparency thoughout the supply chain, going out to visit third, fourth or fifth tier suppliers to determine what is actually happening, not relying on their written policies.
Lush also features an in-store program where customers can return five empty make-up pots for a free beauty mask. Deeth reports around 18% of pots are retuned and would love to grow that number in coming years.
Deeth sees a resurgence in soap bars, helping conscientious consumers shift away from liquid soap in plastic bottles with pump mechanism, closures, etc. Likewise, shampoo bars are replacing shampoo in plastic bottles.
Lush now boasts about 35% of their products have no packaging whatsoever. The three 100% Naked shops are a small percent of total stores (250 shops in North America, 900 around the globe) but serve as beacons for social media and brand-building.
An additional bonus of package-free fun products, according to the Lush website, is saving 40-50% of the cost of any product that typically goes to packaging. Lush can afford to use more special ingredients and keep its hand-made philosophy.
So how does a consumer learn about a Lush product with no package and no label to carry the message? The Naked shops has created an app where consumers can check out ingredients, instructions for use, etc. A pretty impressive marriage of innovation in product formula to eliminate packaging and use of the mobile phone app.
Lush products come in fabric knot-wraps, recyclable cardboard boxes or reusable metal tins-- packaging that is recyclable or reusable. E-commerce packs come in 100% recycled and recyclable cardboard boxes.
Gift bags may look like plastic but are made of 100% biodegradable cellophane. Consumers are instructed to toss these in the compost pile.
With all the progress minimizing footprint, Deeth still feels Lush and the rest of the beauty industry are not moving fast enough and more needs to be done, and more leaders need to step up.
Current concerns? Deeth sees that the supply chain for post-consumer recycled content, already more expensive than virgin, is tightening. Also, all businesses need to be doing more to resolve the plastics issue.
For more information on Smithers-Pira events click here.
Learn more about packaging solutions at the co-located PACK EXPO Las Vegas and Healthcare Packaging EXPO, September 23-25, 2019 in Las Vegas, NV.