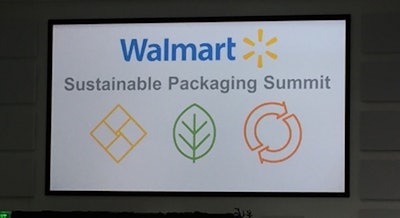 Wal-Mart Stores, Inc. has released a comprehensive Sustainable Packaging Playbook for its suppliers culled from 10 years of experience working toward a reduction in packaging across its supply chain as part of its zero-waste aspirations. The 20-page document was unveiled on Oct. 25 at a summit held at Walmart's Bentonville, AR, home office, attended by several hundred suppliers (brand owners), merchants, and NGO partners.
The playbook has been compiled as a guide for suppliers to enhance their packaging sustainability to improve their Sustainability Index score and reduce the cost of goods. Launched in 2009, the Sustainability Index was developed for Walmart by The Sustainability Consortium as a way to establish baselines around sustainability throughout a product's life cycle and track progress against those goals. In 2012, Walmart committed to buying 70% of the goods sold in its U.S. stores and clubs from suppliers participating in the index by 2017.
In her introduction at the summit, Walmart Senior Vice President of Sustainability Laura Phillips shared a comment made to her before the event began by an attendee: "She said to me, 'I am super-excited about today, because this is the day we are going to reignite the passion around packaging at Walmart.'"
Throughout the summit, team members from both Walmart and Sam's Club elaborated on the three goals highlighted in the new playbook: optimize design, source sustainably, and support recycling.
Shared Steve Bratspies, Chief Merchandising Officer at Walmart, "We've eliminated a lot of unnecessary packaging [since 2006]; it's really been the focus of all the work we've done to date, and it needs to continue to be. But now is the right time to broaden our focus, to include sourcing sustainably and include recycling more in our mindsets as we think about packaging."
Optimize Design
According to Walmart's Scott McCall, Senior VP, Home & Seasonal, optimizing design is a game of inches. In his presentation on optimizing design, McCall said, "If you think about our stores, let's just say a supercenter has 120,000 items in it. If we took one inch out of every item—obviously some would be more, some would be less—we're talking about 120,000 inches. That's 10,000 feet, almost two miles of packaging reduced in just one supercenter. Pretty impactful, huh?"
The challenge of optimizing design, however, is reducing the use of packaging while still ensuring sufficient protection of the product. "The most important thing is whether the package protects the product," said McCall. "We don't want to have damaged product on the shelves. We don't want customers bringing product back to the stores."
Among the successful examples of optimized design shared by McCall was a change in flatware packaging at Sam's Club where the plastic film was removed from the front of the carton. The change resulted in a savings of $83,000 and the elimination of 150,000 pounds of non-recyclable plastic.
Supporting the one-inch philosophy, McCall gave an example of packaging for nicotine gum. By taking one inch off the packaging for the product, the brand owner was able to reduce the packaging by 6%, or 20,000 pounds of material annually.
In the playbook, Walmart recommends designing packaging that meets product protection standards as laid out by the International Safe Transit Association (ISTA), while using the minimum amount of packaging. (Throughout the playbook, Walmart includes hyperlinks to the recommended sources.)
Source Sustainably
In her presentation on sustainable sourcing, Carmen Bauza, Senior VP, General Merchandise Manager, Health and Wellness for Walmart, told attendees there are two considerations: Are materials sourced in a way that is environmentally and socially responsible (i.e., recycled and sustainably sourced renewable content)? Have priority chemicals been removed, reduced, or restricted? (In the playbook, Walmart lays out the criteria for a priority chemical. These include such things as carcinogens, mutagens, reproductive toxicants, and others.)
"It's about using materials in our packaging that help us reduce our environmental and social impact," Bauza said.
Among the playbook suggestions highlighted by Bauza were to maximize the use of recycled or renewable materials; when virgin materials are required, ensure the fiber is sourced from vendors certified as having responsible forestry management practices; and find out from suppliers if there are priority chemicals in your packaging.
One successful case history shared by Bauza was a switch from cardboard cases for cartons of eggs to reusable plastic containers for delivery to stores. The result was a decrease in product damage that prevented 37 million eggs from being thrown away in the first year after the switch. In addition, the RPCs use up to 50% recycled content.
In another instance, she told how L'Oréal is using 30% to 50% post-consumer recycled content in the PET bottle for its Fructis Daily Care Shampoo and has reduced its use of PET by 10%. "In this case, we have a double whammy, with sourcing sustainably and deciding to optimize," commented Bauza.
Support Recycling
At the beginning of the summit, Phillips emphasized the value of recycling: "This is an area that's good for business—it helps us reduce costs throughout our supply chain. It's good for our customers. In fact, more and more customers tell us that how we think about packaging and how we think about recycling is important to them and how they choose a retailer. It's also good for the environment."
As one of the three priorities called out in the Walmart playbook, recycling has become a tremendous area of focus for the retailer. In 2014, the Walmart Foundation became the lead investor in the Closed Loop Fund, pledging $10 million every five years to the social fund. Together, investors in the Closed Loop Fund, which also include a number of CPGs, will provide $100 million of zero-interest loans to cities to improve their recycling infrastructure and maximize recycling profitability.
More recently, Walmart been encouraging its suppliers to incorporate the Sustainable Packaging Coalition's How2Recycle Label on their packaging and has announced it will be using the label for select Walmart Great Value and Equate private-label products. SPC's How2Recycle Label is a U.S.-based standardized labeling system that clearly communicates recycling instructions to the public.
Providing an overview of the "Support Recycling" section of the playbook, Chandra Holt, Vice President, Private Brands – Sam's Club, said, "We know that two-thirds of all people won't recycle something if it's not clearly marked on the packaging.
"Our call to action today is to have merchants and suppliers talk about two questions as it relates to recycling. First, is the packaging recyclable? If it's not recyclable, what can we do to make it recyclable? Then second, if it is recyclable, are we clearly communicating that to our customers? A couple of best practices are to work with the appropriate parties, such as the Sustainable Packaging Coalition, [to learn if the packaging can be collected, recovered, and used again] and to use consumer-friendly labels such as the How2Recycle Label."
One example shared by Holt was a toothbrush package from Oral-B, redesigned for recyclability. By switching from polyvinyl chloride to PET for the blister package, the company turned a non-recyclable package into one that can be recycled, "and customers didn't notice anything," Holt remarked.
Of note, in the playbook, Walmart calls out PVC as a material suppliers should avoid. Other "Avoid" materials include biodegradable additives in petroleum-based plastics, paper labels on plastic packaging, black plastic, and other materials that are hard to recycle or contaminate the recycling stream.
A challenge to suppliers
In the playbook appendix, Walmart provides additional strategies for the three priority areas, a glossary, and additional resources.
Said Bratspies to summit attendees, "The playbook is something we hope you take away and something you study. Hopefully you will find something in there that you can apply to your own business. My challenge to everyone today is to find one thing, one change to one product or one process that can make a difference in your company and your product. That will be a start and will build momentum in how we do this."
Companies in this article