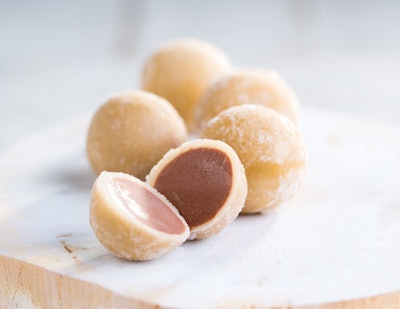 In March, Hirshberg took what he feels is the first step on that journey with the introduction of Stonyfield Frozen Yogurt Pearls, a frozen yogurt "ball" the size of a donut hole enveloped in an edible skin.
"Thirty years ago, we set out to make Stonyfield a truly sustainable business, and ever since, we've led the way with countless innovations to reduce packaging," says Hirshberg. "Stonyfield Frozen Yogurt Pearls are the next step in our evolution. No spoon needed, just a delicious bite of beautifully crafted organic frozen yogurt served without any container. Reimagine all the ways you can eat your favorite organic dessert—in the car, on the beach, with the kids at the park—no spoon, no waste, no limits."
The WikiPearl™ yogurt "packaging" technology, from WikiFoods, uses organic fruit skins to keep moisture in and contaminants and oxygen out, forming a washable, portable covering for the portion-controlled organic yogurt serving. Explains the WikiPearls website, "The skin is a protective electrostatic gel formed by harnessing interactions between natural food particles, nutritive ions, and polysaccharide."
Because it is made from fruit skins, the outer shell is flavored. Stonyfield's Pearls line includes chocolate and vanilla organic yogurt products covered with strawberry, banana, coconut, and peach skins, yielding seven flavor combinations.
The product was rolled out in four Boston-area Whole Foods markets, in pre-packed cellulose bags made from wood fiber, marketed in the freezer section. This begs the question, are the Frozen Pearls a package-less product, or a new product type?
"We think they are both," says WikiFoods Vice President Eric Freedman. "We are completely redefining a product experience you already think you know, in a form/function that is a package-free solution. Stonyfield Frozen Yogurt Pearls are so groundbreaking, the retail spaces weren't quite equipped to sell them completely package-free. But they absolutely can be."
For the initial launch, WikiFoods also developed two other in-store solutions for the sale of the Frozen Yogurt Pearls that are "free of any unnecessary packaging and waste," explains Freedman. In the first, consumers will be able to purchase the product over-the-counter at "WikiBars," where brand ambassadors will be educating, sampling, and selling the Frozen Yogurt Pearls in bulk in environmentally friendly to-go containers or consumer-supplied containers. The other solution is to sell the pearls directly from in-store gelato bars.
"Stonyfield, WikiFoods, and the retailers are currently exploring completely package-free solutions for the near future," adds Freedman. "At that point, frozen yogurt fans will be able to find them in bulk, at a fixed station, or in a self-service dispenser."
On the issue of the hygienic and safety aspects of a package-free product, Freedman says, "We look at the produce aisle for inspiration and as the best analogy. Where you buy your apples, your grapes, your vegetables, take them home and wash them prior to eating. With an ambitious and groundbreaking concept such as this, we are working closely with our team of scientists, R&D experts, microbiologists, and store managers to ensure that anything we provide to consumers is delicious, rigorously tested, and safe."
In addition to yogurt, WikiFoods is offering its WikiPearls technology for cheese applications.
Companies in this article