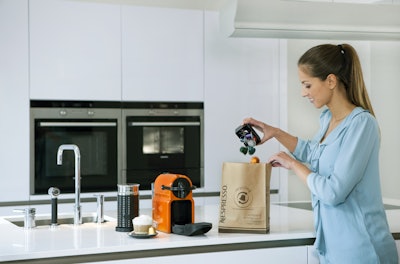 Nespresso has introduced a collection and recycling system for used aluminium capsules as part of the Nespresso Ecolaboration™ program, launched in 2009, which currently offers more than 1,300 recycling collection points in Austria, adding up to a recycling capacity of 84%.
According to the company, recycled aluminium generates only 5% of the CO2 emissions that are associated with primary aluminium. In order to offer its customers the utmost convenience, Nespresso Austria asked Mondi to develop a customized collection bag that reflects its sustainability principles.
The solution is a paper-based bag made of FSC™ (Forest Stewardship Council)-certified paper with a Sustainex® biopolymer coating that replaces polypropylene. The collection bag is made from renewable raw materials (up to 85%), and the paper and coating are fully biodegradable according to DIN EN 13432. Combined, the rigidity of the paper and the rectangular flat bottom of the bag allow for package stability.
The collection bag offers customers maximum convenience: Once the bag is full, it can safely be closed with the help of a sealing strip and then easily transported to one of 1,300 local recycling points. Both the bag and the coffee are fully compostable, and the aluminium is infinitely recyclable.
"The use of paper in combination with Sustainex supports both the look and feel and the high environmental requirements that Nespresso envisioned," explains Michael Strobl, Managing Director Mondi Extrusion Coatings. Thanks to its excellent sealability and its grease and moisture barrier, Mondi's Sustainex ensures maximum safety and tightness. Furthermore, the biopolymer coating is thermo-sealed and largely dispenses with glue, making the packaging an eco-friendly and biodegradable solution.
"Recycling of capsules is one of the major cornerstones of the Nespresso Ecolaboration program. As market leader, we value corporate responsibility and are proud of our independent recycling system. In close collaboration with leading experts, we want to make it as convenient as possible for our club members to collect coffee capsules. Thanks to the new Nespresso Recycling Bag we are confident we will increase our recycling rate even more," comments Dietmar Keuschnig, Market Director Nespresso Austria.
Companies in this article