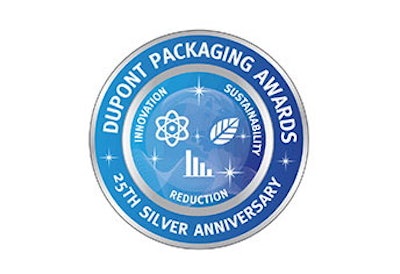 Industrial award programs don't attract television viewership, red carpets, or designer clothes. They do draw innovators, dreamers, and achievers—the kinds of people who make change happen.
DuPont asked past winners of its DuPont Awards for Packaging Innovation to comment on winning this accolade, and invited program leader Shanna Moore to talk about the competition.
John Eadicicco of P&G: 2009 winner Prilosec OTC - Redesign of pill pack reduces waste and enables entire course of treatment on a single blister card
Says Eadiccio, "Winning validated the tremendous work of our employees and external partners, who challenged industry standards. It recognized P&G's ongoing commitment to sustainability that has been at work for more than 50 years. The DuPont Awards are an important process that allows everyone—partners, industry experts, and competitors—to learn from each other."
Roger Hamers, managing director of Mondi Lindlar: 2012 winner Happy Dog pet food - Packaging differentiates high-end pet food
Say Hamers, "Winning this renowned prize demonstrates our excellent performance in creating outstanding packaging designs. In addition, this success proves the great knowledge and competences of our employees that made such outstanding results possible."
S. Chidambar, advisor, Films Business for UFLEX Ltd. – 1996 winner for preformed, easy-to-refill pouch used for edible oil packaging in India
Says Chidambar, "Winning one of the best-known packaging industry awards really vindicates our efforts and instills in us a lot of pride and satisfaction to be thus honored. It inspires our entire team and gives us genuine 'bragging rights' with all our associates and valued customers."
Shanna Moore, global director of sustainability at DuPont and awards program leader
Q: Why award packaging?
Moore: Packaging is often called the "silent" hero in many value chains—reducing food waste, protecting medicine, and enabling long-distance delivery of important goods. It really is time to drop the "silent" and celebrate the "hero."
Q: Without giving away the winners this year, how would you characterize them?
Moore: Collaborative. There are years when we see true breakthrough ideas—innovations in science that are used to develop new packaging that changes the way we live our lives. We saw that with aseptic techniques, which ushered in shelf-stable foods that don't need refrigeration, for example. This year, we saw the value chain come together to solve challenges; you'll see that theme when we announce in the coming weeks.
Q: Twenty-five years is a pretty good run. Why do you think people continue to participate in this program?
Moore: The key is the independent panel of judges and the opportunity to come together to network and celebrate innovation. One of the great human needs is feedback—and this is a chance to get feedback from some of the industry's leaders and to commune with other innovators. Then it's back to work.
Q: What's DuPont's role in this? How did it evolve?
Moore: The idea—quite honestly—was to get us more engaged in these complex value chains. Once we got there, we saw that our role as a materials and science company could easily expand to champion collaboration. We touch many parts of the packaging value chain, and we see the best results emerge when the teams converge on the solution. This was one more way to reinforce that.
Q: The awards focus on sustainability, cost, and innovation. Why these three attributes?
Moore: Packaging can add value in many, many ways, but at the end of the day, if that value is not sustainable, affordable, or innovative, then it really won't stand up to the test of time. We elected those three attributes as they are the foundation of everything we do.
Q: What is the one piece of advice you would give to those entering the awards program?
Moore: It's worth the time to enter. Typically, most of us run from program to program, and we seldom take the time to step back and evaluate the results, capture the learnings, or even crystalize the importance of what we just did. If nothing else, the nomination form forces that work. And those messages are important to have right at your fingertips.
The DuPont Awards for Packaging Innovation, sponsored by DuPont Packaging & Industrial Polymers, are the industry's longest-running, global, independently judged celebration of innovation and collaboration throughout the value chain. Winners of the 25th annual awards will be announced on May 17. Follow DuPont Packaging: @dupontpackaging