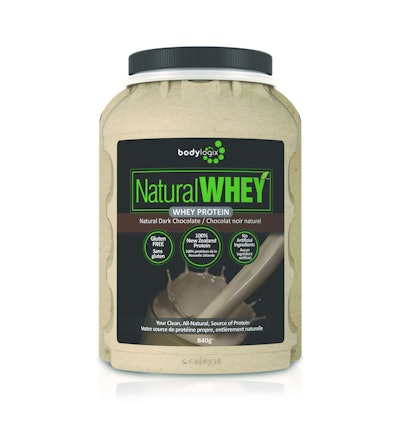 In March 2011, green cleaning products company Seventh Generation was the first to debut a new package format for its liquid laundry detergent that was strikingly unique in appearance and provided a number of sustainability advantages versus traditional household care products packaging. The multi-component molded-pulp bottle with inner film liner from Ecologic Brands was an immediate hit, both with consumers and with the packaging community, winning a number of industry accolades and rocketing the brand to a top-10 best-selling spot in a category of more than 150 SKUs in just two months.

Now another consumer packaged goods company with a reputation for high-quality, natural products has adopted the convention-busting Ecologic container. In January, natural health products and nutritional supplements company The Winning Combination (TWC) launched its Bodylogix protein powder line in the 2-lb eco.canister™ package, using it to differentiate its all-natural product from the sea of sameness found in the health and wellness category.

Transitioning from a rigid high-density polyethylene container to the molded-pulp and flexible pouch package from Ecologic was a substantial challenge and a bit of a gamble for the Winnipeg, Manitoba, Canada-based company, which had already maximized efficiencies around the supply chain for its plastic bottle, but one well worth investing in, according to CEO Derek Penner. "When you do something like this, there is always a risk aspect," he says, "but we sat down, we had a lot of conversation around it, and we all believe in it. It's got great marketability, and if you have a good product in a unique package that's appealing to consumers, we think the product will sell."

But the real win for the new format, Penner believes, is not just the fact that the package looks different, but that its appearance—with its recycled-paper molded-pulp outer shell—clearly signals to consumers an environmental benefit. "When we look at the Ecologic container, it basically defines sustainability for the packaging industry," he says. "The packaging is innovative, it's really unique, and it speaks to the consumer. When you have a package that says, 'I am natural, I am sustainable, and I am good for you,' that's pretty appealing to people in today's world."

The year-long development project was a collaboration between TWC, Ecologic, and TWC's packaging supplier, TricorBraun—a partnership that Ecologic CEO Julie Corbett calls, "a trifecta, where all the parties came to the table to move the needle faster, and get everything to market in a very efficient way."

According to Jad Darsey, TricorBraun's director of sustainability and plastics, while the geometry of the container for the TWC product differed from that of the Seventh Generation eco.bottle®, the Bodylogix team was able to "stand on the shoulders" of the learnings gained by Seventh Generation to create the new container. "We also had to go out and learn some new things so that the next user of the Ecologic container will be able to stand on the shoulders of the work that we have done," he says. "This is the start of a new way to package products."

Product and package a 'natural' fit

TWC has been developing, manufacturing, distributing, and marketing natural health products and nutritional supplements for more than 20 years. Its products include weight-loss, sports-nutrition, and on-the-go vitamin and mineral supplements, all-natural protein powders, and ready-to-drink beverages, along with joint health and repair products, under a number of brands, including Abrexin, Joint Grease, and Kaizen, as well as its flagship, Bodylogix, among others.

According to Penner, the company prides itself on being an innovator and a leader, especially with its Bodylogix line, launched in 2008. "We developed the Bodylogix brand to provide consumers with a portfolio of high-quality, nutritional products to support healthy living," he explains. "We use the Bodylogix brand to continue to develop and innovate for our customers."

As part of its commitment to innovation, Penner says TWC constantly challenges supplier TricorBraun to uncover new and unique packaging options. TricorBraun has provided TWC with custom packaging for "a number of years," Darsey reports, supplying a range of packaging formats, including beverage bottles, rigid containers, and injection-molded and metal parts. Darsey adds that while TWC's main goal is innovation, "sustainability is at the core of this bold move."

"Sustainability is something they want to do when they can, where it doesn't affect their premium product and where it doesn't affect the two primary functions of a package, which are to protect/deliver the product, and sell the product," Darsey says.

When TricorBraun presented TWC with the Ecologic eco.canister™ as an option to replace its HDPE containers for protein powders, "they fell in love with it immediately," says Darsey. "They absolutely saw all the upsides to it right out of the gate."

The eco.canister™, which TWC refers to in its literature as the Eco Container, is constructed of three components: a molded-fiber outer shell made from 70% recycled cardboard (OCC) and 30% old newspapers (ONP) that can be recycled up to seven times; an inner low-density polyethylene pouch with integrated fitment and locking collar that reduces the amount of plastic used versus an HDPE bottle by 60%; and a standard injection-molded polypropylene lid. The package is constructed so that it can be easily disassembled for recycling; the outer shell is both recyclable and compostable.

According to a Life Cycle Analysis of the eco.bottle® performed by Franklin Associates, while the molded-fiber shell requires a bit more energy during the fabrication stage (~10%), through its life, it consumes 48% less energy than a virgin HDPE bottle.

TWC selected the Eco Container to hold an expanded line of its 100% All Natural Protein Powders, available in whey protein concentrate and high-performance whey protein isolate varieties, and in a new raw vegan protein formula, in chocolate and vanilla flavors. According to TWC marketing materials, "These proteins are some of the purest on the earth, with no hormones, no fillers, and no artificial ingredients."

Traditionally, protein powder products are packaged in one of three formats: an HDPE container, a foil-lined paperboard carton, or a flexible bag. Explains Darsey, "TWC was really looking for a way to do something more sustainable to fit into their all-natural protein powders line."

Ecologic's Corbett believes the Bodylogix brand and the Eco Container are a perfect fit: "This is the right brand, the right mindset [for this package]. The Winning Combination is very similar to Seventh Generation in its approach. They have a very interesting product; it's all-natural. They put a lot of time and effort into the development of this product, so the authenticity of the combination of product and package is very real."

Trifecta effect

According to all parties involved in the Eco Container project, its success was the result of each group's contribution. With its long expertise in package development and strong CPG relationships, TricorBraun expertly shepherded the project, freeing startup Ecologic to focus on technical execution of the container. Notes Corbett, "We are a small company, and what we needed was a committed partner who believed in this to help with the customer, to develop the project faster, and help with logistics."

For TWC's part, it provided the "forward-looking leadership" required to pursue such a drastic departure from what already was being done in the marketplace, says Darsey. "They didn't ask about price, they didn't ask how long it was going to take, they just wanted to know if it could be done. They saw the big picture," he explains.

From start to finish, the project was filled with a myriad of challenges. "Every step, facet, and function of this package had to be reevaluated through the entire supply chain to ensure that what the customer gets is a strong, functioning package that does what we want it to do, serves its life, and can be easily recycled," says Darsey.

Ecologic, through a proprietary process, cut the custom tooling required for all of the componentry. The company currently operates from a temporary facility in Fresno, CA, where it performs some of the manufacturing tasks for the Eco Container, then assembles the package before shipping it to TWC for filling. This year, Ecologic is scheduled to open a new plant in the San Francisco Bay area that will bring all processes, including fiber integration and pouching, under one roof. "By the end of the year, the capacity of that plant will be about 5 million units," says Corbett. "By mid-2014, we will have roughly 12 million to 15 million units of capacity."

To integrate the Eco Container into its filling line, TWC replaced the labeling equipment for its protein powder packaging with a new unit from U.S. Tape & Label. As Penner explains, the new bottle presented some complexity versus the former HDPE bottle, which was 100% circular. The Eco Container is designed with flanges along two sides, which make it possible for the consumer to split open the bottle for recycling, but that prohibit the container from spinning around on the labeling equipment. For the new bottle, TWC installed a front and back labeler, whereby the front of the bottle is labeled first, followed by the back. The container is decorated with a paper label, printed with eco-friendly inks, making it completely recyclable as well.

TWC is also in the process of having custom equipment engineered that will allow it to assemble the Eco Container in-house, reducing the transportation costs associated with conveying the empty package. "Eventually we will have the unassembled containers shipped to us," explains Penner. "What that means is we will be able to hold the equivalent of six to seven trucks' worth of finished containers in one truck. From a storage and freight standpoint, it's going to be huge."

Substantial material reduction

As of presstime, the new Bodylogix 100% All Natural Protein Powders line in the Eco Container was scheduled to launch in Shoppers Drug Mart stores in Canada in mid-January, as well as in 7,200 U.S. Walgreens drugstores. Future plans call for distribution of the Bodylogix brand in Australia, Japan, and China, among other countries.

Penner estimates that in its second year on store shelves, the Eco Container will hit 750,000 to 1 million units. "We even think that's conservative," he adds. "After that, we believe we will see that number grow dramatically as we transition other parts of our business to the Eco Container." While he cannot provide specific data on the total amount of plastic the new container will eliminate versus the use of HDPE, he says it will be a "substantial reduction."

Currently he shares that the cost of the Eco Container is slightly more than that of an HDPE bottle, but he believes that number will decrease over time. "I kind of view this as the investment stage, or the innovation stage," he says. "But as we move forward and learn about the intricacies of the container, get all the equipment in place, and find economies of scale with production, I expect the price to be similar if not cheaper than the HDPE bottle."

Regardless, Penner feels the ROI by way of marketing appeal is worth the investment. "The whole world is moving toward trying to be more environmentally friendly and sustainable. When you offer a product that is not only natural but also has an environmentally friendly package, that's a huge marketing advantage. From a consumer benefit side, it's really simple: You are getting a high-quality product, in a high-quality container that's 100% compostable and recyclable. As consumers become more aware, it's going to become increasingly important to move toward not only less packaging, but also a full sustainability effort."
Companies in this article