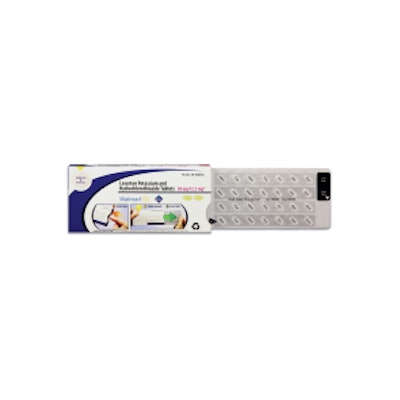 In 2008, Walmart began using an all-plastic compliance-prompting package on a limited basis for consumer medications distributed from its pharmacies. Recently, it announced the adoption of two new types of calendarized blister packs for its pharmaceutical products, in addition to its use of the traditional amber-vial container with cap, as part of its commitment help its customers "live better."
The first pack, the ecoslide-RX® from Keystone Folding Box Co. comprises an outer paperboard sleeve, with an inner blister made from plastic. Walmart first committed to the use of the ecoslide-RX® in December 2011. In summer 2012, the retailer installed the first automated production line for the ecoslide-RX®, which began operation in fall 2012. In December, Walmart announced the introduction of the package in 4,600 of its stores across the U.S.
Meanwhile, MeadWestvaco developed the Shellpak® Renew, a poly-coated paperboard package based on the design of its all-plastic Shellpak® compliance package, which Walmart began using in 2008. In mid-2012, MWV announced that Walmart would be switching to this format in 3,600 of its stores nationwide. Currently, the Shellpak Renew is hand-packed, with automation expected for late 2013.
No doubt these changes in pharmaceutical packaging are in part driven by Walmart's desire to help influence better health outcomes for its customers through compliance-prompting packaging. But there were certainly other factors that led to the recent switch, especially considering that the two new packages are marketed as being environmentally friendly.
"Walmart is absolutely known for their commitment to the environment and sustainability as they approach packaging," says John Grinnell, vice president and managing director of MWV Healthcare's Secondary & Adherence Packaging Division. "They have also made a huge strategic commitment to the wellness of their customer base. It was very natural that these two initiatives would come together."
The use of the calendarized compliance packages brings up an interesting question, however: Given the greater amount of materials used to produce a compliance-prompting package, can it ever be more sustainable than the amber vial? Also, considering the critical role of pharmaceutical packaging—chiefly to protect the efficacy of the medication—should sustainability even be a priority? And finally, what does sustainability mean in the context of pharmaceutical packaging, and in particular, compliance-prompting packaging? Is it a just a materials-based consideration?
Comparing footprints
Keystone's ecoslide-RX® is a child-resistant yet senior-friendly compliance pack that features a 100% recyclable and compostable paperboard outer sleeve with an inner film and foil blister. The outer carton contains no plastic in its secondary packaging and uses a minimal film-to-foil ratio to maintain its F=1 Child Resistant rating.
Says Ron Sasine, Walmart's senior director of packaging for private brands, "In any type of carded blister, what we are doing is replacing plastic resin with recyclable paperboard. So for the consumer, there's a greater possibility of disposing that outer sleeve in a recycle stream rather than in a waste-to-landfill stream. That's a big benefit from our point of view. Of course, there will be that inner chamber of the blister itself, but that's a far smaller component than the overall outer shell."
As noted, the Shellpak Renew was engineered by MWV as the next generation of its Shellpak adherence package. Shellpak, introduced in 2008, comprises a blister pack housed in a high-impact polystyrene shell that offers child-resistant, senior-friendly pushbutton technology. This first-of-its kind adherence pack allowed for increased communication with the patient on the medication regimen, leading to measurable improvements in patient compliance.
The Shellpak Renew replaces the HIPS shell with a recyclable outer carton made from Natralock®, a tear-resistant paperboard-based material that maximizes the use of recyclable materials and minimizes waste. But according to Grinnell, the strategy behind the Shellpak Renew was not purely about sustainability. "We had a number of product goals in mind," he says. "We wanted to reduce the size of the package, which obviously helps us from the sustainability point of view, but it is also more appealing to consumers." Another functional improvement is the use of color-coded spine labels to help identify different drugs.
Considering the footprint of these "eco-friendly" compliance packs from a purely materials standpoint, are they really a really a greener option than the amber vial? According to Grinnell, results of a Life Cycle Analysis of the Shellpak Renew versus an amber vial show that the two formats offer fairly comparable footprints, with each package showing advantages in different impact categories. "We see a clear advantage with the Shellpak Renew when we look at fossil fuel consumption," he says. "Whereas it has disadvantages versus the vial when looking at water consumption. So when you consider all of those factors, you can see that it is a fairly equivalent comparison."
Looking beyond the footprint of the raw materials, Grinnell says that the Shellpak Renew also provides greater environmental advantages due to its smaller size and lighter weight, which require less fuel to ship and less space on the pharmacist's shelf. The Shellpak Renew is also curbside-recyclable; amber vials, made from HDPE or polypropylene, are not always as easily recycled.
Therefore, there is definitely evidence to suggest that the Shellpak Renew and the ecoslide-RX® may, in fact, provide a more sustainable packaging option for pharmaceuticals than the more traditionally used amber vial. But this is not always the case with compliance-prompting packaging. Says Phil Dahlin, director of sustainability for pharmaceutical company J&J Janssen Supply Group LLC, "Typically, the compliance-prompting packaging that I have seen does contain more packaging material; sometimes significantly more. This is no surprise, because size isn't the main design driver; patient usability and communication of dosing schedule are more critical design elements."
Adherence packaging can take a number of different forms. These include injection-molded cases with inserted drug carriers (birth-control pill format), smart caps with electronic features, free-standing blisters with printed dosage instructions or blisters with pressure-sensitive labels, and paperboard wallets with blisters, among others—most of which involve multiple packaging components and complex child-resistant design features.
Dahlin does suggest, however, that the increasing use lately of smartphone applications and other electronic-based ways to remind patients to take their medications may mean that in the future, "we may rely less on the package and more on support programs, in which case we may be able to reduce package size."
Given the tremendous responsibilities of the compliance-prompting package though—protecting the product, instructing the patient—should sustainability, which often entails lightweighting packaging or reducing packaging materials, even be a consideration? Walter Berghahn, president of SmartRmeds for Life and the executive director of the Healthcare Compliance Packaging Council, offers this perspective: "The challenge with pharmaceuticals is that each drug has different requirements for protection, so it's not a one-size-fits-all. So it's the nature of the individual product that's going to dictate the packaging. You can't alter that to make it green and risk the quality of the drug itself, because then you can impact the efficacy of the product. You still can include sustainability in that discussion, but it is important to recognize that protection of the product trumps everything."
Grinnell agrees, but notes that while sustainability should not be the primary consideration, as the package formats selected by Walmart demonstrate, compliance-prompting packaging "clearly doesn't have to be an environmental compromise."
Sustainability beyond the package
So, while some compliance packs may be greener than traditional pharmaceutical packaging formats based on their physical properties; others are not. But looking only at materials does not provide a complete picture of the sustainability opportunities afforded by adherence packs. A deeper dive is required to understand how this type of packaging impacts the "three pillars of sustainability": social, economic, and environmental.
The function of compliance-prompting packaging is to increase patient adherence to medication. In the U.S., with an estimated 50% of patients not taking their medications as prescribed, non-adherence is a tremendous problem with "multi-dimensional negative impacts," says Dahlin.
From a human perspective, non-adherence can lead to worsening of disease, serious and avoidable health risks, increased hospitalizations, and even death. According to a recent, study, "Medication Adherence: Making the Case for Increased Awareness," co-authored by Duke University Medical Center and the National Consumers League, approximately 125,000 deaths per year in the U.S. are linked to medication non-adherence. It adds that poor adherence is also responsible for an estimated 33% to 69% of medication-related hospital admissions in the U.S.
Justin Schroeder, senior director of marketing and development services for pharmaceutical contract packager AndersonBrecon, cites another statistic that shows in the U.S., 28 percent of all emergency room visits are due to the misuse of pharmaceutical and over-the-counter pharmaceuticals. "That's 35 million people a year," he says, adding that 24% of those ER visits result in hospitalization.
Dahlin notes another negative consequence of non-adherence: "Depending on the type of drug, non-adherence can also lead to an accumulation of medicines in a patient setting, which can create conditions for potential abuse, accidental dosing of medications, and in some cases, improper disposal."
The economic impacts of non-adherence are staggering, as well. The New England Healthcare Institute estimates that the annual cost of non-adherence in the U.S. is $290 billion, which represents 13% of total healthcare expenditures. Says Berghahn, "If you think about the fact that we in the U.S. consume about 320 billion dollars worth of pharmaceuticals, we spend almost another dollar per dollar spent correcting problems. So it's pretty bad."
While direct environmental impacts from non-adherence are somewhat difficult to quantify, it's not hard to imagine how increased hospitalizations and nursing home visits can create a drain on natural resources. Says LCA expert and founder of EarthShift, Inc. Lise Laurin, "We know that poor human health has huge cost impacts on our society, and by extrapolation, we can assume it has huge environmental impacts. We can see this in a 'back-of-the-napkin' assessment from the large amount of waste coming out of hospitals, the additional transportation needed to get patients back and forth from doctors and hospitals, and all the materials that get used just once before being thrown away or put through an energy-intensive cleaning process."
Another clear environmental impact of non-adherence cited by Berghahn, which Dahlin also mentioned, is the greater risk of improper disposal of medications. "If you ignore your drugs long enough, and they become outdated, they are disposed of," he says. "Pharmaceuticals in our waste stream are a real problem because they are generally not being disposed of properly. People are flushing them down the toilet, and they end up in our water system, which is really bad."
Positive outcomes proven
Increasing patients' adherence to their medications through the use of compliance prompting packaging, in contrast, has been shown to positively address these social, economic, and environmental issues by increasing patient health outcomes. A peer-reviewed study published in Clinical Therapeutics of more than 3.1 million Walmart pharmacy patients and MWV's Shellpak calendar blister packaging concluded that "a Shellpak-based adherence strategy could provide a substantial cumulative public health benefit when broadly implemented over a large population."
Results of the study showed that Shellpak demonstrated an improvement in the adjusted estimates of refill persistence and adherence measured by length of therapy and proportion of days covered with medication. It also revealed that Shellpak users overall were more likely to reach "full refill adherence"—at least 80% of days covered with medication in a year—than vial users, with the greatest effect observed in new medication users.
Not only does increased medication compliance reduce hospitalizations, nursing home stays, lost work days, etc., but greater refill adherence also can result in financial benefits for pharmaceutical manufacturers—an increase of 8% to 14%, estimates Berghahn. "If you think of a company that is working with a blockbuster drug, what could an 8 percent or 10 percent improvement in sales mean?," he asks. "If their product is being repackaged by pharmacies in amber vials, and the average adherence for that drug is 60 percent, what's it worth to get that number to 70 percent? Anything you can do to help the patient remember to take their medications on time is going to improve your sales and your outcome."
He also notes that when a patient is not taking their medication on a regular basis, they will not see the anticipated results, and the doctor may remove them from the drug. "How often does that happen," he says. "I'd say a lot. Not because you didn't make a good drug, but because the patient isn't taking it."
So by switching from amber vials to compliance-prompting packaging in its pharmacies, Walmart is definitely fulfilling its altruistic goal of helping its customers live better. But this model also provides greater financial benefits for the retailer, as well. Increased refill adherence by patients results in more trips to the Walmart store. "That's huge if you are Walmart," says Berghahn. "You want customers walking in the door."
Using a prepacked blister also eliminates the need to repackage pills at the pharmacy level. "The pharmacist isn't counting pills, and he is not storing gross stock inventory in large bottles in the pharmacy," says Berghahn. "So you are reducing labor in the pharmacy, reducing your inventory, and reducing the likelihood that a pharmacist might make an error."
Freeing up the pharmacist to counsel patients is another "social" advantage of compliance-prompting packaging. According to Grinnell, this points to a trend in the healthcare industry where the pharmacist is becoming recognized as a critical health service provider.
Eliminating repackaging also eliminates the need for intermediate bulk bottles—another source of material reduction.
Inherent sustainability
Given then, this abundance of evidence that compliance-prompting packaging provides positive sustainability benefits in the areas of society, the economy, and the environment, is this type of packaging—regardless of materials used—inherently more sustainable than the amber vial?
"If you look at the overall cost impact on the healthcare system, you certainly could make that argument," says Berghahn. "If you are applying more costly packaging, but you are keeping people healthier, keeping them out of the doctor's office, that probably trumps the cost of extra packaging."
Grinnell agrees, saying, "I would say at a gut level, there is a lot of data out there that says that a substantial proportion of the adverse health events that occur are related to non-adherence to medication. So if we can address that, it's pretty clear to me that it could greatly reduce a lot of the environmental consequences. I would suspect that if one really undertook a comprehensive LCA, we would see a lot of hidden benefits [to compliance prompting packaging]."
"One thing sustainability practice teaches you is to evaluate all impacts and benefits side-by-side so that you don't look at things in buckets," Dahlin concludes. "Likewise, with medications, you need to look at total value delivered to patients. If compliance packaging delivers better outcomes, and thus greater value, then it should be considered as part of the whole healthcare economics analysis and not looked at as some add-on feature."
Companies in this article