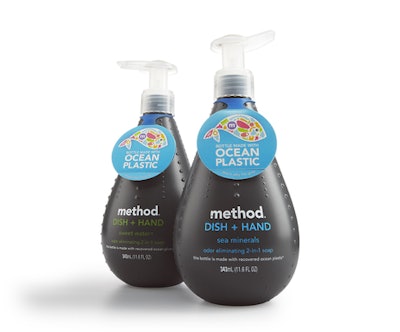 Method has launched its latest innovation in sustainable packaging: bottles made from a blend of plastic recovered from the ocean and post-consumer recycled plastic. This limited-edition packaging is for a new Method product, a two-in-one hand and dish soap, available exclusively at Whole Foods Market stores nationwide.
Scientists estimate that several million tons of plastic make its way into the oceans every year, polluting the environment and hurting marine populations. Through this new use of recovered ocean plastic, Method says that it is demonstrating how a business can tackle environmental problems, and that there are smarter ways to make plastic than using virgin material. Nearly all of Method's packaging is made from PCR material, which helps keep additional plastic out of landfills and oceans.
"Our goal with ocean plastic packaging is to show that the most viable solution to our plastic pollution problem is using the plastic that's already on the planet," says Adam Lowry, co-founder and chief greenskeeper of Method. "Method's ocean plastic bottle demonstrates in the extreme that recycling is possible. By recycling and reusing plastic to make our bottles, we turn off the tap of plastic flowing into our oceans and take the first, most important step toward solving the ocean plastic problem."
Over the past year and a half, Method employees have worked with local volunteers from Sustainable Coastlines Hawaii and the Kokua Hawai'i Foundation to hand-collect several tons of plastic from the beaches of Hawaii, where the kinds of rigid, opaque plastic needed to make this packaging are most abundant. A portion of the product's proceeds will go to these two Hawaiian organizations as part of Method's efforts to establish an ongoing business model and supply chain for collecting and sorting plastic marine debris.
Method partnered with recycler Envision Plastics to develop a new recycling process to make the bottles. The process allows plastics recovered from the ocean to be cleaned, blended, and then remanufactured into high-quality recycled plastic that is the same quality as virgin high-density polyethylene HDPE plastic.
The new two-in-one soap with odor-eliminating technology is now available exclusively at Whole Foods Market stores nationwide and on methodhome.com. It is available in two fragrances—Sea Minerals and Sweet Water—for the suggested retail price of $4.99.
Companies in this article