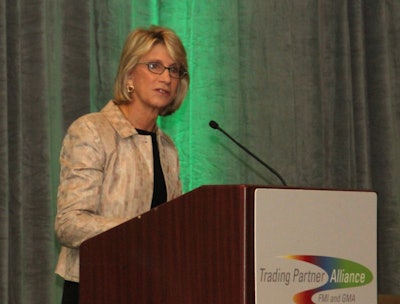 Nine billion people by 2050: This daunting figure was the touchstone for the recent Sustainability Summit, titled "Uncover the Possibilities," held by the Food Marketing Institute (FMI) and The Grocery Manufacturers Association (GMA), in Washington, DC, in early October. The at-capacity event, which hosted nearly 400 attendees from all points in the food and beverage supply chain, explored the challenges food manufacturers and retailers will face in the not-too-distant future, as the global population continues to rise and natural resources become scarcer, and how innovations in sustainability can be used to meet these challenges.
"Sustainability is a moral imperative," GMA president and CEO Pamela Bailey told attendees at the opening of the event. "It is without borders; it is a value that is respected by every culture." GMA's sustainability efforts, she explained, revolve around food waste reduction and solid waste strategies.
In the area of food waste, GMA has teamed with FMI in The Food Waste Opportunities and Challenges Initiative to address both hunger in the U.S. and the food industry's environmental footprint. "Food waste," she told attendees, "is the single biggest contributor to methane in landfills."
In the area of solid waste, GMA has made commitments to reduce the amount of material used in its packaging and supply chain. According to a March 2011 report, through the efforts of GMA's members:
• More than 1.5 billion pounds of packaging were avoided from 2005 to 2010.
• From 2011 to 2020, manufacturers expect to avoid another 2.5 billion pounds of packaging.
• By 2020, more than 4 billion pounds of packaging will be eliminated nationwide.
Speaking for the FMI, David Fikes, director of Consumer/Community Affairs and Social Responsibility, highlighted some of the accomplishments of the Food Waste Initiative, thus far, including Kroger's donation of 160 million meals to local food banks and a pilot program at Wegmans' that converts organic waste into biofuel. "When it comes to the nine-headed hydra of food waste," he said, "there has been movement and significant progress."
Following these opening remarks, a number of thought-provoking sessions were presented that gave attendees a glimpse at a future in which they will be expected to double and even triple the amount of product they provide, while using the same amount of land and water. Breakout and other sessions explored issues such as water stewardship, Waste-to-Energy, sustainable agriculture, and more.
Future vision
In her presentation "Consumer Futures 2020: What Does This Mean for Sustainability?," Dr. Sally Uren, deputy CEO for the U.K.'s Forum for the Future, asked attendees to envision a world eight years from now where weather events related to climate change disrupt supply chains, where governments are just beginning to take action on carbon reduction, where consumers have changed the way they receive information and shop through the rise of digital technology, and where wars over water scarcity have begun.
"We have to try to imagine the future," she advised the audience, "and create the future that we want."
Based on its research and the development of various future scenarios, Dr. Uren noted that the Forum has determined that sustainable consumption will be mainstreamed in the future, making smart growth the norm for business. "It's about being economically successful while decoupling from environmental impact," she said.
In "Future Value Chain 2020," John Phillips, senior vice president of Customer Supply Chain and Logistics, PepsiCo, Inc., treated attendees to a fast-paced, multimedia presentation highlighting the 12 megatrends identified by the Consumer Goods Forum that will have significant impacts across the future value chain. Among them, increased urbanization and the rise of megacities; an aging population; the increased impact of consumer technology adoption—"the handset is becoming the center of commerce," he said; and the scarcity of natural resources, to name a few.
His message to the audience: "Succeeding in the future will require much more collaboration and integration across core functions. Those who master the convergence between the digital and the physical world are the ones who are going to win. And last, we all need to challenge our minds in ways that we can leverage this technology and capability to transform the consumer value chain."