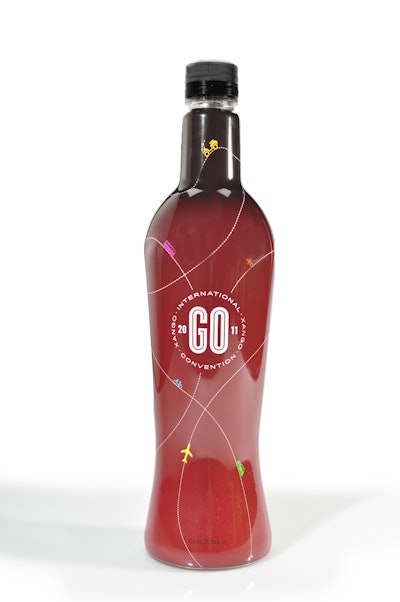 Referred to by some as the "Queen of fruits," the mangosteen "ripens twice a year and is revered for its taste and healing properties," according to Lehi, UT-based Xango, LLC, which considers the mangosteen fruit its flagship wellness ingredient.
Recently, the global nutrition company and maker of health and wellness products switched its premium mangosteen beverage Xango Juice from glass to 750-mL PET bottles. Distributed by Berlin Packaging, the bottles are manufactured by Berry Plastics, using a two-stage reheat-and-blow process on equipment from Sidel. Empty bottles weigh 74 g.
According to R.D. Rex, Xango's technical services director, "There were many considerations in the decision to change. It was the opportunity to improve in so many areas while still maintaining the premium Xango brand image and product quality. Xango experienced improvements in many areas, such as transportation, package weight, damage, and product quality."
Rex notes, "Xango and Berlin Packaging have a great partnership and they were selected again as a supplier because they provided solutions that met the project requirements better than other candidates."
He explains that Berlin Packaging and Xango faced PET cost increases during the development process, with Berlin "providing a solution to Xango that met the expectations for a PET bottle of suitable gram weight to replace the glass, engineering a 'push-up' that provided bottles that met aesthetic expectations, and [in the] logistics and supply chain for freight of the preforms."
The material change necessitated a conversion from the pasteurization and hot-fill process used for the glass bottles to aseptic filling, completed by a contract packager using filling and capping equipment made by Fogg Filler Co.
The glass bottles were decorated with two pressure-sensitive labels and a shrink band. The new PET bottles are decorated with a single shrink sleeve sourced from Zion Flex Pack.
The move to PET brought about a host of downstream environmental and economic advantages. According to Xango, these included the following:
• Savings exceeding $1 million annually in the cost of goods, freight, secondary packaging, and breakage
• 85% reduction in bottle weight and associated packaging/shipping requirements
• 34% reduction in energy use
• 64% reduction in greenhouse gas emissions
• Significant waste reductions with no bottle breakage and less secondary packaging
• Replacement of polystyrene with corrugated for bottle separation
• 5.7 million lb savings in annual materials
• 2,039 metric ton savings in annual CO2 emissions
"The changes in secondary packaging, such as eliminating the EPS inserts used to protect the glass bottles contributed significantly to the reduction in the overall package size," says Rex. "We can move more juice per truckload and container, which results in significant improvements in transportation efficiencies."
Xango is supported by 28 global distribution facilities and one million distributors, with operations in the U.S., Mexico, Canada, Malaysia, Germany, Australia, Japan, and other international markets.
During the PET introduction at a Xango convention, Rex says, "It was a great experience listening to the reaction from the thousands of distributors in attendance. They showed their excitement in the applause and comments."
So, what are the future plans with regard to Xango packaging? Says Rex, "Xango is always interested in opportunities for improvement and will continue to explore various packaging options that will provide benefits to the company and the distributors. This initiative applies to all Xango products."