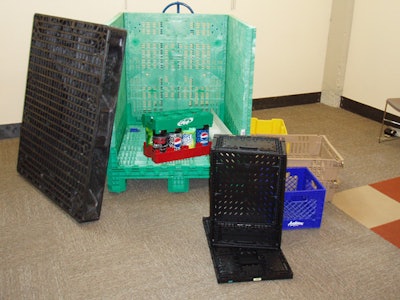 As companies strive to operate more lean and green—both for environmental and economic reasons—supply chain logistics have moved into the spotlight.
"Many businesses that have implemented recycling and basic environmental practices are asking 'What's next?' and finding that their supply chain is often an area of untapped opportunity," says Justin Lehrer, program manager at the StopWaste Business Partnership, a public agency program aiming to reduce waste and improve efficiency among San Francisco Bay Area companies.
Lehrer's team has found that switching from limited-use wood pallets and cardboard boxes to durable totes, bins, and pallets has proven to be a particularly effective strategy. Companies with reusable transport packaging systems can save millions of dollars in packaging expenses and disposal costs, and can prevent thousands of tons of waste. Among those companies that have made the switch are industry leaders like John Deere, General Motors, and Pepsico, to name just a few, relates Lehrer.
To bring these efficiencies to San Francisco Bay Area companies and help them make the transition to reusables, StopWaste has teamed up with the Reusable Packaging Assn. (RPA), a national trade group, offering educational resources, expert advice, and hands-on training workshops—one of which was recently held in Oakland, CA.
Among the presenters was local coffee roaster Peerless Coffee. A long-term client of StopWaste, Peerless has implemented various recycling and waste prevention programs, saving the company over $100,000 each year. Recently the company replaced cardboard boxes with reusable totes on all of their local delivery routes, cutting waste further and saving an additional $2,500 annually. Peerless Coffee's successes have been documented in a short video.
No one size fits all
The workshop brought together a wide range of businesses, from small produce distributors to engine manufacturers operating on a national or global scale, with equally diverse product handling and distribution needs.
"Most reusable transport packaging systems are custom solutions," says Mike Hachtman of the RPA who fielded questions from workshop participants. "For example, if your company ships within a closed-loop system, simple bar codes on your containers may be all you need to track them. But if your system is large, and you share containers with others, investing in technology such as RFID tags may pay off."
Another important consideration is the type of product shipped. While ventilated crates facilitate washing and keep produce fresh, humidity-sensitive materials such as engine parts may require containers that shut moisture out.
Free resources and upcoming opportunities
To help interested businesses assess what reusable transport packaging can do for them and to find the right configuration, StopWaste and the RPA have developed a comprehensive Web site that offers case studies, an interactive Reusables Cost Calculator and other resources.
San Francisco Bay Area businesses interested in reusable transport packaging can request one-on-one consultations with StopWaste by e-mailing Reusables@stopwaste.org or by calling Justin Lehrer at 510/891-6500. The next free three-hour workshop will be held in Palo Alto, CA, on May 6, 2010. Registration is open now.