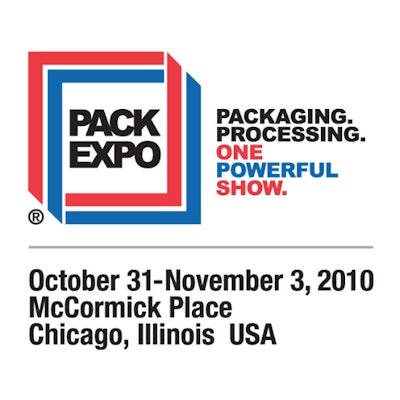 Economic challenges are driving end-user packagers to rely more than ever on their packaging machinery suppliers. As engineering resources decline among some end-user firms, those companies will call on machinery builders to fill the void. At the same time, economic justification will demand more from equipment.
Before the current recessionary period, a one- to two-year payback on packaging machinery was a typical timeframe for an end-user/packager. Now, return on investment (ROI) expectations have shrunk to 12 months or less, depending on the industry, said Brian Barr of Heat and Control, Inc.
Barr was one of several packaging-supplier panelists to speak at a first-time Pack Expo Thought Leaders Dinner held Feb. 16 in Rosemont, IL. The event was hosted by the Packaging Machinery Manufacturers Institute, organizers of Pack Expo.
The event not only addressed various packaging and processing supply chain trends, but also updated attendees on Pack Expo Intl. PMMI expects 45,000 attendees from more than 110 countries to attend Pack Expo between Oct. 31-Nov. 3 at Chicago's McCormick Place. Before the upcoming show, exhibitor displays were required to be packaging-related, said PMMI's Jim Pittas. Now the event will serve as a convergence of packaging and processing.
During the Feb. 16 panel discussion moderated by PMMI's Matthew Croson, suppliers noted that economic factors and rising sustainability requirements were driving increasing demand on packaging machinery vendors for more advanced controls and automation systems, greater efficiencies, shorter delivery times, and more modular/versatile equipment—all at a lower cost.
Pro Mach's Jack Aguero explained that customers are seeking greater energy-saving features when purchasing packaging equipment. Greg Jacobs of Allpax indicated that customers are looking to retrofit systems to enhance sustainability efforts.
Nick Wilson of Morrison Container Handling Solutions said companies are interested in container handling system configurations for containers that require less material.
Robert Koch of Multivac admitted that thermoformed containers may not be perceived as "green," but pointed out that customers seek differentiation. If material thickness is reduced, he noted, it could impact machine performance.
Wynn Wiksell of the Food Safety Alliance for Packaging, Peter Monte of CFS North America, and Robert Hibbert of K&L Gates all contributed to discussions on food safety and regulatory issues. Wiksell noted that food manufacturers are sharing more information that may have previously been "held close to the vest" in an effort to address food-safety issues.
Among other takeaways from the event were the following:
• Regulations for food safety are beginning to follow stricter pharmaceutical standards and guidelines.
• Don't look for a dynamic economic turnaround, but rather slow improvement.
• Sustainability will continue to be a strong driver of innovation in packaging.
• "Big-box" retailers and consumer packaged goods (CPGs) companies are seeking more diverse packaging configurations and quicker deliveries from packaging suppliers.
Pack Expo show announcements
PMMI president and CEO Charles Yuska noted that Pack Expo Intl. 2010, will include greater end-user company input at the Conference at Pack Expo. PMMI also made the following announcements:
• The Grocery Manufacturers Assn. (GMA) and PMMI will co-locate the first-ever Manufacturing Excellence Conference Nov. 1-2, delivering educational information on topics that include product safety, sustainability, and operational reliability.
• The DistriPak Pavilion will make its Pack Expo debut. Sponsored by the NPTA Alliance (formerly the National Paper Trade Assn.), Yuska said: "The trends affecting the paper, packaging, and supplies distribution industry impact Pack Expo attendees and exhibitors across the board."
• The Processing Zone, a new exhibit area at Pack Expo Intl., will highlight processing technologies for food, beverage, baked goods, snack food, meat, dairy, produce, pharmaceuticals, and cosmetics.
• The Brand Zone is designed to provide inspiration and innovation to brand managers at consumer goods companies.
Companies in this article