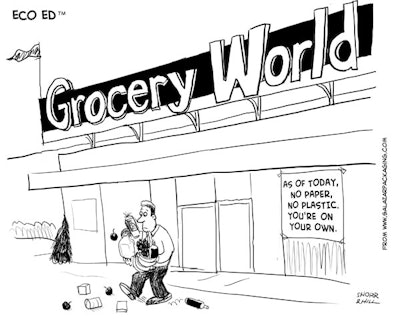 ■ On September 4 and 5, the Michigan State University School of Packaging will present an update on the current issues in reusable packaging for supply chains. This update will explore the costs, benefits, and relationships involved in a successful reusable container system. Topics will include:
• The Business Value of Supply Chains
• Costs and Value of Reusable versus Expendable
Shipping Containers
• Return on Investment of Reusable Packaging
• The Sustainability Argument for Reusable Packaging
• The Contribution of Reusable Shipping Containers to Sustainable
• Communities
• Reverse Logistics Options
An Exhibit Center will provide an opportunity to meet with suppliers of a range of products and services for reusable packaging applications.
■ The first meeting for the Future for Sustainable Packaging: 2008-2018 Consortium was recently held at DuPont in Wilmington, DE. Senior leaders across the value chain participated in the day long session. The final meeting will be held in November and will include three-, five-, and 10-year sustainable packaging strategies and roadmaps across the value chain. This program still has room for a few additional sponsor companies; contact Todd at Todd@pti-solutions.com or (800) 875-0912 for additional information.
■ Netherlands-based PaperFoam will be supplying trays made of foamed paper and potato starch for packing the new Apple iPhone 3G. The company claims a carbon footprint reduction of 90% compared to plastic trays. The PaperFoam product consists of 100% renewable and recyclable materials and can replace plastic in such applications as DVD and CD jewel cases.
■ At Pack Expo in November, Betsy Cohen, vice president of sustainability at Nestlé, will deliver a keynote address entitled, "More Safety versus Less Material? Where Does Packaging Go?" Cohen will discuss the challenges, conflicts, and competing values packaging professionals must balance every day. Glenn A. Wright, commercial vice president, North American Basic Plastics at The Dow Chemical Company, will deliver a keynote presentation entitled "Packaging—Elemental to a Sustainable Future."
■ Cosmetics firm Mary Kay announced in June its Mary Kay Compact Recycling Drive to coincide with the launch of its neweco-friendly Mary Kay Compact, featuring an innovative refill system that may eliminate 60 million units of packaging. The company estimates the program also has the potential to cut more than 60,000 tons of carbon emissions. For every compact returned, Mary Kay will plant a tree in the Bitterroot National Forest in Montana and Idaho through a partnership with the Arbor Day Foundation and under the direction of the U.S. Forest Service.
■ In June, leaders in the dairy industry announced a commitment and action plan to reduce fluid milk's carbon footprint while increasing business value from farm to consumer. One recommendation was to stimulate development of low-cost, low-carbon, consumer-acceptable packaging.
Companies in this article