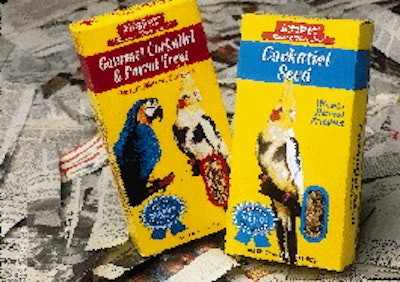 Insect infestation has long bugged manufacturers of grain-based products. From harvesting to packaging, throughout the distribution chain right to the consumer, bugs and their eggs can prove pesty. In recent years, some manufacturers of grain-based animal foods have turned to bag-in-box packaging to negate the problem. This past summer, however, one maker of these products went against the BIB trend, opting for a specially treated carton that requires no inner bag.
In June, AlfaPet, a privately held company headquartered in St. Louis, began using cartons treated with RepelKote(TM), a coating from Pactiv Inc. (Lake Forest, IL). The coating was developed jointly by Pactiv and Progressive Coatings (Shreveport, LA). RepelKote's active ingredient, methyl salicylate, is a synthetic version of oil of wintergreen (see Packaging World, June '98, p. 31). Bugs find the wintergreen scent uninviting.
In June, the Environmental Protection Agency registered methyl salicylate (and RepelKote) for use in packaging materials to control insects that prey on stored food, animal feed and textiles.
Pactiv's St. Louis plant employs a sheet-fed offset press from Heidelberg USA (Kennesaw, GA) to print the AlfaPet cartons in up to five colors. The RepelKote is applied to the printed board on a tower coater. Treated, KD cartons are then shipped to AlfaPet where they're automatically erected, filled and cold glue-sealed on a Clybourn machine from Sasib Packaging North America (Bensenville, IL).
Patience pays off
AlfaPet's president Marty Johnes says Pactiv has supplied folding cartons since 1994. "By working with them, we learned that they were developing something to repel insects," he says. "And the implication in our industry is that our type of products are notorious for containing bugs."
Johnes says AlfaPet waited for the repellent's development and approval for about two years. "It was frustrating at first," he says, but admits the company was "excited about the development," and about doing something to offset the bug implication.
While waiting, AlfaPet continued to sell cartons of small-animal food in untreated folding cartons. Some competitors, meanwhile, moved to BIB packs. Johnes says other firms promoted their BIB packages as a bug barrier, criticizing packages that did not provide an inner bag. He believes that these competitors using BIB packs caused AlfaPet to lose sales when some stores didn't reorder AlfaPet products in untreated cartons once they sold out.
"We considered bag-in-box. But as more time passed we believed the new development was just around the corner," recalls Johnes. "When we found out that RepelKote had been approved, we were out of cartons for two of our products. So we elected to order cartons treated with the coating."
The two SKUs, a 14-oz Gourmet Small Animal Treat and an 18-oz Hamster Food, came out in late summer. They're sold by mass merchandisers, primarily in Ohio, Michigan, Kentucky and Indiana.
"We plan to make a big splash with the treated cartons and introduce them nationwide for all of our SKUs early next year," says the AlfaPet president. New graphics will help the company as it looks to regain shelf space at major outlets across the country.
High hopes
Just as before, AlfaPet will continue to fumigate incoming raw materials in a boxcar before the product is packaged. This serves as an extra precaution to ward off meal moths and other insects. And AlfaPet will continue to erect, fill and seal cartons on the same Clybourn machine it has used for years.
That's a major economic advantage, according to Johnes. "By not having to buy bag-in-box equipment and inner-bag materials, we won't have to invest anywhere from five-hundred-thousand to one million dollars, depending on what we would have purchased."
He admits that the treated cartons carry a 2% to 3% upcharge. "But that's hardly excessive, and it's nowhere near the cost we would have had if we'd have switched to bag-in-box packaging.
"And now," Johnes says, "We can go to retailers and take care of their concerns with infestation in the first minute of our product presentation. There will be no need for them to be concerned about our cartons being insect carriers-in essence they're a barrier."
When AlfaPet begins to heavily market its coated cartons of animal food next year, it expects to make solid sales inroads. "While we don't have a forecast for increased sales at this point," Johnes concludes, "we believe we can go out and at least double our business. We've had an excellent reception so far from people who have seen the coated cartons at pet shows."
Companies in this article