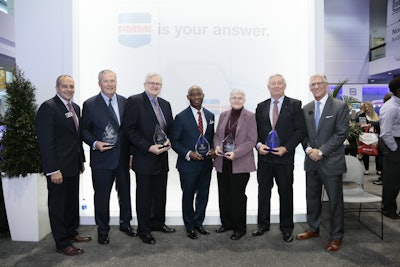 At PACK EXPO, the inductees were honored in an awards presentation and again at PACK gives BACK™, the annual networking event to benefit the PACK EXPO Scholarship program.
THE INDUCTEES (click their names for a full explanation of their individual careers and qualifications, or click here for the full article as it appeared in Packaging World):
• Timothy Bohrer is a 45-year packaging industry veteran with 15 issued patents and many innovations including metallized film susceptor packaging for microwave popcorn.
• Keith Pearson has dedicated his life to packaging in Africa and served more than 15 years in the leadership of the World Packaging Organisation.
•Michael Okoroafor has been involved with some of the best-known consumer packages including Coca-Cola's PlantBottle™ and Heinz's Dip N' Squeeze condiment pack.
• Susan Selke, the current director of the Michigan State University School of Pack-aging, has spent 35 years as a packaging educator and authored several textbooks.
• Chuck Yuska served as president and CEO of PMMI for nearly 30 years. During that time membership nearly tripled and the trade show portfolio grew from one to six shows.
"These professionals have contributed to our industry as advisors, pioneers, visionaries, educators, innovators and inventors of packaging and processing technology. Their contributions have led the industry to where it is today," says Jim Pittas, president and CEO, PMMI.