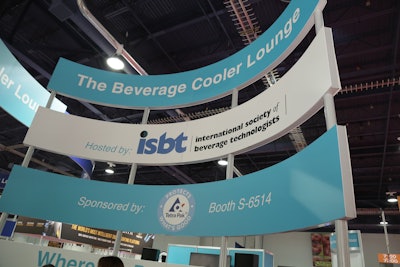 Beverage professionals had a wealth of resources at PACK EXPO Las Vegas 2015, thanks to help from the International Society of Beverage Technologists (ISBT), says show owner and producer PMMI, The Association for Packaging and Processing Professionals. ISBT hosted the Beverage Cooler Lounge, a show-floor networking center for the beverage industry.

"This year's PACK EXPO trade show was another record-breaking effort, and ISBT's contributions were critical," says Charles D. Yuska, president & CEO, PMMI. "Their participation in the show helped us make sure this critical industry sector was well-served."

Seminars at the Beverage Cooler Lounge, hosted by ISBT, covered beverage packaging challenges, the Food Safety Modernization Act (FSMA), quality control, packaging materials and the Global Food Safety Initiative (GFSI).

"PACK EXPO is where our members go to connect with suppliers all along the processing and packaging supply chain," says Larry Hobbs, ISBT executive director. "By hosting the Beverage Cooler Lounge, we provided them and their peers with a dedicated networking area where they could learn about the latest trends in the marketplace, seek out industry experts and get answers that allowed them to make the most of their PACK EXPO experience."

PACK EXPO Las Vegas, co-located with Pharma EXPO 2015, broke show records for visitor attendance (28,699), number of exhibiting companies (2,006) and exhibit space (844,510).