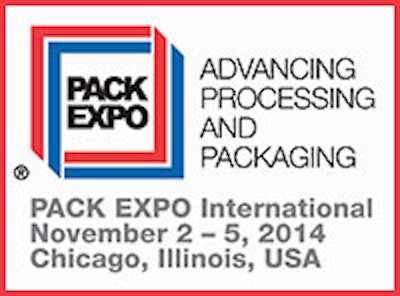 It didn't take long for Pack Expo owner and producer PMMI, The Association for Packaging and Processing Technologies, to look at initial data and recognize the 2013 edition of Pack Expo Las Vegas had broken records for typical measurements of trade show success:
Attendance increased 7 percent.
Exhibiting companies increased by 15 percent.
Net square footage increased by 14 percent.
Final data, however, paint a more detailed picture. Not only did the overall number of attendees at Pack Expo Las Vegas 2013 (Sept. 23–25, Las Vegas Convention Center) increase from the previous event, but the increases were spread across industry markets and functions.
"From baking and snack, to pharmaceuticals and personal care, nearly every vertical industry showed increases in end user attendance," says Jim Pittas, Vice President, trade shows, PMMI.
What's particularly noteworthy, Pittas notes, is the 12 percent increase in attendees who came to find processing solutions.
"This is a huge increase, and far beyond our expectations," says Pittas. "It reflects the impact of strategic changes PMMI put in place several years ago."
Pittas adds that this was an organization-wide change. Around the same time it opened the floor to processing suppliers, PMMI added a membership class for them.
"Attendees at Pack Expo shows have moved away from separating their packaging and processing lines. These are our members' customers and our exhibitors' customers we're talking about, and they are looking for total systems solutions. That's why PMMI's mission is to convene the packaging and processing supply chain, and it's why PMMI is now called The Association for Packaging and Processing Technologies," Pittas says.
PMMI added The Processing Zone to Pack Expo in 2010, and the show floor hub has been sold out at each Pack Expo International and Pack Expo Las Vegas since. As of this year, 20 percent of the suppliers at the show supply processing technologies.
"With processing alongside packaging machines and materials, it makes a very compelling case for end users to attend Pack Expo events," Pittas said. "With such a great story in processing this year, we extended our marketing effort in processing specifically in food and beverage."
In other Pack Expo news this week, PMMI reports that exhibit space at Pack Expo International 2014 — still a year away — is 99 percent sold out. The newest show launch, Pharma Expo, co-located with Pack Expo International and produced in partnership with the International Society for Pharmaceutical Engineering, is also filling up fast.
To learn more about exhibiting, or to be notified when registration for Pack Expo International 2014 and Pharma Expo open, visit Packexpo.com.
Companies in this article