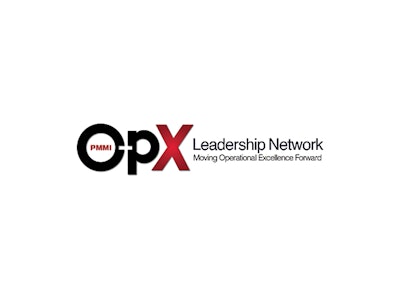 In today's complex manufacturing environment, staying ahead of the latest technology, regulations, and best practices is a constant challenge for consumer packaged goods (CPG) companies and original equipment manufacturers (OEMs). To address key issues, the OpX Leadership Network, convened by PMMI, The Association for Packaging and Processing Technologies, was created to bring together these groups to identify solutions and influence standards. After four years of collaboration and improving supply chain operational performance, the forum is experiencing its most successful year ever due to a refreshed brand and increasing adoption of its industry guidelines.
Beginning in 2011 as the Alliance for Innovation and Operational Excellence (AIOE), the group grew to over 170 professionals. As its resources began to gain traction in the industry, a rebrand was needed to better reflect the group's core values and benefits. In early 2015, AIOE became the OpX Leadership Network—a name that portrays a dynamic community dedicated to improving operational excellence in a "do more with less, faster paced environment."
Along with a new name, logo, and enhanced messaging, the OpX Leadership Network revamped its website to be more practical and engaging to the industry. The interactive site includes downloadable reports, access to webinars and presentations, and opportunities to join users and solutions groups. After just one year as the OpX Leadership Network, the community continues to receive industry exposure through thousands of downloads of its most popular reports and hundreds of companies adopting its innovative solutions.
The OpX Leadership Network's Total Cost of Ownership Playbook and Checklist (pwgo.to/2290) exploded in popularity in 2015, resulting in the group's most downloaded report. These guidelines break down the ongoing costs that factor into the true cost of running machinery—from design and application through maintenance and environmental concern—to allow CPGs and OEMs to move the discussion beyond the price tag to focus on the Total Cost of Ownership (TCO).
Roy Greengrass, senior engineering manager, Del Monte Foods, has experienced significant success since rolling out the OpX Leadership Network's TCO tools. "After using these guidelines to help us select equipment, we now have flexible, cost-efficient start-ups that can be easily shared internally," Greengrass says. "As a result, we've experienced lower cost of operation and products that satisfy our customers."
Another critical industry solution produced by the OpX Leadership Network is its One Voice Factory Acceptance Tests (FAT); Protocols for Capital Equipment in the CPG Industry (pwgo.to/2291). The protocols help resolve FAT criteria, clarifying expectations or miscommunications that often leave both parties confused. Like the TCO Playbook, the FAT guidelines were increasingly downloaded from the new website throughout 2015 and are being implemented in the industry.
"Our company is a relatively new business, and the OpX Leadership Network really helps us determine the next steps we need to progress as a company," says Jill Costelow, vice president of operations and supply chain, Pressed Juicery, LLC. "Our team took advantage of the FAT tool by helping us create a common dialogue with equipment manufacturers, allowing us to complete a capital improvement project in just two months."
Another prominent OpX Leadership Network resource is the OEE Starter Tool (pwgo.to/2292). The framework helps CPGs have a better understanding of the various factors having an impact on Overall Equipment Effectiveness (OEE), and it outlines opportunities for savings in production processes while maximizing efficiency on the plant floor. Companies can also download the OEE Benefits Calculator to apply these concepts to their own operations.
"You'll never achieve 100 percent OEE, but the OpX Leadership Network tools provide standardized definitions and guidelines on how to measure it," says Mark Hanley, senior asset reliability manager, Land O'Lakes Inc. "These resources help companies support the people and processes while driving technologies that improve OEE."
As the OpX Leadership Network and its offerings continue to gain awareness, the community plans to expand its catalog and programming, including the release of two new work products this year – one focused on manufacturing operations worker safety and one on food industry clean-in-place guidelines. With more tools and guidance available to eliminate industry confusion and create common dialogue, CPGs and OEMs will be even more connected and prepared to solve operational challenges, make smarter decisions, and achieve operational excellence.
Find out more about the OpX Leadership Network and access a full range of solutions at OpXLeadershipNetwork.org. To engage in discussions about the latest industry trends, join the OpX Leadership Network LinkedIn group.
Companies in this article