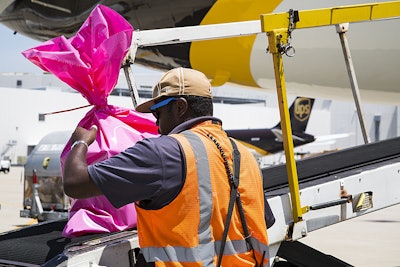 On its website, Kentucky Organ Donor Affiliates (KODA) says its mission is "to provide organ and tissues to those in need and to maintain a profound respect for those who gave."
Last year, KODA partnered with UPS to help ensure each donated organ or tissue, or gift, the nonprofit was entrusted with reached its destination across the country on time and undamaged. Sharon Cauthen was the first recipient of a life-saving kidney "gift" delivered by UPS in June of 2016. Since then, the UPS Express Critical®Healthcare Desk has arranged delivery of 42 gifts on behalf of KODA.
For transplant patients, every second counts. The UPS Express Critical Healthcare Desk, based in Louisville at UPS's healthcare campus and staffed 24/7, provides monitoring, intervention, proactive communication and automatic notifications every step of the way via an industry-leading operating system. UPS moves gifts by next-flight-out service, blending specialty courier pickup with small package services.
Live organ and tissue transport is a new space for UPS in its 110-year history, and the logistics company was able to create efficiencies for KODA by reducing average cold ischemic time by approximately five hours, helping ensure organs and tissue arrive at the operating table healthy and viable.
In the U.S. alone, more than 120,000 people await an organ transplant, according to Donate Life America, and it's estimated that every day, 22 patients die because they do not receive a life-saving gift in time. The donation community continually searches for ways to safeguard each gift in transit, and UPS's assistance has allowed KODA to develop systems that help ensure recipients have their organ, and a chance at life, when time and temperature control are mission critical.
Companies in this article