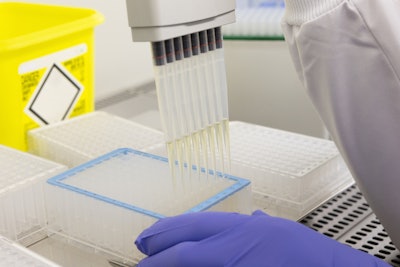 Life sciences industry temperature-controlled logistics company Cryoport, Inc. serving the life sciences industry, initiated a comprehensive logistics study to evaluate the impact of temperature and transport packaging at deep frozen temperatures on critical biomarkers and cell-therapy cancer vaccines, respectively, in conjunction with partners KCAS Bioanalytical and Biomarker Services (KCAS) and Heat Biologics, Inc. (HB).
Cryoport notes very little is documented about the impact of dynamic transportation conditions and temperature on critical bioanalytical materials and their influence on the data generated and required to support drug development programs. Cryoport, in conjunction with KCAS and HB, initiated a broad-based study to scientifically compare the effect of logistics shipping systems and temperature on bioanalytical sample quality, assay performance and stability of investigational cell therapeutics. This study will evaluate the use of dry ice in various packaging configurations as well as Cryoport Express® Dry Vapor Shippers.
The packaging configurations selected for this study will use Cryoport's advanced Smart Pak II™ Condition Monitoring System to evaluate the condition and impact of dynamic transit conditions on the stability and bioanalytical recovery of 30 different plasma biomarkers as well as the cell viability and assay performance of ImPACT® allogeneic cancer vaccines. The goal of this study is to better understand how various logistics choices, as well as dynamic transport conditions, such as deviation from estimated transit times, temperature excursions and carrier handling, impact the condition and efficacy of the commodities shipped.
Michael Lanman, Vice President of Operations at KCAS, says, "Data integrity supporting the bioanalytical process has always been of critical importance to KCAS. We have experienced, first hand, the impact of poor logistics decisions on the quality of inbound frozen clinical samples. This study is crucial to the future of bioanalytical development as it will provide guidance on which temperatures and packaging provide the optimal conditions to maintain sample reliability during secured transport. We are pleased to be working with Cryoport to gain a better understanding of the impact of global transportation on critical biomarkers used in evaluating efficacy of therapeutics in clinical trials."
Taylor Schreiber, M.D., Ph.D., HB's Chief Scientific Officer, notes, "We are pleased to continue working with Cryoport in our current trials and during our ramp-up for Phase 3 for HS-410, as they are a global leader in supporting logistics in the cell therapy space. The data generated from this study will be instrumental to our Phase 3 planning, and by leveraging these data and Cryoport's capabilities, we believe that we can maximize the benefits of our off-the-shelf ImPACT cancer immunotherapy."
"We are pleased that we have two very committed partners working with us to better understand the impact of temperature and/or transport on the integrity of materials critical to bioanalytical development and the clinical trial process. These studies will not only assist us in improving our understanding of the impact of transportation choices, it will be a strong educational tool to the entire biopharma industry," comments Mark Sawicki, Ph.D., Chief Commercial Officer of Cryoport, Inc.
Heat Biologics, Inc. is an immuno-oncology company developing therapies that activate a patient's immune system against cancer. It's highly specific T cell-stimulating platform technologies, ImPACT and ComPACT, form the basis of its product candidates.
KCAS Bioanalytical & Biomarker Services is a contract laboratory with 36+ years of bioanalytical expertise. Centrally located in Kansas City, KCAS provides small- and large-molecule PK, immunogenicity, and biomarker analysis operating a variety of equipment platforms to service a wide range of therapeutic areas.
Companies in this article