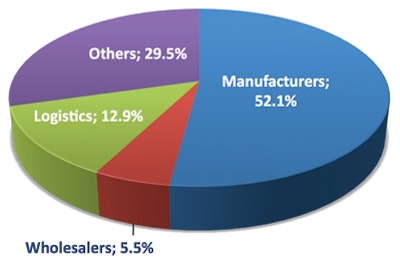 Companies involved in the healthcare/pharmaceutical industry seek economically viable reusable passive packaging and increasingly rely on goods and services from logistics providers as drug manufacturers focus on their core competencies.
Those were two key findings of "Assessing The Future Of The Cold Chain Industry," a 26-question survey sponsored and managed during the spring and summer of 2014 by Sonoco ThermoSafe. The survey was co-developed with an eight-member advisory panel of leading industry experts from Merck, Sanofi, AbbVie, UPS Temperature True Packaging, Pharmaceutical Commerce, Healthcare Packaging, IQPC, and Exelsius Cold Chain Management Consultancy.
In its executive summary of the survey, Sonoco ThermoSafe noted, "the current logistics spend for temperature-sensitive healthcare products is approximately $8.4 billion worldwide and growing, or about 13% of the overall pharmaceutical logistics market. Approximately $5.6 billion is spent on transportation while another $2.8 billion is allocated to specialized packaging and monitoring devices." Those figures were attributed to Lipowicz, M and Basta, N., Supply Chain Logistics 2014 Biopharma cold-chain forecast, Pharmaceutical Commerce, April 29, 2014.
Demographics, products and services, logistics, environmental, and trends made up the five sections of the survey, with 165 individual respondents that included manufacturers, drug distribution supply firms, wholesale distributors, a retail distributor, and freight forwarding/expeditor companies. The survey was analyzed and prepared by Kevin O'Donnell, Senior Partner, Exelsius, and Contributing Editor for Healthcare Packaging.
Areas needing improvement
Among the survey findings were the following:
• Improved package efficiency, total cost of ownership, and price were the top three areas in passive temperature-controlled packaging in most need of improvement (Chart 2).
The World Health Organization (WHO) glossary describes passive systems as, "Systems which maintain a temperature-controlled environment inside an insulated enclosure, with or without thermostatic regulation, using a finite amount of preconditioned coolant in the form of chilled or frozen gel packs, phase-change materials, dry ice, or others."
• The top three areas in active shipping containers in most need of improvement, according to survey respondents, were price, availability, and more robust solutions (Chart 3).
WHO defined active systems as, "Externally powered or on-board powered systems using electricity or other fuel source to maintain a temperature-control led environment inside an insulated enclosure under thermostatic regulation (e.g. cold rooms, refrigerators, temperature-controlled trucks, refrigerated ocean and air containers)."
• Time for implementation, cost, and organizational dynamics were viewed as the most limiting factors for updating or replacing qualified shipping solutions.
• Looking at current versus future service needs, respondents pointed to recycling/reclamation, just in time, fulfillment, and kitting as their key needs today. In the future, the survey suggested respondents will increase their use of recycling and reclamation services, while kitting and fulfillment showed expected decline in the next two to three years.
• A growing number of respondents indicated that they will outsource logistics tasks to third-party logistics (3PL) firms. Key reasons for 3PL reliance include cost savings, international expansion, and "not our core competency."
• Right now, 51.2% of respondents using insulated shippers re-use their packaging. Almost 70% of respondents anticipate an industry-wide increase in the re-use of passive packaging.
Future trends
• The survey asked about key trends that will impact the future of temperature-controlled shipping and transportation in the next two to three years (Chart 4). The most common response was that regulations will have the greatest impact, followed by the growth in biological drug therapies and vaccines, logistics costs, growth in emerging markets, and expansion of temperature range.
China, Brazil, and Russia were cited as the leading emerging markets in which business expansion is occurring within respondent organizations.
• Good distribution practices, regulations, and basics on active and passive shipping systems were the top three areas cited when it came to key industry training needs. The executive summary noted, "Concern remains high surrounding compliance, especially cGDP and the regulations that guide them as more than 50% of the respondents indicated. A substantial percentage (nearly 40%) think they or their organization would benefit from having a better understanding on how meaningful and representative ambient temperature profiles are developed and could use guidance on the physics, operation, and comparative differences between active and passive shipping options. Eleven percent of respondents see no need for additional training."
Companies in this article