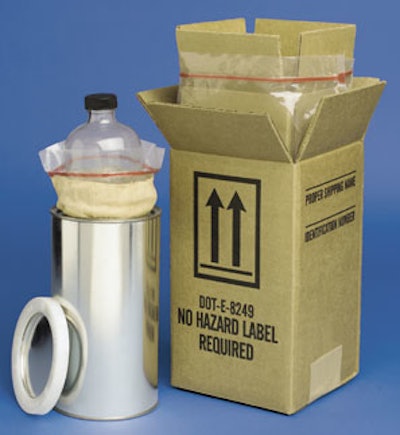 The origins of DOT 8249 trace back to the 1970s when United Parcel Service sought to expand their capabilities by developing a protocol for safely shipping hazardous materials mixed with other freight types via their standard trucking process.
Up to that point, federal regulations prohibited any size of hazmat shipment labeled as "poison" to be comingled with any consumables on the same truck. This forced manufacturers and distributors of dangerous goods to segregate, palletize, and ship the hazardous materials via a general freight carrier trucking company—a process that added time and cost.
At the same time, UPS was also receiving requests from smaller shippers, such as chemical companies, paint and coating manufacturers and distributors, among others, to find a solution to their hazmat shipping challenges. Their collective need was for a practical, cost-effective method of delivering small quantities of hazardous materials, typically products or samples in 1L or smaller primary containers, to stores and customers.
The UPS loss prevention team challenged LPS Industries to develop a DOT-certified packaging solution that would have the integrity to be certified "exempt" (i.e., not requiring a poison label or any other hazardous warning label for domestic deliveries) so the packages could be comingled with drivers' standard loads while providing optimal protection.
LPS designed, tested and manufactured a packaging system that would respond to UPS' needs while satisfying strict federal regulations. The approved "poison pack" was awarded the federal designation DOT-E 8249 Exemption Package, with the "E" standing for "Exempt." The DOT recently changed the designation to DOT-SP 8249 with the SP standing for "Special Permit." Everything about the package remains the same; only the DOT designation has changed.
As the 8249 exempt pack became the industry standard, LPS was contacted by FedEx, which expressed interest in the product for air shipments. The DOT invited LPS to provide packaging samples for testing to quantify the integrity of the system. The testing was conducted by loading a plane with samples of LPS' exemption package and crashing it into the Mojave Desert. The packaging survived the test and was approved for use in airfreight. FedEx, UPS and other airfreight carriers have adopted the packaging system.
Companies in this article