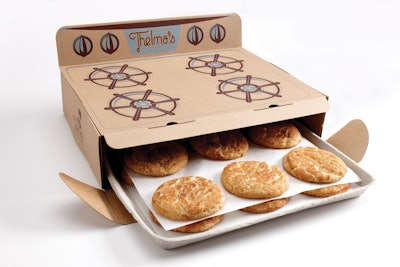 Imagine picking up your phone and ordering fresh chocolate chip, snickerdoodle, or peanut butter cookies straight out of the oven, much like you would a pizza. And when the driver arrives with your order, much to your delight, those heavenly smelling cookies are packed in a custom folding carton that resembles Grandma's 1950s-style oven, complete with a front panel that opens just like that oven door. Too good to be true?
Not for consumers ordering cookies from Thelma's Treats, a Des Moines, IA, maker and deliverer of cookies, ice cream sandwiches, milk, and coffee. Named after Great-Grandma Thelma who passed away recently at the age of 108, the company is co-owned by Thelma's great-grandson Dereck Lewis and his mother.
When they opened the company in 2012, they knew the name of the company had to be Thelma's, recalls Lewis. "Then it really became how do we convey that sense of joy of getting warm cookies from grandma. That's really the thought process, using the story of my grandmother to drive the direction that we take the brand. That's why the carton is based on a 1950's oven style instead of a modern-day version. It's how I remember my grandmother."
Lewis knew when he started this new business that Thelma's cookie recipes would be the focus. Armed with delicious cookies but a limited budget, he needed a marketing tool that would help his business grow. Together with Brian Sauer from local design agency Saturday Manufacturing, they created the idea of a box that looked like an oven.
"We knew Dereck had a great idea to deliver warm cookies, but we kept coming back to the fact that warm cookies should come out of an oven," says Sauer, who developed the first artistic rendering of the box. "There's nothing better than a homemade cookie fresh from the oven, and we wanted to recreate these feelings of childhood joy for customers."
For the final solution, Thelma's Treats and Saturday Manufacturing turned to xpedx, which took the concept of an "oven box" and brought it to life. The Thelma's Treats delivery box features a front flap so customers truly have to open the oven door to retrieve their warm cookies. The cookies are placed on trays and stacked neatly inside, just like in grandma's kitchens across the country. The box is even printed with stovetop burners and a back panel that appears as if it's equipped with control knobs.
"With my startup budget, I never imagined I could do something as highly customized as the oven box," says Lewis. "xpedx took the idea and ran with it. They collaborated with Saturday Manufacturing to create a box that is visually appealing to customers, structurally sound, and within my budget."
Just like baking cookies from scratch, the development of the oven box required some careful planning. Joanne Isenhart, Midwest Territory Marketing, xpedx, served as project manager from the xpedx Package Design Center in Kansas City, KS. xpedx is a business of International Paper.
"To truly replicate the look of an oven while maintaining the functional properties of a delivery box required the right 'ingredients' on our end," Isenhart says. "We started with the substrate for the outer packaging, added a dash of our design expertise to support the weight of the cookies, mixed in a few fiber-based trays for the right effect, and decorated it with Sauer's creative design, complete with metallic ink for aesthetic appeal."
The xpedx carton includes a 30-pt Kraftpak® substrate from Kapstone Paper and Packaging Corp., and is arranged with load-bearing flaps folded underneath for added strength to support up to two-dozen cookies. The fiber-based trays are Chinet® from Huhtamaki, which is a stock product for xpedx, supporting six cookies per layer with a parchment sheet between layers. The paper-based products also have insulating properties, helping to keep the cookies warm as Thelma's Treats delivers them throughout town.
Lewis is using the Thelma's Treats Facebook page to post pictures of the emotional responses people have to receiving their special delivery of warm, homemade cookies fresh from the oven.
xpedx's Isenhart says, "It's not just a box that looks like an oven; it's the collaboration of an agency, business owner, and xpedx working together to combine package design, substrates, sourcing, printing, and marketing to help a small business reach new heights."
Isenhart credits Matt Cato from xpedx's packaging design center for creating the carton to meet a variety of needs. As she explains, "The box had to hold a dozen of these hot, fresh-baked cookies, have them survive the delivery, and keep them warm. When we finished up the project, it actually was structurally strong enough to hold two-dozen cookies. These are good-sized cookies [about 4 in. in dia], so it can hold two-dozen cookies, which cut their packaging needs in half.
"The carton is structurally sound and solid. The wings come in and make it double thick on the bottom. Then the weight of the cookies on the tray also gives them resistance and holds that bottom in place."
The carton's outer dimension measures 13.25 in. W x 10 in. L x 3 in H. It is a natural kraft printed via sheet-fed litho process in two PMS colors, with one being a metallic, plus an aqueous coating.
Unique brand appeal
Lewis says that while there are a few other businesses that deliver cookies within the U.S., Thelma's Treats is unusual in that it bakes the cookies "in real time" as soon as they're ordered." A carton of one-dozen freshly baked cookies sells for $20.
As it's turned out, consumers not only love Thelma's cookies, but they also love the cartons. Says Lewis, "What we have been doing lately is mostly due to the popularity of our boxes we have shipped… we shrink-wrap our cookies onto the tray and then we will ship the box. Usually we just overnight it. People from all over wanted the box and the cookies. We started sending them to New York, to California, and we have even sent the box without cookies to Italy and Israel. People just wanted to have one of the boxes."
The xpedx boxes replaced a previous pizza-style box, says Lewis, which held only one dozen cookies. "So our box cost per cookie was pretty high," he notes. "That was one of the things I wanted to change with the box—to be able to put in a dozen and have something unique that would make our brand stick out. We don't have a huge marketing budget, so we kind of focused our marketing dollars on creating something memorable in our packaging. We needed a box that would get us attention and provide the support we needed for the cookies. In the end, Saturday Manufacturing and xpedx developed a carton that we thought was cute and different. We didn't know if anybody else was doing it. At that point, it just went into development."
Tasty benefits
As a result of the packaging collaboration, Lewis says, "Our business doubled in the year following—from May to May." He credits much of that to the new "oven box," suggesting it's "almost like a collectible package."
Saturday Manufacturing's Sauer adds, "We've had people and moms step in and pick up a couple boxes because their daughters use them to play house. Stuff like that happens to us all the time and that was an intentional goal of the design. We talked about taking this oven box into an office setting and having everybody saying, 'Wow, I want to take it home because I want my kids to play with it or I have to have one on my desk!' People come in and say, 'How much for a box?' They just want to buy a box."
xpedx's Isenhart says, "Dereck's message to me, and one of the thoughts and ideas the company had was for the carton to have an afterlife. They didn't want it to be something that just got thrown in the garbage. We were able to accomplish a couple of things: one, it is recyclable because it is an all fiber-based, cellulose-based product; two, it should have an afterlife for sitting in offices or taking it home for kids to play with it, so it's kind of a fun thing that really gives a homey, warm, fuzzy feeling."
Lewis recalls the first time the carton had that very impact: "One of our first corporate clients was developed after I walked in with a box of cookies. The door was open and the receptionist wasn't there, so I just walked to the biggest corner office [occupied by the person who] just happened to be the owner. I said it would be cool to send these out. It was an employment agency and I said, 'You could send these out to the people that you place in new jobs to make new friends on their first day on a new job.' He just loved that idea, so from that day forward they are now one of our biggest customers. I have actually had some of the companies that he works with tell me they think of projects to hire his people because they know they are going to get cookies in this box after the process.
"The oven box from xpedx and Saturday Manufacturing helped double my sales," notes Lewis. "I knew the cookies would be a highlight of this business, but I never imagined the box would be just as famous. I'm even getting requests for the box—with or without the cookies—from around the world."
To see a spin + zoom 360° photo, click here.
Companies in this article