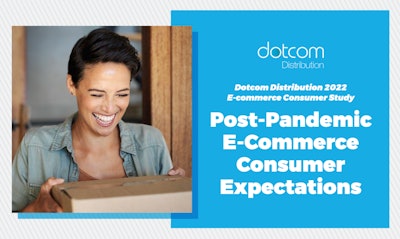 Dotcom Distribution, a provider of B2C and B2B fulfillment and distribution services, has released its eighth annual e-commerce consumer study. Based on the responses of 1,150 U.S. online shoppers, the study explores how consumers are adjusting to today's "new normal" following the pandemic and amid strained supply chains. Among the key discoveries is that packaging for online orders generates more sales and customer retention, especially among eco-conscious consumers.
Following are eight key takeaways on consumers' attitudes toward e-commerce packaging from the study:

· Sixty-six percent of consumers cite eco-friendly packaging as the sustainability factor most likely to make them shop with a brand, outweighing fuel-efficient transportation methods and ethical sourcing.
---
---
· Forty-three percent of consumers value eco-friendly practices (sustainable packaging, fuel-efficiency, ethical sourcing) over purchases supporting charitable initiatives when deciding who to give their business to.
· When presented with premium packaging, 34% of consumers say they're compelled to shop with a brand again, 41% get more excited about opening the package, and 51% are inclined to think a brand is more upscale.
· Twenty-six percent said receiving a package with eco-friendly packaging would make them more likely to share photos or videos of the product on social media, with 30% saying gift-like packaging would also make them more likely to do so.
· When asked what factors would make them more likely to shop with a brand again, consumers credited sustainable packaging above free product samples, swag (stickers, keychains, etc.), personal notes, and premium packaging experiences.
· What's most likely to make a customer scan a QR code on e-commerce packaging? Twenty-eight percent said when it enters them into contests or giveaways; 26% said when it provides personalized offers based on past purchases; and 22% said when it tells them about the origin, ingredients, and carbon footprint of the items.
· Of the 81% of consumers who prefer to receive items in boxes rather than bags, 32% specifically credit the preference with boxes being more eco-friendly.
Premium packaging leaves luxury shoppers with a positive impression: 47% say it makes them more excited to open the package, 44% say it makes the brand seem more upscale, and 42% say it makes them more likely to purchase from a brand again.