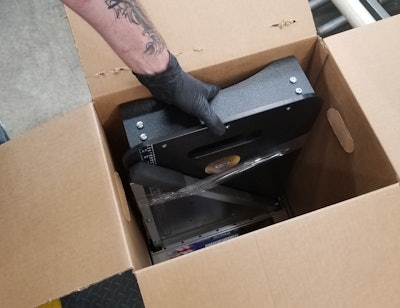 Because it holds a 49% share of the e-commerce market, when Amazon speaks, its vendors listen. That's why, when Bullet Tools, of Hayden, ID, a manufacturer of fixed-blade cutting tools for the construction industry, needed to redesign its packaging for a product sold on Amazon, it made sure to meet the online retailer's new requirements for minimal, protective, and sustainable packaging—especially with financial penalties hanging in the balance.
Bullet Tools, as its tagline explains, offers "Cutting-Edge Solutions for Tradesmen." This includes flooring, siding, and insulation cutters, along with blades and accessories. Its point of differentiation is that its cutters allow for dust-free installation. In particular, unlike its competitors' tools, Bullet's EZ Shear Laminate Flooring Cutter does not produce a (potentially deadly) cloud of silica dust, which means installers can use it to cut flooring without the need for vacuums, filters, or breathing protection.
Despite the innovative nature of the tool, Bullet was finding it difficult to get the product in front of potential customers. Selling the EZ Shear through Amazon offered the company a way to increase exposure and sales. But it soon realized that using the same packaging for online sales as it did for retail did not provide the needed product protection, and was costly and labor intensive to assemble.
In redesigning the packaging, Bullet worked with packaging supplier Multifab Packaging and protective packaging manufacturer Great Northern Laminations. The resulting shipper reduces corrugated materials and costs, provides greater product protection, is easy to assemble, and—most importantly—meets Amazon's Frustration-Free Packaging (FFP) requirements.
Product protection for online sales
Bullet Tools' cutters are sold by dealers at retail locations across the U.S. and worldwide, but it was e-commerce that really helped grow sales of the company's EZ Shear cutter. "Getting our EZ Shear Laminate Flooring Cutter on the Internet means that when people search 'how to cut hardwood,' our cutters come up," says Joshua Brand, Bullet Tools Purchasing & Inventory Manager. "Since Amazon is the third most popular search engine in the world, having our products listed and reviewed there has created customers who might not otherwise know about Bullet Tools and has spurred tremendous growth."
While its cutter was a hit online, its packaging—a double-wall corrugated case with inserts—wasn't. The EZ Shear is designed
with a hefty blade and cutting mechanism located on one side, with the rest of the tool comprising a lightweight table for feeding product under the blade. Picture something akin to a paper cutter, but much larger. Having the majority of the weight on one side created challenges, as the feet and corners often broke through the packaging. Not only that, but as volumes rose, the packaging system became too costly, time consuming, and labor intensive. A new packaging design would need to address these issues, as well as be certified to meet Amazon's packaging requirements.
In September 2018, Bullet Tools, along with thousands of other North American companies, was notified by Amazon that it was rolling out a new incentive program (see article in Packaging World, "Amazon's New Sustainable Packaging Program Puts the Customer First") that it explained was designed to drive more sustainable packaging in order to reduce waste and damage and "delight" customers. The announcement advised vendors they would need to design their packaging to meet Amazon's Frustration-Free Packaging Program Certification Guidelines by Aug. 1, 2019 or face a chargeback of $1.99 per unit.
Amazon's Vendor Incentive Program applies to all items larger than 18 x 14 x 8 in. or 20 lb or more—specifications that definitely describe Bullet's products—and requires that their packaging is designed and certified as Tier 1 FFP or Tier 2 Ships In Own Container (SIOC). According to Amazon, "That means they'll be right sized, protective against damage, ready-to-ship without the need for additional packaging, and ideally easy to open and recyclable."
Recognizing the importance of their Amazon sales and the negative impact of using packaging that frustrates the consumer, Bullet Tools turned to Shane Lynch, Account Manager at Multifab. Lynch asked Bullet Tools what their number-one goal was for redesigned packaging, and they responded that it was impact protection for the head of the tool.
Custom engineered solution cuts packaging costs
To help redesign the EZ Shear packaging to protect the product while meeting Amazon's requirements, Lynch reached out to Great Northern Laminations, a provider of corner and edge protection solutions and a member the Amazon Packaging Support and Supplier Network (APASS) since January 2019. The APASS network is made up of packaging designers, suppliers, and labs that have received guidance from Amazon to help test, design, and supply packaging in line with its packaging certifications.
Lynch approached Great Northern with an eye toward using a custom version of its PF PalletTop® product as a potential solution. PF PalletTop pallet edge protectors were designed to provide an alternative to traditional wooden pallet tops to help stabilize and unitize pallet loads while protecting them from shipping and strapping damage.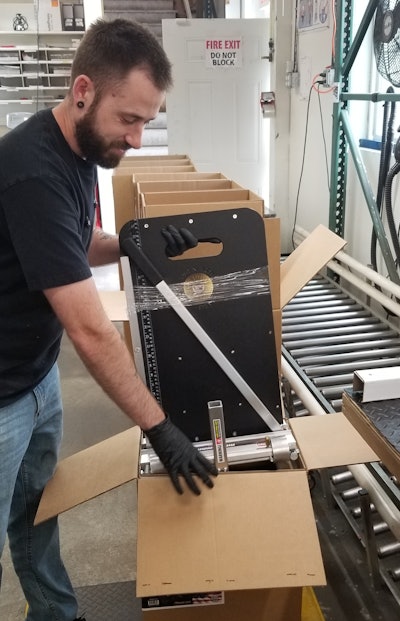 PF PalletTop is made by riveting two pieces of Great Northern's notched VBoard® laminated paperboard edge protectors together to form a square or rectangular shape to fit the tops, sides, or bottoms of palletized loads. According to the supplier, PF PalletTops are much lighter and less bulky than wooden pallet tops, are easier for employees to handle, and are less costly to ship. In addition, it says, the hinged construction of the PF PalletTop allows it to fold for efficient storage and then unfold for application to the pallet.
Together, Multifab and Great Northern reengineered the PF PalletTop for use by Bullet Tools. "PF PalletTop was a product we used for brick-and-mortar packaging, but we're changing the way we use it because e-commerce is changing the way people shop, and we needed to create packaging to meet their expectations," says Greg Seidel, Laminations Account Manager.
"With e-commerce, protection is so important because there are typically more touchpoints and opportunities for damage before it reaches the customer," he adds. "It can literally go from manufacturer to distribution center to transfer point to shelf then off the shelf to conveyor to truck to customer. This is in comparison to traditional shipping, where it just goes from distribution center to truck to store to customer."
With the reengineered version, a PF PalletTop edge protector is inserted directly into the bottom of the box, rather than on the outside, as is the case with the original product, to provide extra protection for the cutter. Notes Lynch, "The PalletTop successfully reinforces the corners of the package, especially the heavier end. It has allowed the customer to go from a 51 ECT [Edge Crush Test] double-wall corrugated box to a 44 ECT single-wall box, has eliminated all the corrugated inserts, and has reduced material costs by 40 percent."
Adds Brand, "This solution stops the product from breaking through standard boxes without any extra assembly time. It's cost-efficient, easy to store, and looks nice for the end user."
An additional benefit to the new e-commerce packaging, which Bullet Tools is now using for retail as well, is its sustainability. The edge protector is made out of 100% recycled material and is 100% recyclable. Because the new packaging for the EZ Shear was minimal and sustainable, Bullet Tools easily passed Amazon's Frustration-Free Packaging ISTA 6 Amazon SIOC Tier 2 certification testing. Says Brand, "We are 100-percent satisfied with the new packaging solution, and Amazon is completely satisfied as well."
Read more about Amazon's Vendor Incentive Program and E-commerce in these Packaging World articles:

"Amazon's Vendor Incentive Program, Nine Months In"
"New E-Commerce Packaging Group Aims for Two-Way Dialog With Retailers"
"Survey: E-Commerce Packaging Materials, Pain Points, and Methods"
Companies in this article