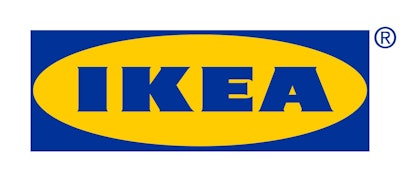 Per Stoltz, Resource and Waste Manager with IKEA, and his colleague, Angela Hultberg, Global Head of Sustainable Mobility for IKEA, will both be presenting at E-Pack Europe 2019 March 25-27 in Berlin. Hosted by Smithers-Pira, the conference features Mattel, Mondelez International and Mars Wrigley. Stolz and Hultberg sat down and answered some questions for Packaging World Magazine VP of Content, Jim Chrzan.
Q: What can IKEA ship via normal UPS and Fed-Ex type delivery? A lot of home goods, I imagine.
A: We divide our deliveries into parcel deliveries(i.e. smaller goods) and home deliveries (i.e bigger goods, performed with two-man delivery). For UPS and FedEx and the likes, parcel is of course very suitable. For home deliveries we work with a variety of service providers, some bigger, some very local.
Q: When you get to larger sized and heavier items, do you only offer store pick up, or do you contract with other deliver services like furniture and appliances, or is this an IKEA fleet we are talking about?
A: We do not have an IKEA fleet today. We partner with service providers who perform these deliveries for us. You always have the option of collecting them yourself at the store, of course, or have them delivered to your home. We are also increasing out number of pick-up points and other types of deliveries, big and small, to make it more convenient for our customers.
Q: When you talk about returned goods not being able to return to inventory you are talking damaged, yes?
A: Mostly damages but also items returned due to change of mind or similar, for which the return logistics would not make economic sense.
Q: We are hearing up to a third of goods returned in e-commerce? IS this your experience? How can any business sustain that?
A; We have much lower return rates compared to for example fashion, but still higher returns on e-commerce compared to cash and carry. So we take the issue very seriously and work continues on improving our processes.
Q; If a customer orders five or six different things, candles, picture frames, etc., who does the order bundling, packaging and delivery? (Does fulfillment happen in-house at a distribution facility? Do you contract out or is this an IKEA role?)
A: It varies from product to product and country to country but generally speaking it can be units for smaller items specialized on picking, packaging and sending smaller items. Bigger products are handled through specialized warehouses or can also be picked, packaged and sent from store. We have both distribution centers and local service centers where we, or a service provider, perform this work. We are also now starting to utilize our stores as fulfilment units.
Q: Do you foresee any new primary package changes or product introductions specifically for e-commerce?
A: There will most probably be changes but remembering that the primary packaging is there to protect the product during the home transport. We are however very interested in exploring how packaging can and should be different depending on the flow, if it goes to store, to customer via home delivery or via parcel delivery. Today primary packaging is always the same, and this we foresee changing.
Q: Have you introduced any reusable packaging at this stage or are you in development now?
A: Yes we are piloting a new concept right now. We will present more about this at the event.
Q: Is IKEA marketing the SKUs in store and at home, or are there special e-commerce only (or in-store only offers?)
A: The aim is that the same range will be available both in store and on-line.
Q: From the sustainable perspective, a damaged and ruined product costs far more to society in terms of raw materials, mfg, shipping, etc., than an extra box or wrapping. How do you deliver this message to a green consumer who demands convenience?
A: I think even if there is a need for extra packaging for the e-commerce orders we still can do a lot in designing this package as sustainable as possible and also integrate circular thinking on the packaging material. We could also use the packaging itself to communicate with customers, quite literally printing the message on it, explaining why it looks the way it looks. We also expect a lot of new technological development in this area, and we are eager to explore new opportunities.
Companies in this article