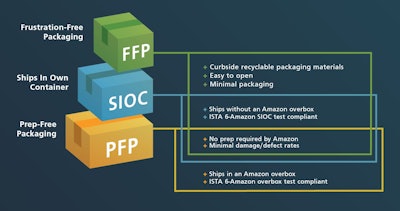 The team at Fuseneo, Inc., a package design firm in St. Charles, IL, has worked to design packaging for some of Amazon's own products and is helping to communicate their e-commerce certification program. Brent Lindberg of Fuseneo reports the direct-to-consumer giant will continue to evolve and drive packaging design and reduction. "Amazon has been on this journey of Frustration Free packaging for ten years. They are going to get bullish headed into 2019," Lindberg states.
Lindberg presented at the recent Sustainability in Packaging U.S. conference hosted by Smithers/Pira in Chicago, March 4-7.
As a vendor, if you want to have your products listed for purchase on Amazon, you must complete a certification test based on new ISTA (International Safe Transit Association) tests. Independent labs must test and certify each package configuration. Fuseneo works with CPGs and other brand owners to design packaging to meet Amazon's criteria.
Amazon has three certification levels. (See illustration).
These certifications are designed to ensure that products survive the journey to the consumer and don't require prep or additional packaging from Amazon.
Plastic overwrap bags for possibly leaking shampoo bottles or other liquids, or bubble wrap for fragile items, are just two examples where prep work may be needed. Brands in attendance report that they are often charged for this prep that is performed by Amazon. These brands are working to design for Amazon certification, delight consumers and avoid these charge back fees.
"Brands need to design their products and packaging to survive the e-commerce channel. We can't assume something that was designed specifically for retail will meet the needs of a very different supply chain and we can't expect Amazon to overpackage these products to compensate for these shortcomings," says Lindberg.
Many larger brands elect to have a dedicated Amazon brand specialist. If you are a smaller brand, you'll likely not have a direct line to Amazon. "We want to help brands navigate the certification process and redesign their packaging; to make a sustainable transition from retail to e-com," Lindberg reports.
Lindberg says Amazon is working to reduce outbound packaging by using more recyclable mailers and less corrugated boxes, and consumers will be seeing these arriving at their door sporting the Amazon logo in the coming months.
*Fuseneo is a team of packaging designers and engineers whose simple approach makes it painless to quickly find packaging solutions that help brands win on the shelf and in e-commerce.
Read the full E-Commerce Special Report, "E-commerce and packaging, from all angles"
Companies in this article