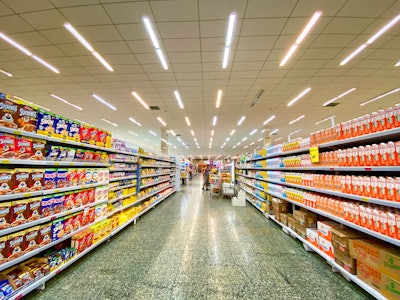 For a significant number of respondents (14.2%), the economic and financial scenario has become highly uncertain, given the indecision of some Latin American governments to apply measures in support of companies' operations.
This, our second post based on responses to the PMMI survey on the impact of coronavirus on the Latin American industry, offers a look at the main challenges that CPGs face in today's uncertain panorama.
EXPO PACK Mexico City canceled, read full article here.
In the midst of adverse conditions, and despite disruptions in supply chains such as those pointed out in our previous post, consumer packaged goods companies in our region (CPG) continue operations and serve markets with essential products for the well-being and survival of the population.
Latin American CPGs Redouble Efforts to Keep Supply Chain Open
By adapting their routines to the prevailing conditions, entrepreneurs and many of their employees in management positions guide their factories' operation through the internet on numerous digital platforms offered today. This arrangement is growing every day and has been welcomed by 55% of participants in the survey, who are now working from home. (See Graph 1)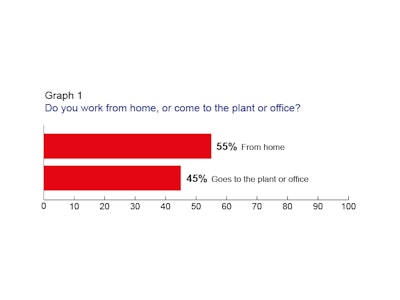 A significant number of companies have also begun to adjust their production lines, and others are considering doing so, to comply with the requirements of governments and health authorities and produce medical devices to deal with the coronavirus pandemic, such as respirators, masks, and other specialized supplies. (See Graph 2)
Five Challenges / Areas for Action
One of the main purposes of this PMMI online survey was asking entrepreneurs about the current difficulties they face in their different activities. Their responses can be framed by the challenges they are taking on in five main areas (See Graph 3):
Economic and financial: An immediate effect of the coronavirus crisis has been the devaluation of many currencies in Latin America, making the purchase of imported raw materials and supplies more expensive. For a significant number of respondents (14.2%), the economic and financial scenario is highly uncertain given the indecision of some governments to apply measures to support companies' operations. In addition, firms are facing a lack of liquidity due to delays in client payments, having to cover fixed expenses with no income, bearing high interest rates on loans, and continuing to pay taxes.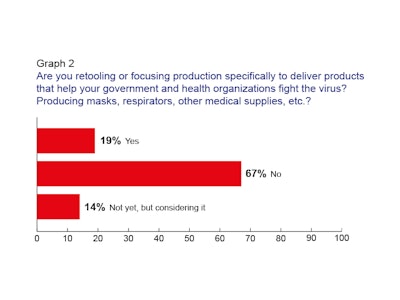 Essentially, it's about surviving economically during and after the pandemic."
Production: Difficulties in production represent a challenge for 31% queried. These are compounded by decreases in sales resulting from their clients' inactivity or their location in other countries. For some companies, virtual channels do not have the same efficiency as traditional sales mechanisms. Others, however, who have long-term clients and a consolidated position in the markets, have seen significant increases in sales.
"I hope my clients do not close their businesses, so we can continue selling to them and be able to subsist as a company."
Health and safety: Concern for the health and safety of employees and workers is a high priority for 23% of the companies consulted, which have taken effective measures to prevent the spread of the coronavirus. Participants in the survey, however, point to the need to emphasize a culture of hygiene and the rigorous application of disinfection practices that help prevent the spread of the infection. These measures should be accentuated with workers who travel to the facilities by public transport, and extend to all their families.
"We need to put in place the highest prevention protocols, raise awareness among staff, and apply very intense sanitation control standards, backed by physical aids, to achieve ZERO contagion."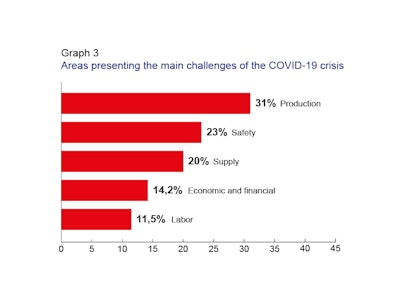 Supply: Some disruptions in the supply chain, such as those described in our previous post, are an important challenge for 20% of survey participants under current circumstances. In addition to the shortages some companies are suffering, the responses highlight the lack raw materials and supplies, the difficulty in guaranteeing product packaging, and a slowdown in the supply delivery processes.
"The great challenge is being able to continue the production process, to supply the distribution channels and ensure that consumers have the products they need."
Labor: Preserving jobs is another priority for the entrepreneurs who participated in our survey (11.5%). Despite the economic difficulties of meeting payrolls with disrupted production and sales levels, companies have not resorted to mass layoffs, a decision for which they hope to receive support from Latin American governments.
"We want to keep the company operating as much as possible, without affecting the workforce. It is very difficult to operate with so little support, considering that the national government has not yet made any tax or labor concessions."
In our next Post, prepared with information gathered from the PMMI Industry Survey on COVID-19 impact on the Latin American industry, we will analyze the effects of the pandemic on companies' investment and technological modernization plans.